RIPE NCC Statistics
Here you can find a collection of statistics the RIPE NCC provides on a regular basis. You can search for statistics on a specific topic using the list of tags, or you can find a complete alphabetical list of available statistics under the "All statistics" link.
Many of the graphs presented here are dynamic and are updated on a regular basis (from daily to monthly, depending on the graph), and display the current figure in orange text at the bottom. The Statistics page is an ongoing project, and we will continue to update it and add more features as more data becomes available.
Please note that the previous version of the statistics page is still available. You can leave comments and suggestions on the statistics feedback page.
Statistic items tagged with
database
RIPE Database Operational Statistics
We provide a number of operational statistics for the RIPE Database: Number of queries, updates, number of queued objects as well as response time of the database server.
RIPE Database Inconsistency Statistics
The RIPE NCC provides reports and statistics for users to help correct inconsistencies in RIPE Database objects. This graph below shows the number of overlapping inetnum objects. More information: RIPE Database Consistency web page.
RIPE Database Server - Operational Plots
Query rate:
The number of RIPE Database queries we serve in total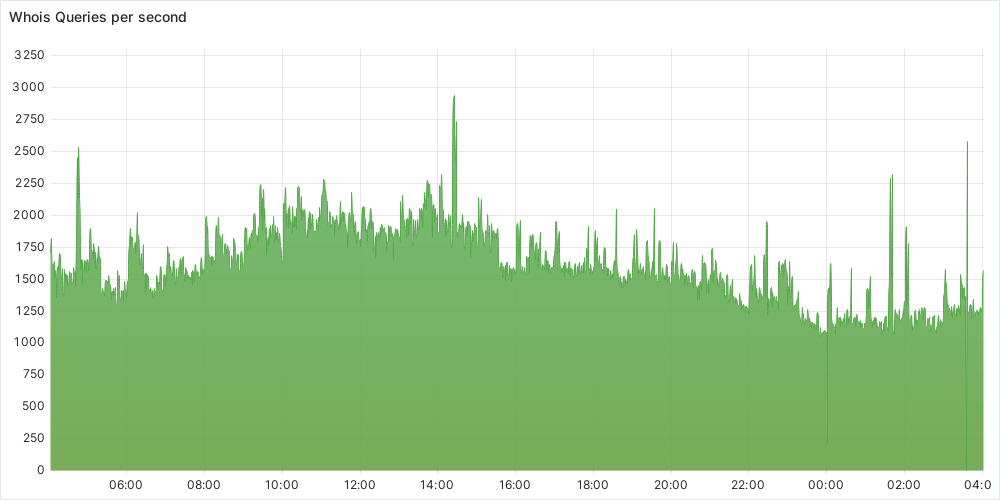 ---
Update rate:
The number of objects updated in the RIPE Database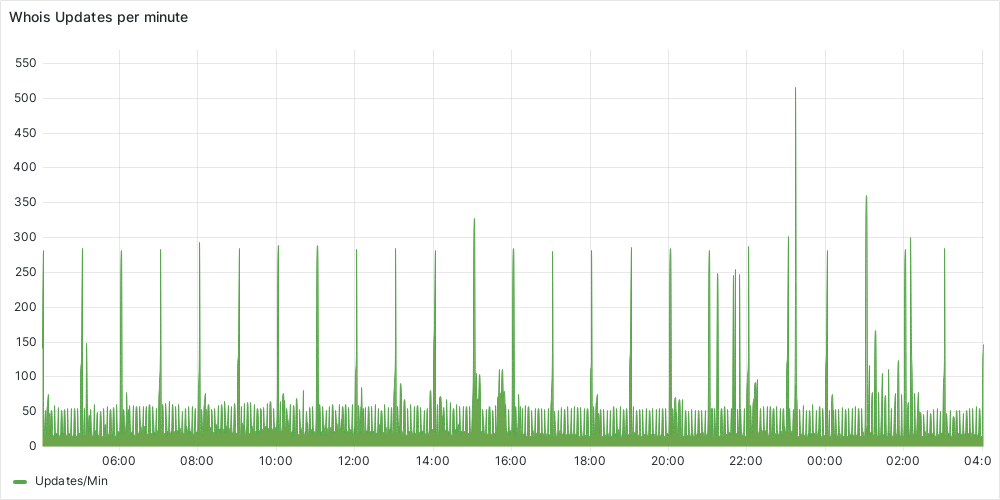 RIPE Database Server - Query Rate
Query rate Daily (5 Minutes Average)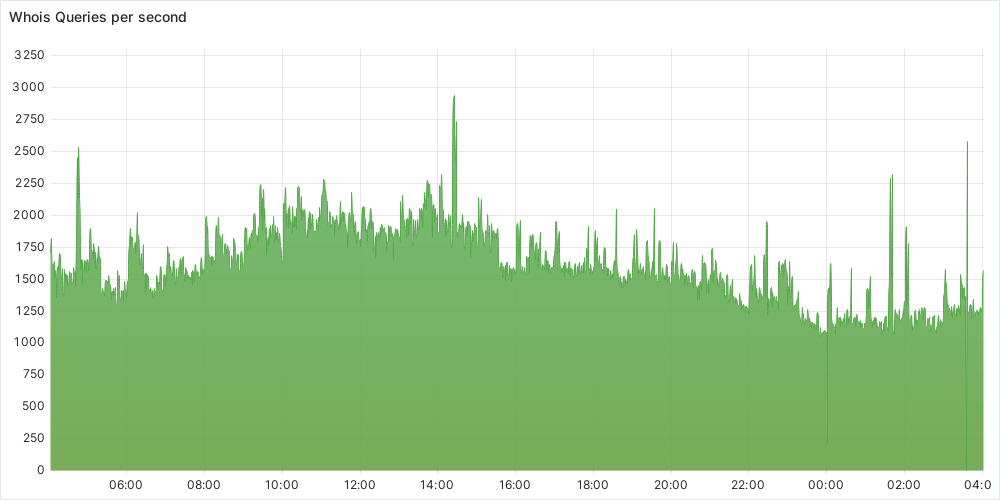 Query rate Weekly (30 Minutes Average)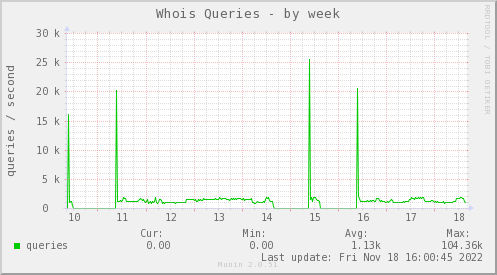 Query rate Monthly (2 Hours Average)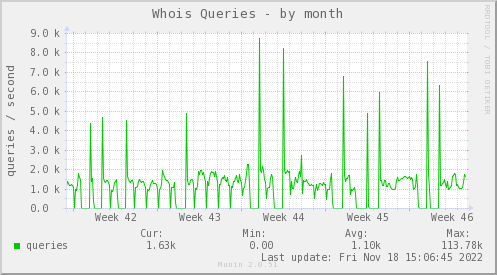 Query rate Yearly (1 Day Average)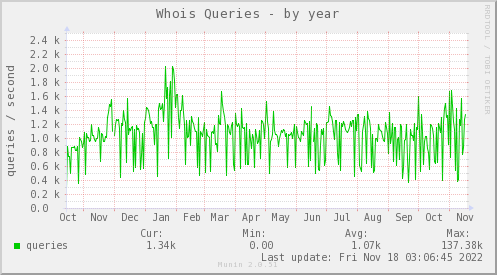 (Note: All times are in Amsterdam local time.)
RIPE Database Server - Update Rate
Update rate Daily (5 Minutes Average)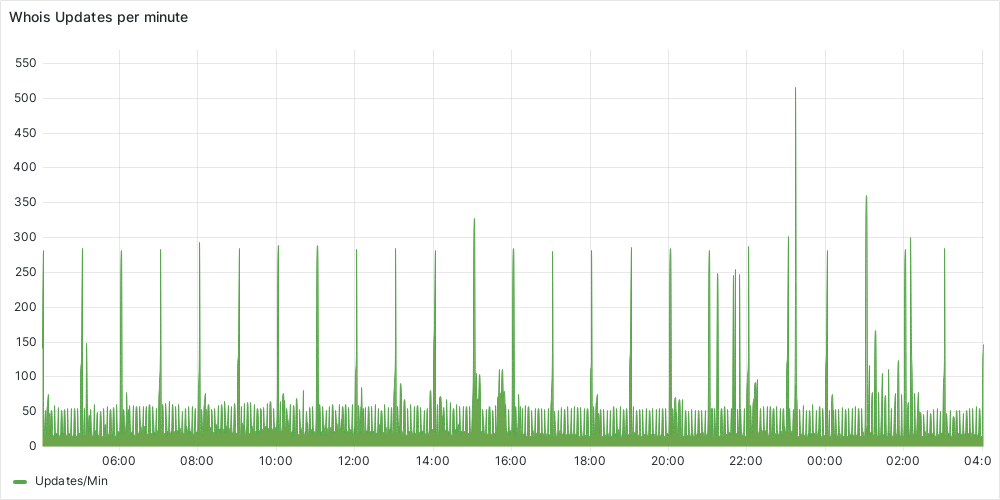 Update rate Weekly (30 Minutes Average)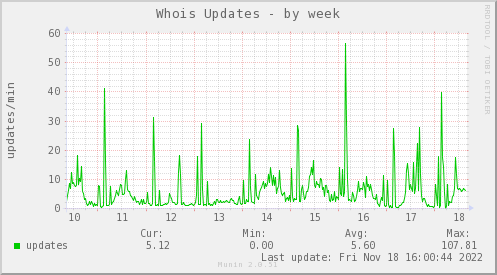 Update rate Monthly (2 Hours Average)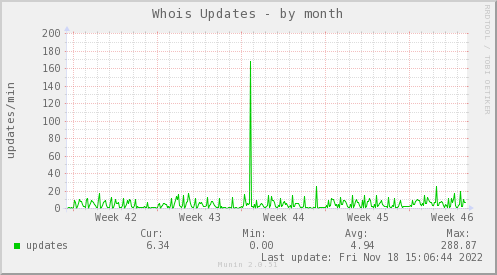 Update rate Yearly (1 Day Average)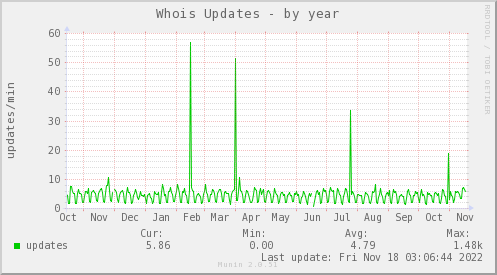 (Note: All times are in Amsterdam local time.)