Mirjam Kühne, the RIPE Chair, spoke on behalf of the global Internet technical community as part of the Opening Ceremony of the 2021 Internet Governance Forum.
---
Mirjam joined speakers including the UN Secretary-General, the UN Under-Secretary-General for Economic and Social Affairs, the Polish President, the Polish Prime Minister, the Mayor of Katowice, and representatives of industry, international organisations, and civil society. Kicking off the "hybrid" physical/virtual meeting, speakers were split evenly between those in Katowice and those participating remotely.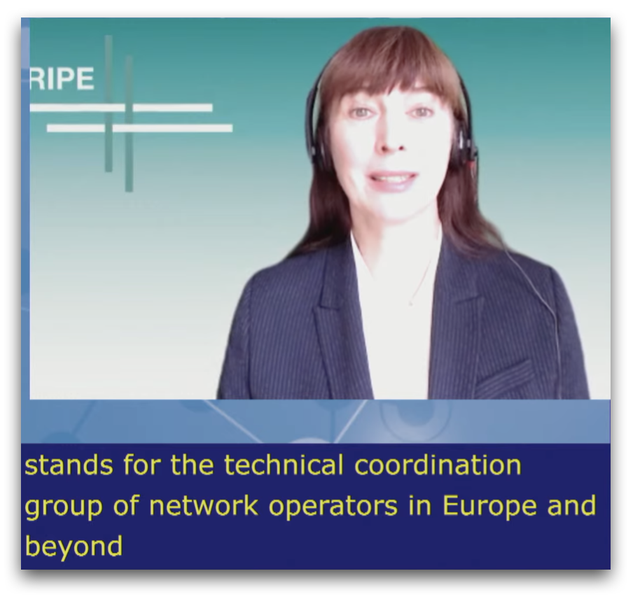 The full text of Mirjam's speech - and now also the video - is included below, but she took the opportunity to highlight the resilience and stability of the Internet through a period of unprecedented use and traffic increases. She stressed the spirit of cooperation and coordination amongst those who operate the Internet's underlying infrastructure, and the need to ensure this spirit is carried through to Internet governance discussions.
The IGF 2021 will run through to Friday, 10 December, and all sessions offer capacity for remote participation. The RIPE NCC is regularly updating a live-blog on relevant discussions and developments.
---
Dear excellencies, colleagues and friends,
My name is Mirjam Kühne. I am the Chair of the RIPE Community, and I'm speaking here today on behalf of the Internet technical community. RIPE stands for Réseaux IP Européens, which is the technical coordination group of network operators in Europe and beyond.
Thank you very much for inviting me to speak here during the opening session of the IGF 2021, and I especially want to commend the organisers in Poland for all their efforts to make this event a success, despite the difficult and unpredictable circumstances.
I remember the last physical IGF in Berlin, my birth place, and I wish I could be there in Poland to talk to you all in person. I hope we can all see each other again next year.
But I do want to recognise the importance of our collective efforts to innovate and to come together in online and hybrid events, using the technological possibilities made available by the Internet. This has also made Internet governance more inclusive than ever.
Our societies' response to COVID-19 has illustrated just how central the Internet is to our lives today - it's the Internet that has kept us connected during this pandemic. It is amazing that, despite the additional load, the Internet has, for the most part, kept running undisturbed.
This is possible to a large extent thanks to the collaboration and coordination of the technical community, and especially those who operate and maintain the Internet's underlying infrastructure.
It was impressive to see how operators helped each other, especially in the beginning of the pandemic when many of us had to be in quarantine or in lockdown. Network operators shared contact information and asked if they can help others while going to their datacentres for instance. And don't forget: many of these operators are competitors. But they know that the Internet would not work without this collaboration and that they (and ultimately all of us) benefit from it.
Sharing knowledge and information, learning from each other and helping each other out is an integral part of the technical community and is one of the reasons the Internet exists in the first place. The RIPE community, for instance, is over 30 years old and even though it mostly deals with the technical aspects of the Internet, it is very diverse and open to anybody: multi-stakeholder avant la lettre.
We all understand that the success of the Internet and its importance to our daily lives brings with it new responsibility. Not only do we need to build out and maintain the Internet's technical infrastructure - we must also ensure that, as we extend access to more people in our societies, we protect users online and ensure their security and privacy.
Public policy has an important role to play in addressing all of these concerns, and public policymakers in legislature and regulatory authorities around the world are urgently looking to develop and deploy policy solutions. If anything, that sense of urgency has increased in the last two years.
But well-meaning policies, like any powerful tool, can have unintended consequences, which could increase risks elsewhere or impact the operation of the Internet's underlying technical infrastructure that I just described to you.
This is why the IGF continues to be such an important venue, bringing together people with different expertise in an open dialogue. The Internet is so broad and diverse that none of us can understand every aspect of its operation - we need to learn from each other, examine what works and what doesn't work, understand each other's concerns and value each other's expertise.
Just like the technical network operators in the RIPE community coordinate to ensure that we can all connect, we need to foster collaboration and cooperation on all levels and between all stakeholders. And as the IGF itself evolves to meet the needs of a changing Internet governance space, we need to keep that open, inclusive, transparent and multistakeholder approach that has made the IGF a unique example of how to manage governance at the global scale.
The value and benefits we get from the Internet are deeply rooted in its being an open, single, stable network of networks, global in nature and accessible to all. We need to work together to ensure that it stays that way.
Thank you for your attention, and I wish all of us productive and insightful discussions in the days ahead!
---