Within the RIPE community, it's easy to take for granted that Internet policy will continue to be developed by the technical community for the benefit of all Internet users – but the open, inclusive, bottom-up model of Internet governance is one that needs to be explained and, at times, defended on the world stage. Read more about how we do that as a Sector Member of the ITU's Standardization (T) and Development (D) Sectors, and our role as a liaison between the RIPE community and the ITU.
---
Background
Four years have passed, as they tend to do, which means that soon a couple of thousand people from all over the world will be shutting themselves away to debate the activities, the processes, and indeed the very purpose of the International Telecommunication Union (ITU). It's time for another ITU Plenipotentiary! As we prepare to participate in this conference, which takes place in Dubai from 29 October to 16 November, we wanted to give you an idea of why these meetings are important for the RIPE community and explain a little more about how the RIPE NCC participates.
The RIPE NCC has a long history of involvement with the ITU's technical side, especially given our role in ENUM administration, but we've also been following ITU policy discussions since the early years of the 21st century, when the WSIS process brought Internet governance issues to the fore and some of those ITU policy discussions began to deal with topics very close to our organisational heart. Since then, we've followed these Plenipotentiary meetings, and actively attended the last one, which took place in South Korea in 2014.
Recent Developments Around the ITU
What's different this time around? Well, for one thing, our participation in ITU policy discussions has matured. The ITU is a huge beast and so we have to be strategic about where we direct our efforts, but we've identified some key areas where we actively participate, such as the Study Group 20 discussions on the Internet of Things.
Attempting to make policy around technical topics like this without the full involvement of operators and Internet technical experts can result in policies that are not just sub-optimal, but may be unworkable - an outcome that nobody wants! So an important goal of our participation has been to help facilitate more two-way engagement between the ITU and the RIPE community.
A key example of this has been the recent Study Group 20 proposal for an IoT IPv6 addressing plan. At our encouragement, the Study Group sought the RIPE community's feedback on that document. The discussion of how the Study Group will proceed with that proposal is still ongoing, but the incident has served to highlight one of the RIPE NCC's guiding principles in ITU engagement: that Internet policies need to be made with the input of the technical and operator community, and that certain policy issues should be discussed, settled and codified in technical and operator community venues (like RIPE), which are open to all interested stakeholders.
Another difference is that issues surrounding cybersecurity and emerging technologies, such as the IoT and artificial intelligence, have grown in significance – particularly for governments. When paired with the fact that governments see the ITU as a venue in which they can comfortably operate, this adds up to a risk of the ITU's mandate creeping to encompass topics for which it is neither equipped nor authoritative.
Plenipotentiary 2018
Which brings us to Plenipotentiary 2018 (PP18).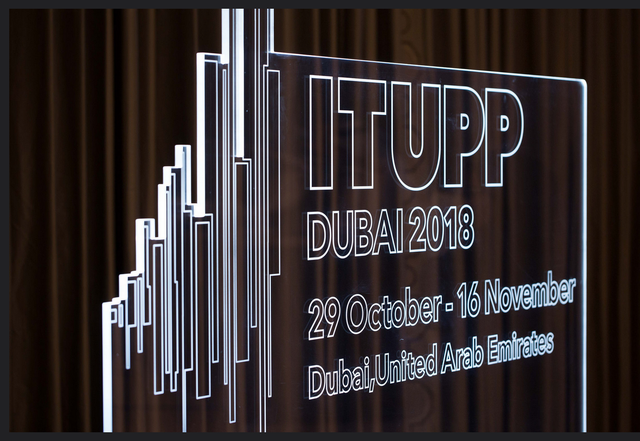 Image courtesy of the ITU
Like most of the ITU's high-level events, the work of the Plenipotentiary largely revolves around reaching agreement on a set of Decisions and Resolutions. These Resolutions cover everything from ITU event planning to specific strategies on matters such as helping Member States that are managing disasters. The 2014 PP approved five Decisions and 70 Resolutions.
Many proposals for revisions to these Decisions and Resolutions take place at the regional level, with neighbouring countries agreeing on common proposals to be discussed at the PP itself. Most of these regional groups have now concluded this process and shared their proposals, some of which have also been coordinated across two or more of the regional groups.
The RIPE NCC's primary interest is focused around what are informally known as "Internet Resolutions", which include:
In addition, we're following proposals for new Resolutions on over-the-top (OTT) services, artificial intelligence, and what's to be done about the ITU's International Telecommunication Regulations (a treaty whose re-negotiation in 2012 was unable to achieve consensus amongst the ITU Member States and resulted in a split between those countries still signed up to the 1988 treaty and those who signed onto the 2012 revision).
While it's clear that the Internet is a strong presence across PP18 discussions, some past ITU conferences have discussed quite specific Internet-related proposals, such as the ITU serving as an IP address registry. The proposals for PP18 have (to date) steered away from such specific challenges to the RIR system.
So then, what are the big issues as we prepare for Dubai?
The question that continues to sit above all others is, "what role will (or should) the ITU have in Internet governance?", and that question is driving a number of the significant proposals in relation to the Internet Resolutions. Assuming the proposals for new Resolutions on OTTs and AI are approved in some form, the number of Internet-related Resolutions will certainly grow, with the associated potential for expanding the remit of the ITU in the Internet space.
At the same time, many other UN agencies are starting to more seriously flex their muscles when it comes to matters of Internet governance, as evidenced by the 2030 Agenda for Sustainable Development (and the Sustainable Development Goals), the Outcome Document of the General Assembly WSIS+10 review, and the recently announced Secretary-General's High-level Panel on Digital Cooperation. Many of the PP18 proposals add references to these activities, but it's not always clear whether this is intended to prevent mission creep and duplication of work, or to justify a growing ITU focus on Internet governance issues.
A point of contention in the conference will likely be the future of the ITU Council Working Group on International Internet-related Public Policy Issues (CWG-Internet), a Member State-only group that holds adjacent open consultations on Internet-related issues (and was formed according to a decision of the 2010 Plenipotentiary). The membership and the output of this group have been argued over in the past, and proposals from various regional groups call for either opening up the group (in some cases to all stakeholders, in others to Sector Members) or strengthening the group's output (such as developing proposals for Council or future Plenipotentiary conferences on "international Internet-related public policy issues").
Either option would be concerning – the risk of expanding the group's membership (particularly when referencing the WSIS call for a "multistakeholder approach" to Internet governance issues) is that it will legitimise the CWG-Internet as a "multistakeholder" venue, empowered to handle an ill-defined range of Internet governance questions. At best, it would increase the burden on organisations like the RIPE NCC to follow and engage with the CWG-Internet's activities (particularly if its outputs are given additional authority). A compromise agreement that pairs stronger outcomes with greater openness (even if not in a truly open, "multistakeholder" way) is a real possibility.
Similarly controversial will be proposals for new groups and events. As mentioned above, the question of how (and whether) to continue the discussion of the International Telecommunication Regulations (ITRs) has been argued over since the last World Conference on International Telecommunications (WCIT-12), and there are now proposals to hold another WCIT in 2020 to develop a further iteration of the treaty that all Member States could sign up to. At the same time, there are competing proposals to wrap up current efforts to "fix" the ITRs dispute and simply live with the status quo. Given that one aspect of the original disagreement concerned efforts to incorporate Internet governance issues into the treaty, the RIPE NCC is obviously following this discussion closely.
Whatever the outcome of the WCIT-20 discussion, though, PP18 will probably lead to at least one new event, with a simultaneous proposal to hold a further World Telecommunication/ICT Policy Forum (WTPF) in 2021, with the topic still to be decided (but likely relating to Internet issues). Given that the last WTPF, held in 2013, produced Opinions on IXPs, IPv6 adoption and Internet governance, it's a safe bet that a further WTPF would require our attention going forward. As the regional authority on Internet address space, we need to ensure that our voice – and by extension, our community's voice – is heard in any such discussions.
Looking ahead
In the final analysis, PP18 is likely to be more of an incremental evolution than a watershed moment – what is increasingly clear is that while consensus can be reached on issues like the need to better support developing countries and encourage the growth and maintenance of modern telecommunications networks, there are stark differences between some Member State blocs on the role that the ITU should have in an increasingly Internet-dependent world.
For the RIPE NCC, spanning a service region whose governments cover all points on that spectrum, our goal is always to explain and defend our role as the regional authority responsible for maintaining an up-to-date, accurate registry of IP address space, the bottom-up policy-making model that we help facilitate, and the authority of RIPE and other Internet policy-making venues in their respective areas of responsibility. As the Internet governance ecosystem grows ever more complex, a clear and common understanding of what those respective areas are, and their limits, is fundamental for all players. Hopefully PP18 will help us move toward that understanding, rather than further muddying the waters.