Starting at approximately 11:15 UTC on 5 January, we noticed what appeared to be a large scale Internet outage in Kazakhstan. We've been tracking the outage in RIPE Atlas since.
---
It is difficult to pinpoint the cause of the outage. However, the affected networks have remained visible in the global routing system (BGP), which means they've remained "connected" to the Internet even though they have not been able to send or receive packets. The timing of the outage was synchronised, suggesting it was the result of some centralised action, although we do see small variations per region.
As of our latest checks, we see stable connectivity from RIPE Atlas probes in the country since roughly 02:15 UTC on 11 January, the longest restoration of connectivity we've seen so far:
The Outage As It Happened
The outage started at around 11:15 UTC on 5 January. Early the following morning, we saw connectivity partially restored for three hours before it went down again.
A similar partial restore occurred at around noon (UTC) on the 6 January. Now, two days in, we've started to see multiple upticks of connected probes since the initial shutdown. This could indicate partial restorations of Internet connectivity: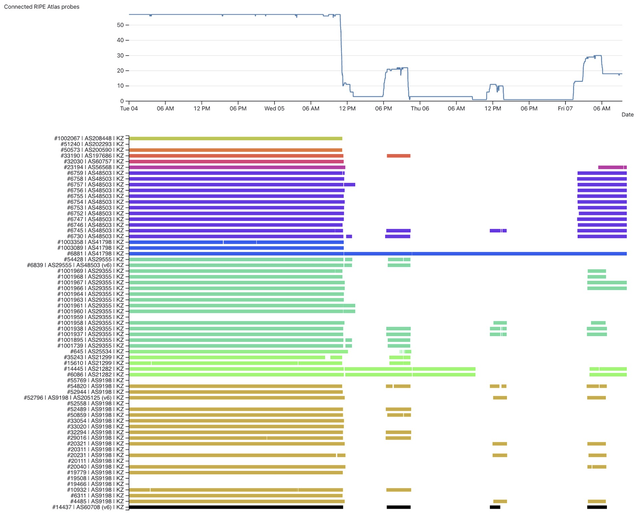 If we try to distinguish between RIPE Atlas vantage points in infrastructure - i.e. RIPE Atlas anchors and other probes with tags that suggest they are in data centres - we see differences in how connectivity developed over the last few days.
The figure below shows infrastructure vantage points in red. While connectivity for most of these vantage points went down in the last few days, it looks like most are able to send and receive packets to/from the Internet again since around midnight UTC on Friday 7 January. The other vantage points, which we think are mostly near end-users show that over the last few days there were periods of multiple hours where some of these vantage points had Internet connectivity.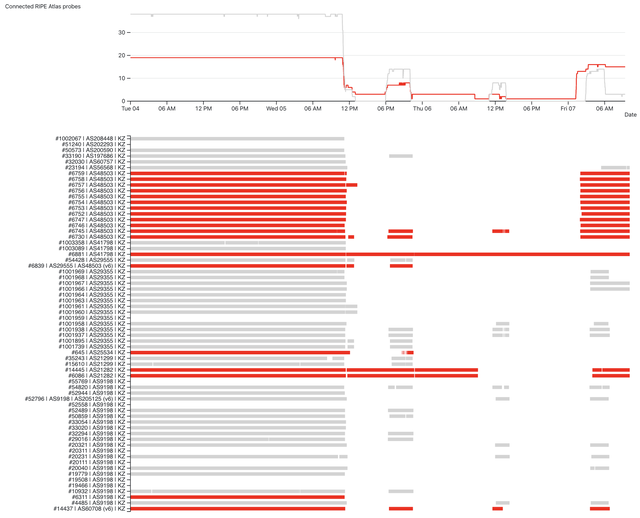 Update 10 January
In the early hours of 10 January, around 3am UTC, we see the first evidence of a full restore of the Internet in Kazakhstan. Almost all RIPE Atlas vantage points were connected again for a few hours, as you can see from the figure below. What is also visible in this figure is that there seems to be a daily pattern of some Internet connectivity that starts around 3am UTC and lasts for a few hours. 3am UTC is 9am in Almaty and the eastern part of Kazakhstan, 10am in the western part the country.
After a few hours where almost all of our RIPE Atlas vantage points were online again, we see a drop again. If we look at infrastructure (data centres) versus other probes we do see that roughly half of the other probes (homes, offices, etc.) go down again, but many stay connected. This is visible in the image below, where the infrastructure probes are in red.
We will keep track of this outage and will update this post if we find something interesting.