Over the past 18 months, the RIPE NCC has been actively following a strategy of strengthening and formalising our relationships with various parties by signing Memoranda of Understanding (MoUs) with them. What has been the effect of these agreements? Read on to find out.
---
At RIPE 73 in Madrid, RIPE NCC Executive Board Member Maria Häll presented the RIPE NCC's external relations strategy. After receiving community support for the proposed way forward, RIPE NCC staff engaged with a selected list of organisations and signed MoUs. The aim was multifold: to increase knowledge and understanding between both parties, coordinate our activities, identify opportunities for cooperation, establish more resilient formal relationships between organisations, and last but not least, to provide greater transparency to our membership and the RIPE community about our engagements with these external parties. You can find a list of all existing MoUs, as well as more details about our motivation in this RIPE Labs article.
It's important to note that not every agreement is the same. When working with us, some organisations are searching for more support in capacity-building activities, others for information about our services, activities or procedures, others for more engagement with each other's events, and so on.
Engagement with technical coordination organisations and industry partners

The most logical partners for the RIPE NCC are other technical coordination organisations. The MoUs we have with them are usually reaffirmations of our existing, and often longstanding, relationships. An example is the MoU we recently signed with CENTR, the Council of European National Top-Level Domain Registries, an organisation whose first incarnation was actually housed within the RIPE NCC. For many years, we've cooperated with CENTR in capacity-building efforts at events such as EuroDIG and the IGF about names and numbers so that policymakers and other stakeholders can make informed decisions. Since signing the MoU, our staff attended CENTR's General Assembly and CENTR staff participated in the RIPE NCC Government Roundtable Meeting last month in Brussels.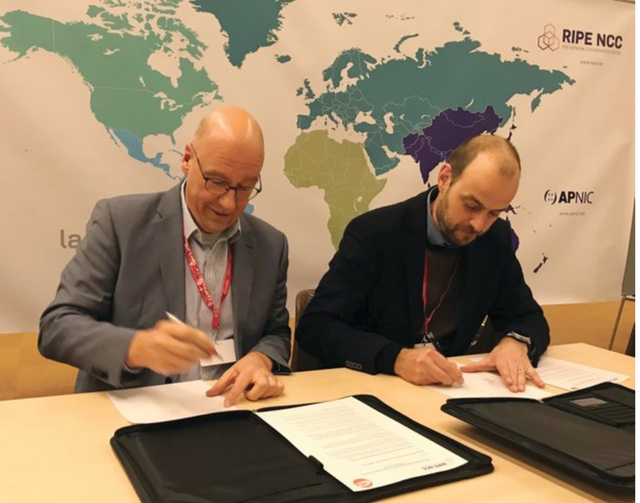 Axel Pawlik (RIPE NCC) and Peter van Roste (CENTR) at the MoU signing ceremony
The RIPE NCC also keeps close relationships with regional technical associations. Following our MoU, ARISPA, the Arab Regional ISP and DSPs Association, helped us promote a number of member lunches and trainings in the Middle East – in Syria and Jordan. APTLD, the Asia Pacific Top Level Domain Name Association, is going to help us spread the word about our training courses adjacent to their 74th meeting in Uzbekistan in September this year.
"Our close ties with ARISPA allow us to build a close relationship with the League of Arab States and participate in Arab governmental discussions," said Chafic Chaya, RIPE NCC External Relations Officer for the Middle East.
Engagement with Law Enforcement Agencies (LEAs)
Governments and law enforcement agencies are paying closer attention to Internet issues, so it's perhaps not surprising that one of the first MoUs that the RIPE NCC signed, in December 2016, was with Europol. Since then, the two organisations increasingly share expertise in the areas of cybercrime and Internet security. Europol often attends and presents at RIPE NCC events, offering their views and perspective to the RIPE community as well as sharing the problems they face, such as the challenges of attribution posed by widespread deployment of CGN technologies. They have also helped the RIPE NCC develop training packages that we now use in our engagement activities with LEA, government and regulators.
Our engagement with LEAs extends across the RIPE NCC service region. In 2017, we organised in-person LEA workshops in Minsk and Kiev, as well as six webinars attracting over 400 agents from all over our service region. Finding a host for such an event in Russia proved to be more of a challenge though. Not for long! Leveraging the MoU we signed with the Russian Ministry of Telecom and Mass Communications in April 2017, we  co-organised the first LEA workshop in Moscow on 31 January 2018. The workshop covered topics such as the RIR system, the RIPE Policy Development Process, using the RIPE Database and other RIPE NCC services as well as topics such as IPv6 deployment, Internet of Things and other emerging technologies.
Engagement with governments and regulators 
Every country in our service region is different. A good relationship with governments and regulators allows the RIPE NCC to learn about their plans for laws and regulations that may impact the RIPE community while providing them with factual information and statistics so that they can make informed decisions.
In some cases, having contacts with the government is the only way to organise an event for the local or regional community. Hosting RIPE 75 in Dubai is one of a long list of activities organised in cooperation with the Telecommunications Regulatory Authority (TRA) of the United Arab Emirates. The MoU we signed during that meeting already led to the first RIPE NCC LEA workshop in the Middle East and the first academic day held in Dubai.
But sometimes governments themselves call on our help as a technical expert, as was the case during the IXP workshop organised by the Georgian Ministry of Economy and Sustainable Development. Our increased presence in the Caucus region and CIS countries made it easier for us to organise multiple activities there – LEA meetings, seminars, academic engagements, member lunches, training courses, etc. During the Georgian IGF in September last year, the RIPE NCC signed an MoU with the Georgian National Communications Commission (GNCC) with the aim to further strengthen this engagement. Since then, we've leveraged this relationship to organise a member lunch in Tblilisi as well as academic seminars at the Free University and the Caucasus University.
Engagement with academia
Another very important sector for the RIPE NCC is academia. We've tried to strengthen our engagement there through various programmes, such as the RIPE Academic Cooperation Initiative (RACI), organising seminars and workshops at universities, encouraging students to take the free RIPE NCC Academy courses or participate in the RIPE NCC::Educa events. Our first MoU with an academic institution was with the American University of Beirut. Since signing, they've helped us promote our academic days and IPv6 Roadshow in Syria and Lebanon. We are also currently working with them on an online academic course on IPv6, as part of the RIPE NCC Academic Partnership Programme. The course is expected to have its first run later this year. 
"Our goal is to provide higher education students with an online learning programme about the Internet ecosystem and how the Internet works, which will also help to bridge the gap between higher education and the needs of the job market," said Sandra Brás, RIPE NCC's E-Learning Program Manager.
Where do we go from here?
We are busy negotiating MoUs with a few other entities from across our service region. In the near future, the focus would slowly shift towards making the most of the agreements we've already signed. We continuously receive requests for event engagements, seminars, hackathons, academic days, joint workshops, trainings. We certainly have our work cut out for 2018!