Our latest release includes a lot of new features, including completely new opening pages on the website for logged in users and the general public. We also have one-off measurements, APIs, new maps, probe sharing and more! Please find all the details below, and don't forget to tell us what you think.
---
As RIPE Atlas users may have already seen in the recently published RIPE NCC Roadmap , we've had a whole bunch of new and exciting features in the making. We're happy to announce that many of these have just been released. Here's a rundown of what's new:
All new opening pages, including your own dashboard
The opening pages of the website also got a facelift – they now emphasize different content specifically tailored to our different users, including a page for the general public that gives an overview of RIPE Atlas and a dashboard view for logged in users.
When you're logged in, the new dashboard view gives you a comprehensive overview, highlighting:
The status of your probes
The status of your latest measurements
A new of visualising of your credit balance
An overview of your API keys
All of the above are just overviews of the current situation, and they all lead you to the existing, more detailed pages under My Atlas (My Probes, My Measurements, etc.).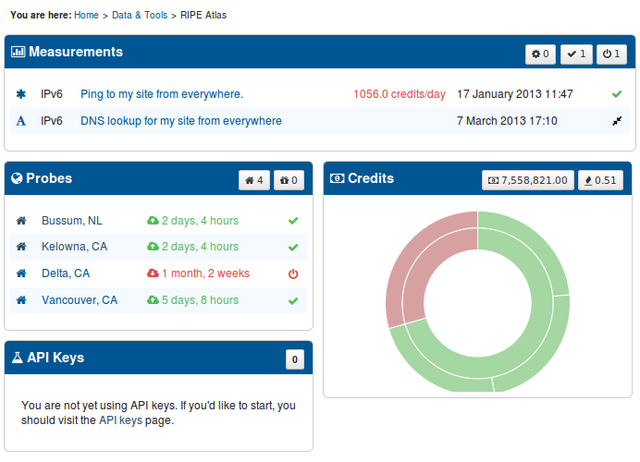 The new dashboard view for logged in users

One-off measurements
About a year ago, RIPE Atlas started supporting u ser-defined measurements , which involve ongoing, periodic measurements that users could set up and run themselves. Recently we extended our system to be able to deal with "one-off measurements". These build on the same user-defined measurement functionality, but they execute the specified measurement only once.
The benefit is that this execution still uses the full network, yet is much faster than before. You can expect results within a few seconds after starting your measurement, as opposed to the regular user-defined measurements, which typically take several minutes to produce results.
This speed increase opens up a completely new use case: network diagnosis or debugging. A network operator can now ask RIPE Atlas to perform spot checks in the case of a suspected problem. The system returns results from a wide set of vantage points, so questions like "How does the world connect to me?" or "How big is the problem?" can be quickly answered.
As of now, one-off measurements support ping(6), traceroute(6) and DNS measurements.
Please see the user-defined measurements documentation for more details.
Measurement API for interacting with RIPE Atlas
As an extension of the previously published measurement API, it's now possible to define your measurements via a scriptable interface. This allows you to write your own scripts to start/stop your measurements, and enables the integration of RIPE Atlas measurements and/or results into other systems, such as network monitoring and fault detection.
Please read the measurement API documentation for more details.
Redesigned credit reporting
Previously, your credit balance was reported as part of the user-defined measurements overview. This was not obvious to many users, so we now provide simpler access from the "My Atlas" menu.
The redesigned page now shows:
A list of your credit transactions
A downloadable archive of your old "statements" per month
A simple chart showing you credit consumption over the last couple of months
A nifty "doughnut" visualising your current status (the relation between your credits earned and spent)
A simple way to transfer credits to other users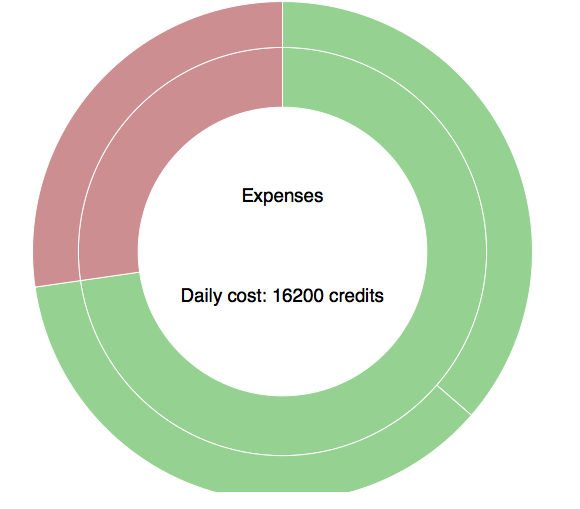 New visualisation displaying your credits

In order to see all this for yourself, log in and go to your own credit page .
Visualising user-defined measurements
Overview
Wouldn't it be nice to have a single page overview of how your ping measurement is going? Of course it would! So we made it happen: if you check out the "Probes" tab for a ping measurement, you'll see an ordered report of reply times, with intuitive colour coding of the results.
In the near future, we plan to extend this for other measurement types as well (DNS, SSL and even traceroute results).
New overview displaying ping results

New maps in the making
Another step towards giving you more information is the visualisation of the latest data for your measurements. For the moment this only works for ping(6) measurements, but in the coming period we'll add more measurement types. By looking at these maps you'll get an overview about the status of your measurement as it is 'now'.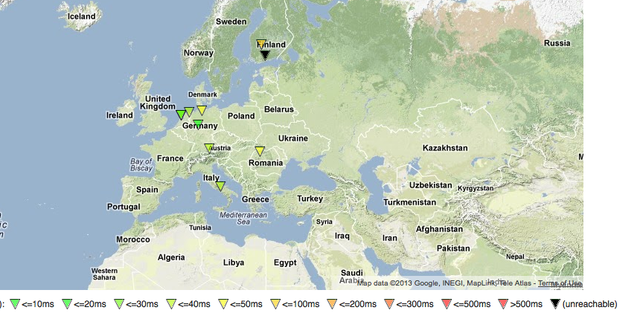 Map showing your measurements

Country coverage
We also added a map that visualises the extent of the probe network in a new way, showing probe density per country . The deeper blue a country is, the higher the percentage of total RIPE Atlas probes located in that country. Yellow countries don't have any probes yet. Note that this map only includes active, connected probes.
Map indicating the percentage of active probes per country

Sharing your probe with your colleagues
Many RIPE NCC members wanted to be able to "share" their probe with colleagues in their LIR. We're happy to announce that this is now possible. Probe hosts can now mark a probe as "shared within my LIR".
In the "My Probes" tab, just go to "Probe's Settings" then "General Configuration", and select your LIR in the "Share with" field. This makes all your colleagues belonging to the same LIR (according to the LIR Portal) who have logged in at least once before to the RIPE Atlas website, co-hosts for this probe.
Be aware that co-hosts have the same privileges as hosts – they can see and configure the probe's settings, and they can even transfer the probe to someone else. The credits generated by the probe are still accumulated on the original host's account.
As you can see, this sharing function is aimed at RIPE NCC members. We'd be happy to extend this feature to other, self-defined groups if there's enough interest.
Increased user limits
Right from the beginning, the RIPE Atlas user-defined measurements had a number of mechanisms in place in order to safeguard against overloading the system. This meant that in addition to the credit consumption limits, we implemented limits on how many measurements could be run in parallel and how many probes could be used per measurement.
We're happy to announce that these limits have been significantly relaxed to 100 concurrent measurements and 500 probes per measurement. You should now be able to put hundreds of probes to work for you! You still need to 'pay' for them with your credits, and the daily credit consumption limit is still enforced – but ultimately, these two will be the only limiting factors.
Other enhancements
There are several other enhancements that we made but are not directly visible to the users: backend changes, scalability enhancements, internal optimisations and so on. While these don't seem to provide direct value to the users, they are necessary in order to operate the system as well as to handle the continuous growth of the network.
Feedback
As you can imagine, it's entirely possible that among so many enhancements, some contain bugs. Please let us know if you believe you've found one, and of course we'll correct it as soon as we can.
If you have any bug reports, comments or questions, please get in touch with us via one of the feedback channels , or leave a comment:
Ask questions using the RIPE NCC's Live Chat service
Reach us on our dedicated RIPE Atlas Twitter account: @RIPE_Atlas
Subscribe to the RIPE Atlas mailing list for active users, which is also followed and answered by developers: ripe-atlas [at] ripe [dot] net
Report a bug or problem: atlas [at] ripe [dot] net
Give direct feedback: Contact Vesna

Manojlovic, Senior Community Builder, at

becha [at] ripe [dot] net or @Ms_Measurements (#RIPEAtlas)