I made it to the end of the week. It was tiring, but it was great to talk to so many people again and to catch up with the latest developments.
---
Please also see my IETF 98 updates from Sunday, Monday and Wednesday.
Maintaining IPv6
The 6man working group was dominated by a  huge discussions on a number of documents that are in last call, especially document 2460bis. Many people were concerned about late changes to the document which has long reaching implications. Especially operators were pretty upset and gave the area director a hard time.
Are standards set in stone or should deployment and operations influence the standards documents? Can standards documents be changed at a later stage in case operators interpret them in a different way than originally envisioned?

I am wondering if it would be useful to have a regular update from the IETF at RIPE Meetings. We used to do that in the early days: Joyce Reynolds came and updated the operators community especially on developments in the applications area. It might be difficult to give an overview of all IETF developments relevant to the operators community, but it might be worth a try.
Please also see George Michaelson's report from the IETF 98 IPv6 operations working group.
IETF Systers
I am always looking forward to this event: lunch with the IETF systers. There are so many interesting women at the IETF and it is easy to miss each other in the large crowd. So it was nice to have many of us in one room. This time 60 IETF women came together. That was roughly half of all the women participating in the IETF 98 meeting, about 12% of all participants, a number that has been pretty stable over the last few years.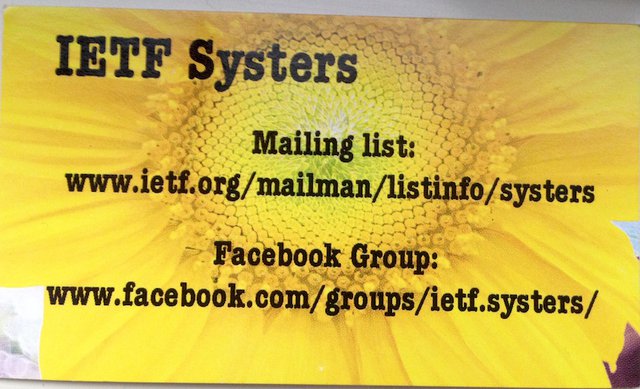 A blast from the past
At the end of the day I ran into some old friends from the very early days of my career. When I started working at the RIPE NCC (the first time ;-)), my boss sent me to some networking events to learn more about networking. I studied computer science, but I didn't have a lot of hands-on experience with building networks. So, I joined the Interop network operations center (NOC) as a volunteer and helped them cable the enormous halls. The NOC members were wonderful and taught us a lot about various technologies. It is great to see that many of them are now on the IETF NOC team.
One of the important side effects of attending an IETF meeting, are the many hallway chats. It was great to catch up with many friends and colleagues and also to meet many new people. There will be a lot of follow-up after the meeting.
And finally I want to share another great carpet design with you :-)