Imagine a tool designed to show what's happening on your network in near real time. TC Console is a tool that allows you to do that, but with a crucial new innovation: it integrates Team Cymru's unique insight into malicious activity on the Internet.
---
TC Console is a new web-based tool from Team Cymru that helps provide visibility into your own network's malicious activity. The data provided and displayed is collected from Team Cymru's various sources from around the world and is specific to each specific user's own network. TC Console highlights the activity specific to your network and only your network, allowing you to focus on activity that you care about.
In the image below you can see an example of the TC Console interface.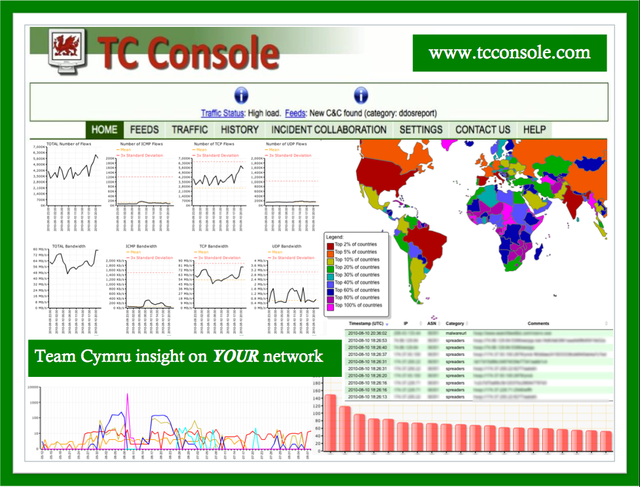 Activity identified by TC Console takes many forms with a particular focus on malicious activity insight. Identification of open resolvers, open proxies, compromised routers, web sites distributing malware, SSH brute force attackers, sources of spam and botnet infected hosts are just a sampling of the types of activity TC Console will detail.
TC Console is specifically made available to those responsible for network security at networks that route public IP address space and have an associated autonomous system number (ASN). If you manage such a network and are administratively responsible for security incidents, you can apply for an account at http://www.tcconsole.com . Team Cymru vets applicants to ensure only authorized administrators gain access to TC Console and data for the associated network(s).
In most cases all costs will be borne by Team Cymru: TC Console is offered as a community effort. The richness and value of the data is made possible by contributions from the community in order to ultimately benefit the community. Therefore, those wishing to enjoy the benefits of TC Console should expect to contribute to further enhance the service. Those that are unable to contribute data are welcome to explore commercial terms. Typical contributions include bandwidth, hosting, data from darknets and other resources. Other contributions will also be considered.

Please see http://www.team-cymru.org/Services/TCConsole/ for additional information and a video demonstration of this new tool.
Acknowledgments: This article has been contributed by John Kristoff of Team Cymru .