Today: More robots, women and security, and an eye-opening presentation about how to best present data.
---
The guided tour through the Creative Robotics Laboratory at the University of Linz was very fascinating. It brought back memories of my adventures with artificial intelligence and robotics during my computer science studies. I was happy to see that there was a lot of development and progress since then. Today, robots can even make you a fancy drink.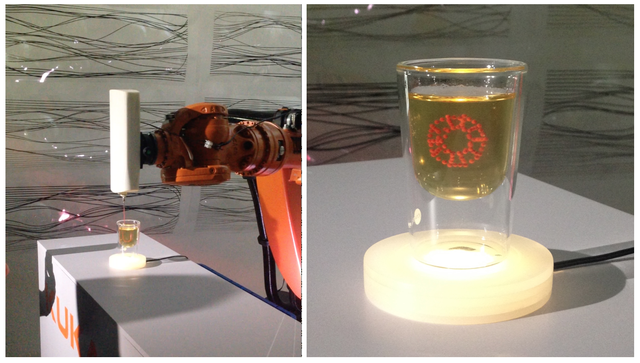 Robot adding a shape into a drink - fascinating!
The 3-D show Deep Space in the Ars Electronica Center was also very impressive. It was definitely better than what you experience watching a 3-D movie in the cinema. Thanks to ACONET, our local host, for organising all these wonderful side events!
Securing the Things with Women
This morning I was very excited to be chairing the Security of Things session with three great women as speakers (even though one of the presenters had invited one of her colleagues for some parts of her talk, but we quickly decided to make him the "honorary woman" of the day :-)).
The first two talks concentrated on the Internet of Things (IoT) and the various threats these connected devices can form. Opinions in the audience varied about what we can do about this. While some suggested user awareness is key, others felt that won't bear any fruit and advocated for more regulation. Cynthia Wagner described it as "security by design" and in fact some companies now realise that including security from the start in their products is ultimately cheaper than a large recall of their devices later.
Hannah Short described the collaboration platform WISE for the academic networking community to collaborate on risk assessments and awareness raising. Earlier this week, Hannah won the GEANT community award for managing this project.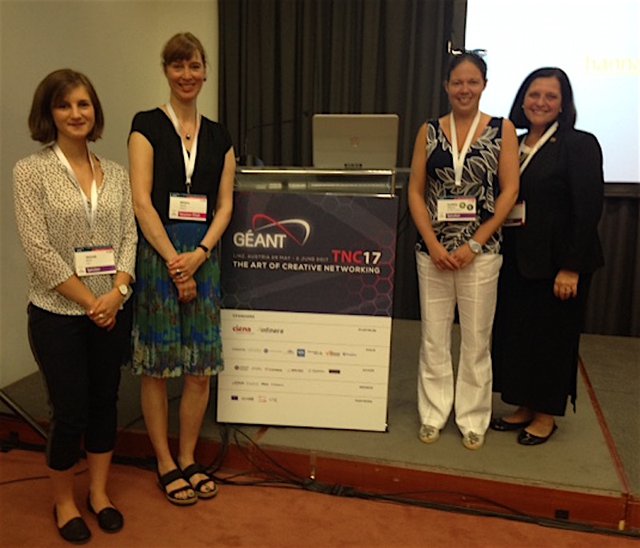 The speakers Hannah Short (left), Cynthia Wagner (second from the right) and Florence Hudson (far right) and me, the moderator
Story Telling with Data and Living Labs
Cole Nussbaumer Knaflic gave an eye-opening presentation about how to consciously present data in a way that leaves the audience with the message you want to bring across. It nicely illustrated all the mistakes I constantly make when presenting and I will definitely take Cole's advice to heart next time I prepare a presentation.
The main take-aways are "decluttering and focusing attention" by stripping away unnecessary information and by drawing attention to the important parts. It is also essential to make data a pivotal point in the overarching story and not to present data in a stand-alone way. Cole says: "Even if you have no time to prepare, at least focus on colour and on words!" There is also a blog and a book.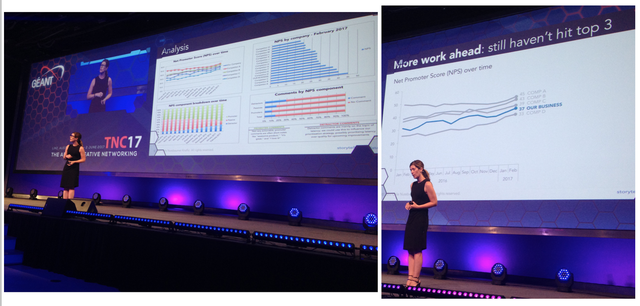 Decluttering your presentation and focusing attention (before and after)
The second plenary speaker Dr. Artur Serra Hurtado stressed the importance of communities in driving creativity and innovation. Artur says: "Labs is the new meme!" (hear, hear!) But Artur is mostly talking about "living labs" made of citizens: kids, seniors, students, artists. His presentation illustrated how people are building a "cultural ring and creative hubs" that combine arts and technology.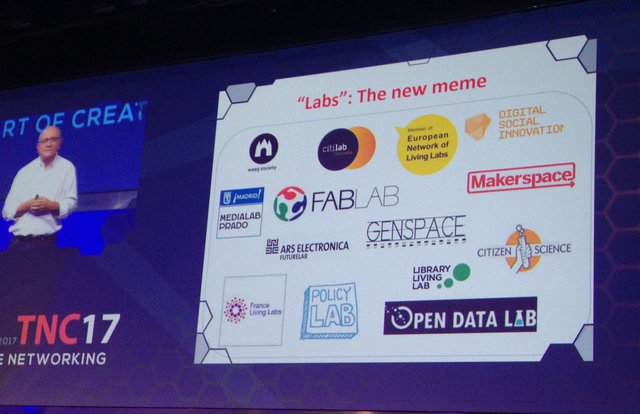 Labs: The new meme :-)
In the afternoon, my colleague Christian introduced me to his former thesis mentor (and deputy head of the Institute for Application Oriented Knowledge Processing) Birgit Pröll. We visited her at the University of Linz to promote our academic outreach program RACI and our services and tools.
This evening another interesting side event is waiting for us: A Multi-Site Sound And Dance Performance before we will end this conference with a closing dinner. Overall, it was a very interesting three days, and it was wonderful to catch up with so many people from this very diverse and inspiring community. I am already looking forward to TNC18 in Trondheim, Norway :-)