Two years ago we released the RIPE NCC Academy - an online training service. Now we've launched the third training module: the Local Internet Registry (LIR) course.
---
Motivation
The RIPE NCC has been delivering on-site training courses for our members across the RIPE NCC service region. However, due to our limited resources, or due to security concerns, we are neither able to travel everywhere, nor travel as often as we would like. Because of this, some members that would like to attend our courses have not yet been able to do so. This led to an increasing demand for us to provide structured online courses that would enable people to access all our content and maintain easy contact with the trainers. As a result, the RIPE NCC Academy was born.
E-Learning
The RIPE NCC Academy is our e-learning platform. With it, anyone who wishes to participate in a training course, but is unable to do so in person, can go through online versions of the training courses. Access to useful documents and activities is made available, and there is the possibility of contacting a trainer if needed. This is especially useful for members who live in countries we do not visit often. Now, all that is needed in order to participate is an Internet connection! The RIPE NCC Academy is based on the Moodle platform, which is one of the most widely used Learning Management Systems (LMS).
Students can enrol in courses using a RIPE NCC Access account, which grants them access to all the relevant content. Furthermore, all courses contain several activities and a final exam. This way, each student can prove his or her knowledge by completing the activities and the exam. If they pass, they receive a certificate. This is not mandatory, though, as each student can enrol in the course just to have access to the course content.
The first course to be published was the RIPE Database Expert course in November 2014 during RIPE 69. Less than a year later we published the Introduction to IPv6 course, in June 2015. There was quick uptake and a lot of people registered. Currently, 1,484 people are enrolled in the RIPE Database course (367 of them having completed it) and 1,179 are enrolled in the IPv6 course (223 of them having completed it).
Both these courses contain practical activities related to the RIPE Database, where the students are asked to create certain types of objects in a training version of the RIPE Database.
Improvements
Since the RIPE NCC Academy was released two years ago, we've been adding small improvements to the platform's interface and usability, as well as more interactive diagrams to the content sections of the courses.

One big improvement that was made was the automated correction to the activities using the Training Database. In these activities, students are required to create or edit objects in the Training Database. Initially, after a student submitted a response, one of the trainers would have to verify if every object was correctly created, then manually grade the activity. This, of course, led to extra workload. So, in February this year, we automated this process by creating a custom Moodle plugin that uses the RIPE Database API for automatic checks.
Online LIR Course
The Local Internet Registry (LIR) Course is one of our most popular courses that covers, among other topics, all aspects of being a member of the RIPE NCC, its procedures and how the RIPE community works.

Last week we released the online version of the LIR Course. The various modules of the online course can be seen in the image below.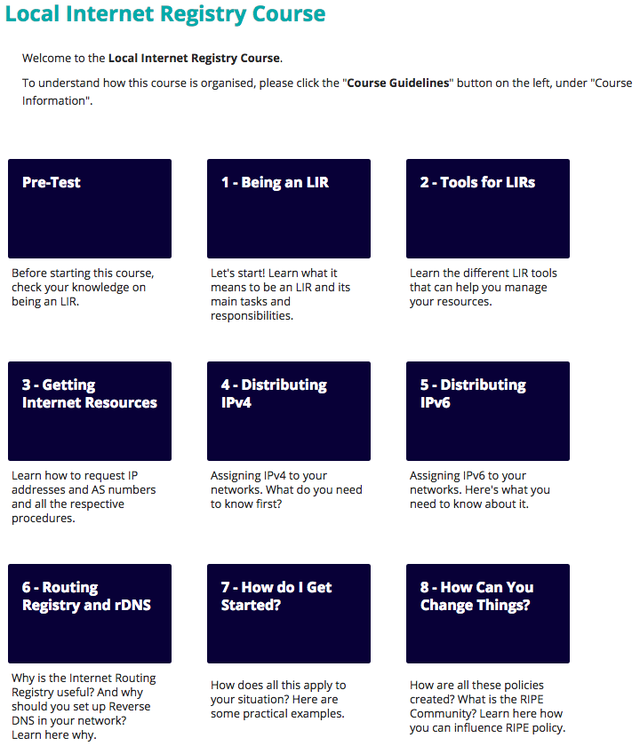 Now, one week later, we have 150 registrations (with six participants having already completed the course).

This course is especially useful for new organisations joining the RIPE NCC, but also for older members who want to train new staff.
Using your RIPE NCC Access account, you can enrol in any of the RIPE NCC Academy's courses at https://academy.ripe.net .