The RIPE NCC is working on a mobile application that will make it easier for users to access data in the RIPE Database from a mobile device.
---
At the RIPE NCC Business Applications Department we started experimenting with mobile technologies that could be used to provide a better way for you to access data sets provided by the RIPE NCC. We are interested to find out what mobile devices are used widely and how we can make this application most useful to you.
 
The very first mobile application we are testing, would allow you to get easy access to the RIPE Database. It would also let you use your mobile device to actively use the data you are looking at, for instance phoning or emailing a person or showing a location in Google Maps or displaying raw data for a certain object.
Choosing the right technology is critical, because we want to build the application only once and make sure it runs on as many different operating systems and hardware platforms as possible. For this reason the application is not a native application but a remote web page optimised for mobile devices.
Currently we are settling on JQuery Mobile, which is a Javascript framework designed to give the developer UI controls which will work on a wide range of modern mobile devices, like iOS, Android, Blackberry, Nokia (Symbian version 3) and Windows Mobile Phone 7.
We are still in the early stages of this project, but so far it is looking very promising. Please see below
two screenshots of the application running on the Android browser.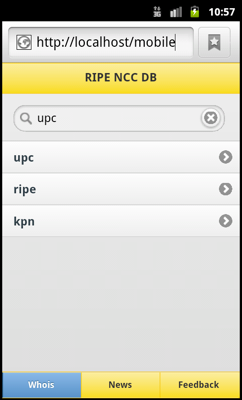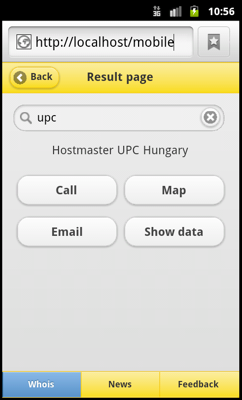 During the next couple of weeks, we are going to optimise the user experience and see how far we can go with automated testing.

If you have any feedback or suggestions, please feel free to leave a comment under the article.