We investigate the state of IPv6 in Sweden in this special RIPE NCC Internet Country Report.
---
RIPE NCC Internet Country Report: IPv6 in Sweden RIPE_NCC_Internet_Country_Report_IPv6_in_Sweden_May_2022.pdf – 2.0 MB
Download
Our latest report looks at the history and current state of IPv6 deployment in Sweden and examines the difference between domestic and international connectivity, access to K-root, traffic paths and network security over IPv4 versus IPv6. This report was requested by PTS, the Swedish Post and Telecom Authority.

The report's key findings include:
Sweden has an unusually large amount of IPv4 for its population, which likely contributes to its low IPv6 deployment rate
The country's top Internet service providers vary greatly in terms of IPv6 capability, yet even the top IPv6 provider lags behind the world average
There is a good level of interconnectivity between Sweden's networks, over both IPv4 and IPv6, resulting in healthy redundancy
Domestic traffic paths tend to stay local over IPv6, and slightly less so over IPv4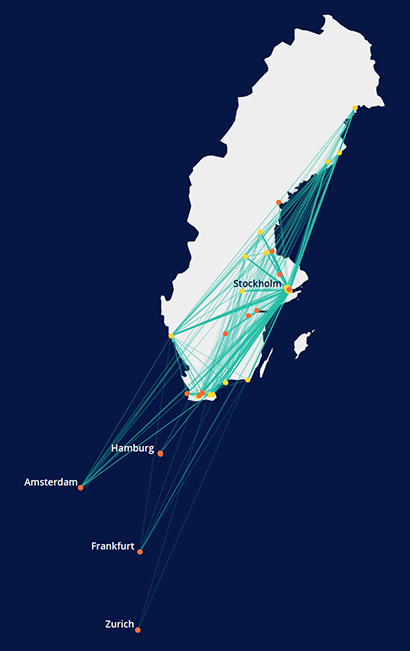 Since 2019, the RIPE NCC has produced RIPE NCC Internet Country Reports as part of an ongoing effort to support Internet development throughout our service region by making our data and insights available to decision makers, local technical communities and policymakers. This report is a shorter, more focused version of the RIPE NCC's regular Internet country reports.
The full report, along with all of the previous Internet country reports, is available here.
Data Sources
We want to highlight the fact that these Internet country reports are largely based on publicly available data. We hope they give you an idea about the kind of data and analysis that's possible using RIPE NCC tools and services. If this report inspires you to learn more about those tools and maybe even explore what you can do with the data yourself, check out the following:
Let us know if you have any questions about the data contained in the report, the measurements tools we used, our analyses, or anything else!
Future Reports
We plan to continue producing these Internet country reports for countries and regions throughout the RIPE NCC's service region of Europe, the Middle East and parts of Central Asia - and we want to hear from you about what would be most interesting and valuable. Please share your ideas with us below and let us know what you would like to see!