Increasing the reach of RIPE Atlas anchors is one of the highest priority goals of RIPE Atlas Team. In this article we will inform you about the current status, new features and, as always, we want to get your feedback about our plans.
---
Latest Statistics and Curiosities  
Since the RIPE Atlas anchors were announced as a production service during the RIPE 67 meeting in Athens, in October 2013, the community has shown a lot of enthusiasm for the project. Together, we have reached: 
A total of 36 active anchors in the RIPE Atlas network

15 were part of the pilot, 21 were installed since the production service announcement 

In addition we received 33 applications to host an anchor
Currently the most anchors (five) are installed in Germany, followed by France and the Netherlands with four anchors each.
Looking at the extreme points in the RIPE Atlas anchor map:
The northernmost point is Iceland: hosted by ISNIC in Reykjavik on behalf of the RIPE NCC
The westernmost is in California: hosted by Atrato in Palo Alto
The southernmost is in Greece: hosted by GRNET in Athens
The easternmost and southernmost globally is in Japan: hosted by WIDE BB/UTokyo on behalf of RIPE NCC in Tokyo.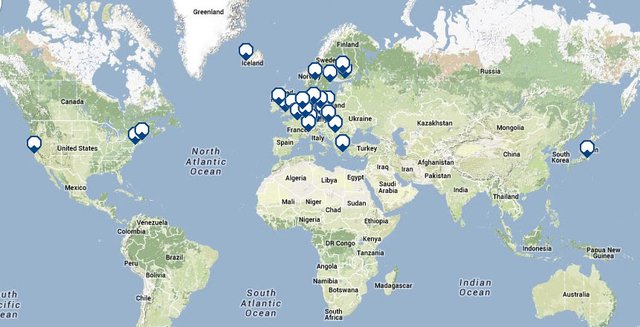 Figure 1: RIPE Atlas anchor locations
How much bandwidth?
The question we get most often from operators in developing countries is, "how much bandwidth is an anchor going to use?". We can give two kinds of answers: what we have observed up to now, and the bandwidth need for expected growth.
The bandwidth used by RIPE Atlas anchors has grown from 10Kb/s in March 2013 to 40Kb/s in January 2014 as you can see in Figure 2 below.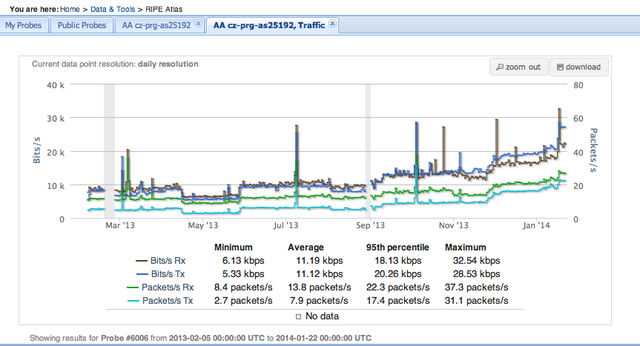 Figure 2: RIPE Atlas anchor growth in bandwidth
However, in the information for the anchor hosts, we ask for the commitment of 10Mb/s , because we expect a growth of bandwidth needed with more anchors being added (since they do mesh anchoring measurements). In addition, the number of regular measurements directed to anchors used as regional targets will grow. Also, due to the decommissioning of TTM, we are planning to start DNSMON-like measurements based on RIPE Atlas anchors, and that will increase the bandwidth needed. 
If you are interested in hosting an anchor but still have concerns, please get in touch with us. 
Using RIPE Atlas anchors for monitoring
K-root instances and RIS route collectors  
The RIPE NCC operates K-root instances and Routing Information System Route Collectors (RIS RRCs) around the world, with the help of local hosts. In order to additionally monitor the performance of those nodes using RIPE Atlas, we asked those organisations to help us further by hosting a RIPE Atlas anchor on behalf of the RIPE NCC. The RIPE NCC will pay for and operate these anchors, with the help of the hosts. These locations are ideal as they offer stable connectivity, are located in "interesting" regions, and the RIPE NCC already has a good working relationship with the hosts. Also, having RIPE Atlas anchors at the same location as the RIS RRCs will provide valuable active measurements data to correlate with BGP data.
There are currently four anchors operating at such locations, with four more to come online very soon. Our goal is to have RIPE Atlas anchors at all K-root instance and RIS collector locations by the end of 2014.
Regional Internet Registries
Since the RIPE NCC has an ongoing technical cooperation with other Regional Internet Registries (ARIN, APNIC, AFRINIC and LACNIC), we made agreements with them to also host a RIPE Atlas anchor. We believe this partnership will help strengthen the RIPE Atlas network by providing more regional connectivity data in some regions where we don't have many regular probes, and will provide valuable additional monitoring of infrastructure of RIRs. 
What's new?
Company names displayed
We've added a column to the list of RIPE Atlas anchors that now displays company names, so all visitors to the RIPE Atlas website can easily see which organisations are hosting an anchor.
New Memorandum of Understanding
We've updated the RIPE Atlas anchors Memorandum of Understanding (MoU) to include the case where an anchor is hosted on behalf of the RIPE NCC by another organisation (for example, RIR or K-root or RIS RRC host). We also clarified some of the language about anchor hosts and anchor probes.
Scheduling firmware updates
We want to let you know when we might be updating the firmware or need to schedule a reboot so that you don't find your anchor unexpectedly offline. So, going forward, we will be doing any such updates on Tuesdays between 14:00 and 15:00 UTC . This means it will be up to you to adapt any monitoring systems you may have that use your anchor, to cover the possibility of this downtime. At any other time, you can assume we are not working on the anchors, unless there was an urgent fix we needed to deploy.  
Known Issue
We've had reports from some of our anchor hosts that there were issues in getting our software image installed on their anchor using certain models of USB memory sticks. We've tested a specific USB stick and we'll work with our reseller to include it in new anchor shipments. If this happens to you in the meantime, please try using a different USB stick. We apologise for the inconvenience. We also want to thank one RIPE Atlas anchor host for coming up with their own unique solution (see Figure 3 below kindly contributed by Brice Lopez).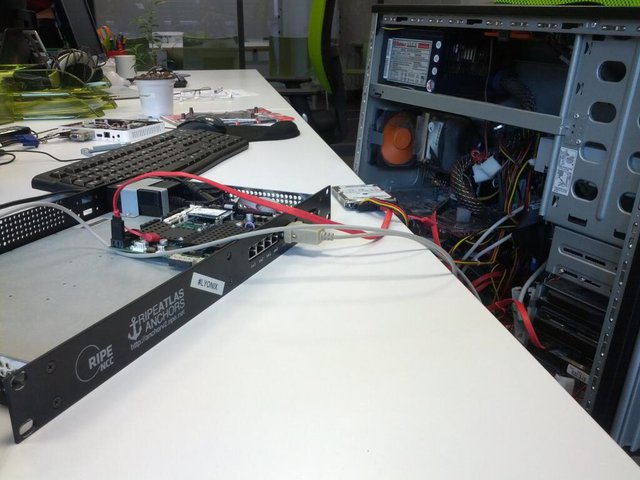 Figure 3:RIPE Atlas anchor at the Rezopole/Lyon IXP

Special Thanks
We appreciate the support of all our RIPE Atlas anchor hosts, but we wanted to give a special thanks to our new anchor host, Tim Kleefass of BelWü, for getting his anchor up and running within the shortest amount of time yet.
We will continue to streamline the application and installation procedure to make it as easy as possible for anyone interested in hosting an anchor. If you have ideas about how we can do this, please don't hesitate to get in touch (see below).
Future Plans
We are planning to have 50 anchors active by the end of March and a total of 100 active by the end of 2014. We are especially interested in covering the non-RIPE NCC region, developing countries, and IXPs: we are actively looking for partners who can facilitate that expansion.

Although we and our hosts are very happy with our current reseller -- of the over 30 hosts, no-one has ever complained -- we are still looking for more equipment resellers, specifically for non-European countries, to ease the customs handling and shipping costs. 
In the future, we want to make the RIPE Atlas anchor administration interface easier to use and make more features available to you, such as the ability to change your company name and add your company logo in order to recognise the contribution of our hosts and to promote their organisations even more on our Community page .
We also plan on making it possible to add a  role object from the RIPE Database as your technical contact, in case we need to get in touch with you about your anchor.
As already mentioned, in the near future, we will be providing an empty USB stick along with the anchor hardware, to be used for installing the downloaded software image. This is to prevent the issues described above.
Feedback
As we continue to develop RIPE Atlas, we rely on ideas, suggestions and feedback from the Internet community to help guide us and ensure we provide the most useful tools to you. Let us know what you think:
For specific questions about RIPE Atlas, including RIPE Atlas anchors, please use the RIPE Atlas mailing list for active RIPE Atlas hosts and interested users, which is also followed and answered by RIPE Atlas developers: ripe-atlas [at] ripe [dot] net
For more general discussions about measurements and future plans, please use the Measurements Analysis and Tools Working Group Mailing List: mat-wg [at] ripe [dot] net

For direct feedback, or any requests, please contact the Measurements Community Building team, at mcb [at] ripe [dot] net

Join the discussion on Twitter @RIPE_Atlas