In the past few months, we've added some new features and functionality to RIPE Atlas, including making the DNSMON code available on GitHub for personal use, displaying IPv4 vs IPv6 comparisons in LatencyMON, new credit sharing options, and new limits on probes per measurement and results per day. Learn more about the latest updates - and don't forget to tell us what you think.
---
DNSMON Code Available
We've made the code for DNSMON open source and available on GitHub for anyone who wants to use it with private data about their own zone. This client-side tool is available in JavaScript and doesn't require any third-party plug-ins - you can just open your browser and start using it.
Please keep in mind that this is not a full production service, so there are no guaranteed levels of service. Having said that, we hope you find it useful! And don't forget - you can also contribute to the code yourself.
LatencyMON: IPv4/IPv6 Comparisons
You can now easily compare results for anchor measurements over IPv4 and IPv6 in LatencyMON (a visualisation that compares multiple latency trends collected by groups of RIPE Atlas probes towards the target(s) of your choice). Just click on the "compare" button for a ping, traceroute or HTTP measurements of your choice on the anchors measurement page to see the results visualised in LatencyMON.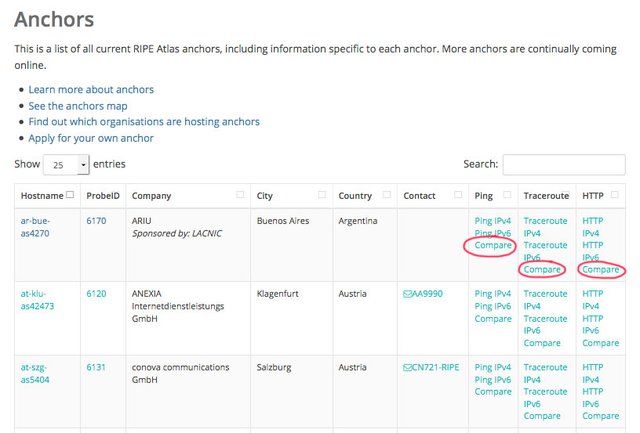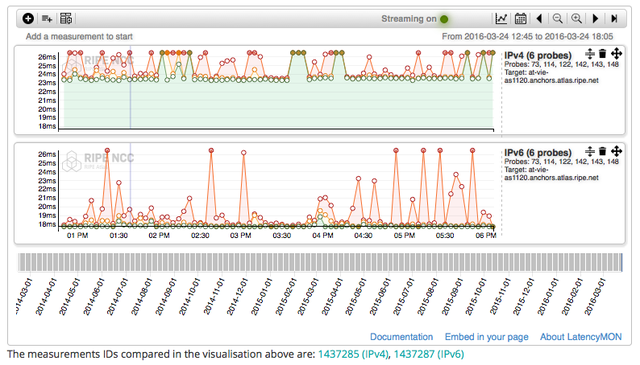 The new "compare" feature in LatencyMON lets you compare latencies in IPv4 vs IPv6 in one easy display
New Credit Sharing Options
Have a lot of RIPE Atlas credits to share? There are a few new ways to spread the wealth.
Standing Orders
In addition to sharing credits from your credits page (found under "My Atlas"), you can also set up a "standing order" for sharing credits with another RIPE Atlas user (or multiple users) on a regular basis. You can set the amount of credits you want to share, the threshold above which you will start automatically sharing your credits, and one or more recipients who will receive your credits (note that credits will be evenly distributed among the recipients, and that they must be registered RIPE Atlas users).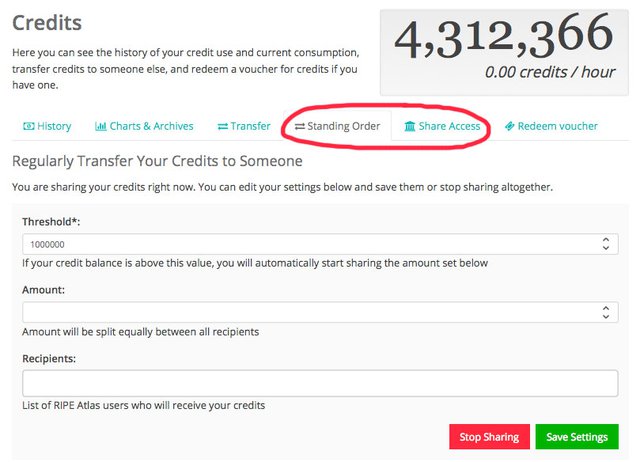 The new credit sharing options are available in the tabs at the top of your credit page

Share Access
If you don't want to set limits on the number of credits you share, you can also allow other RIPE Atlas users to use your credits directly for their own measurements. Select the "Share Access" tab on your credits page and enter the RIPE Atlas users you want to give access to. Users who have been given access to others' credits will be able to choose whose account to charge when they create a new measurement from a drop-down menu. This option can also be set via the measurement API. A running measurement can be stopped by both you and the person with access to your credits. If you decide to stop giving someone else access to your credits, any measurements they have running will start using their own credits instead.
New Measurement Limits
We've increased the limit for the number of probes you can use per measurement to 1,000. At the same time, we've set a new limit on the number of measurement results that you can collect to 100,000 per day (or the long-standing limit of 1,000,000 credits per day - whichever comes first). We believe this will make the system more flexible for our heavy users.
Feedback
As always, we want to know what you think of these latest developments, or maybe you have an interesting use case you'd like to share. Here's how to get in touch:
Leave a comment about this specific article below

Subscribe to the RIPE Atlas mailing list for discussions with active users and RIPE Atlas developers: ripe-atlas [at] ripe [dot] net

If you want to report a bug or problem: atlas [at] ripe [dot] net