We took an in-depth look at the evolving Internet landscape in Germany as the next in our new series of RIPE NCC Country Reports.
---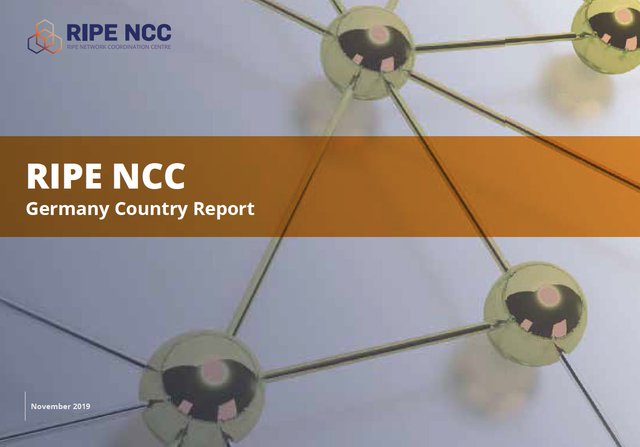 As a global network of networks, the Internet is, in many ways, borderless. Still, there are unique national policies, peering arrangements between various providers, geographical and economic challenges, and many other factors that all play a role in shaping any one country's Internet landscape. Understanding these can provide a more comprehensive picture of a country's unique place in the broader Internet ecosystem and can help identify challenges and new opportunities. 
The Germany Country Report includes an analysis of Germany's current market and assesses its potential for future growth, based on current home and mobile broadband use, in the wake of IPv4 run-out. It also examines routing anomalies and the country's access to the global Domain Name System (DNS), as well as its relationship to the global Internet. This analysis is based on what we can observe from the RIPE NCC's measurement tools as well as a few external data sources.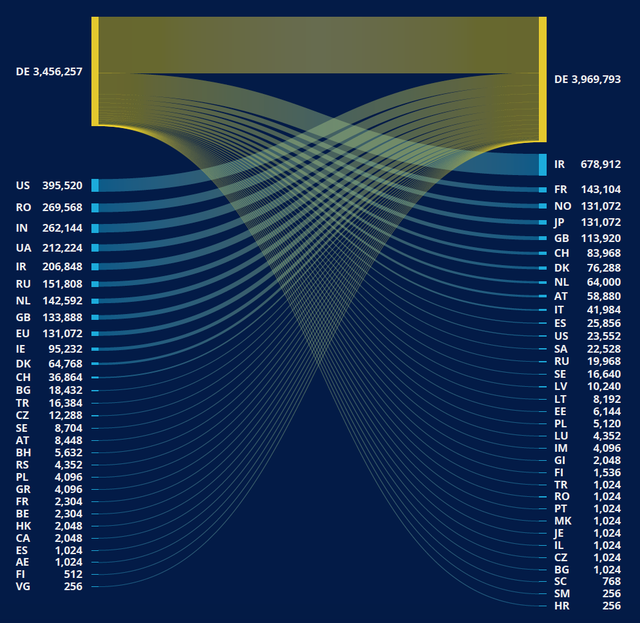 IPv4 addresses transferred within, into and out of Germany between January 2013 and August 2019
We selected Germany as the third country in our new series ahead of the Internet Governance Forum (IGF), which takes place in Berlin from 25-29 November, in the hopes that the findings will help inform the discussions that will take place there, provide technical insight, and facilitate the exchange of information regarding Internet-related developments in Germany and the different ways in which policy can affect the technical landscape.
Domestic tromboning of traffic paths with an origin and destination in Frankfurt
The RIPE NCC previously produced country reports on Saudi Arabia and Russia as part of an ongoing effort to support Internet development throughout our service region by making our data and insights available to local technical communities and decision makers alike.
Data Sources
We want to highlight the fact that these country reports are based on publicly available data. We hope they give you an idea of the kind of information and analysis that's possible using RIPE NCC data. If this report inspires you to learn more about the RIPE NCC tools used to develop it - and perhaps even to pursue your own research into some of these topics - you can learn more here:
Future Reports: What Do You Want?
For our part, we plan to continue producing these kinds of reports, but we would like to hear from you about what data and analysis you find the most interesting and useful. In the future, we may take a more in-depth look at certain topics – such as IPv6, routing or the effect of public policy – or we may focus on a number of countries within a larger region to provide more context and comparison.
Please leave your feedback below and let us know what you'd like to see!