We examine the Internet landscape in eight different countries in the Gulf region as the next in our series of RIPE NCC Internet Country Reports.
---
RIPE NCC Internet Country Report: Gulf Region
التقرير الإقليمي للإنترنت: منطقة الخليج
This time, we turned the spotlight on the countries of the Gulf region - Bahrain, Iraq, Kuwait, Oman, Qatar, Saudi Arabia, the United Arab Emirates and Yemen - as a unique sub-region facing its own set of challenges and opportunities when it comes to Internet development.
The RIPE NCC Internet Country Report: Gulf Region looks at the region's market landscape and the driving forces behind its approach to digital transformation. We examine current resources and the region's ability to accommodate future growth, and provide an assessment of the connectivity between the networks within each country as well as the countries' connectivity to the global Internet. We also delve into the region's current routing practices and look at how they may be holding it back from reaching its full potential.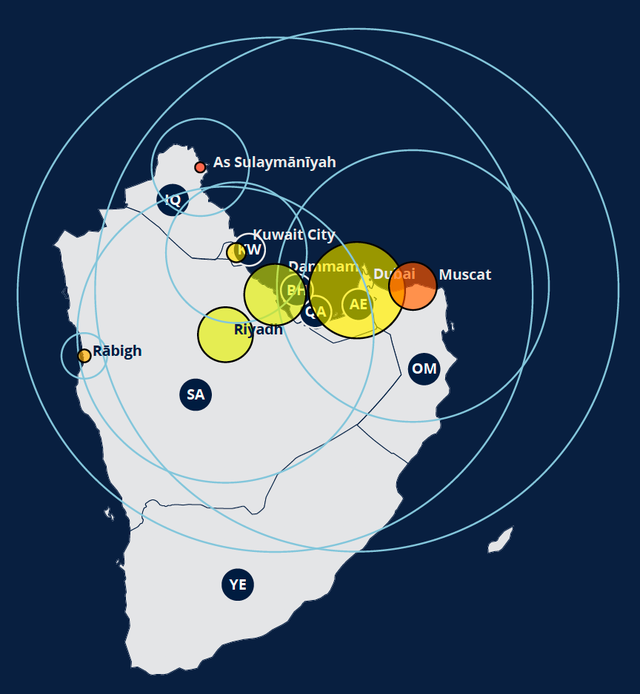 Major traffic exchange points in the Gulf region, along with round-trip times 
Some of the key findings include the following:
IPv4 scarcity may pose less of a challenge than in other parts of the world, given the region's high mobile penetration, but further IPv6 deployment is still needed to support future growth
Domestic connectivity within the countries shows bottlenecks and potential single points of failure
International connectivity in many of the Gulf countries is not very diverse, with the majority dependent on a small number of providers
Regional connectivity is far from optimised in the region as a whole, with traffic being sent across distant locations rather than making use of local exchange points
Routing security could be greatly improved in the region
The report also reaches a number of conclusions about what is needed in the region from a technical and regulatory standpoint in order to facilitate Internet development and future growth. 
International connectivity into/out of the United Arab Emirates
The RIPE NCC previously produced Internet country reports on Saudi Arabia, Russia, Germany, Southeast Europe and Central Asia as part of an ongoing effort to support Internet development throughout our service region by making our data and insights available to local technical communities and decision makers. These analyses are based on data collected by RIPE NCC measurements tools, as well as a few external data sources. 
Additional Figures
As part of the report, we included figures showing the domestic connectivity between networks within Saudi Arabia, Bahrain and Oman as a few examples of what we see in the region. However, we want to make the same figures for all eight countries available here for those who are interested. (Although they appear somewhat different here, they show the same data - and in fact, include more labels for the involved ASNs than we could include in the report.)
Domestic connectivity figures:
Bahrain
Iraq
Kuwait
Oman
Qatar
Saudi Arabia
United Arab Emirates
Yemen
The report also included figures showing the international paths into/out of four countries (United Arab Emirates, Kuwait, Qatar and Oman). Again, we want to make the same figures available for all eight countries here.
International connectivity figures:
Bahrain
Iraq
Kuwait
Oman
Qatar
Saudi Arabia
United Arab Emirates
Yemen
Data Sources
We want to highlight the fact that these country reports are based on publicly available data. We hope they give you an idea of the kind of information and analysis that's possible using RIPE NCC data. If this report inspires you to learn more about the RIPE NCC tools used to develop it – and perhaps even to pursue your own research into some of these topics – you can learn more here:
Future Reports
We plan to continue producing these Internet country reports for countries and regions throughout the RIPE NCC's service region of Europe, the Middle East and parts of Central Asia - and we want to hear from you about what would be most interesting and valuable. Please share your ideas with us below and let us know what you would like to see!