RIPE Atlas has been in operation for more than five years now, and its network of probes and users has grown tremendously in that time. We've also added anchors, sponsors and ambassadors to the system, developed a huge array of new tools, visualisations and features, and RIPE Atlas data is now being used by network operators, engineers and researchers around the world. As a result, we thought it was time to revamp the RIPE Atlas website, which hadn't changed much over the past five years despite all the changes to RIPE Atlas itself. Get an overview of some of the biggest changes and new features - then check out the new site, which launches today!
---
Homepage and Landing Pages
The homepage and landing pages (the top-level menu item pages) now have a more modern, fresh design that is more in line with the rest of the www.ripe.net website design. Information is presented in thematic clusters that make it easier to get an overview of what's contained in section, as well as highlighting some of the most interesting content. You can click on the headers for more information about each topic.
The new homepage and landing pages have a more modern look and make the most relevant content easier to find
Menu Restructuring
As we included more and more information on the site and added more and more elements to the system (anchors, ambassadors, sponsor, data streaming, new tools and features), the old structure for organising and presenting all that information no longer made sense from a user's perspective. For example, the listing of all the public probes should have been available publicly, but unless you happened to know that page's URL, it was buried under the "My Atlas" section, which could only be accessed by logged in users.
That's why we've rearranged things and created a few new top-level navigational sections, including "Probes and Anchors", "Measurements, Maps and Tools" and "Resources".
The probe and anchor lists are now easily accessible in their own section, regardless of whether you're logged in with your RIPE Atlas account or not.
In "Measurements, Maps and Tools", you'll find all the data, tools and visualisations that we've created ourselves and made available for your use. The "Tools" sub-section, in particular, gives an at-a-glance overview of all the tools and visualisations we've made available, from the CLI toolset to DomainMON to OpenIPMap.
In "Resources", you'll find all the information you need in order to interact with the system and learn more about how to use RIPE Atlas, including the source code, documentation, use cases, and information on training courses and webinars to help you get more out of RIPE Atlas.
My Atlas Dashboard View
We especially think that regular users will enjoy the new "My Atlas" section, which includes a dashboard overview of all of your probes, measurements, credits, API keys, anchors, and  everything else that has to do with your own personal interaction with RIPE Atlas.
RIPE NCC members enjoy special benefits, such as being able to test their IPv6 connectivity, claim one million credits to use on their own personalised measurements, and perform quick look measurements. All of these features are now available to members through their "My Atlas" dashboard – just make sure to log in with your RIPE Atlas account (this is your RIPE NCC Access account.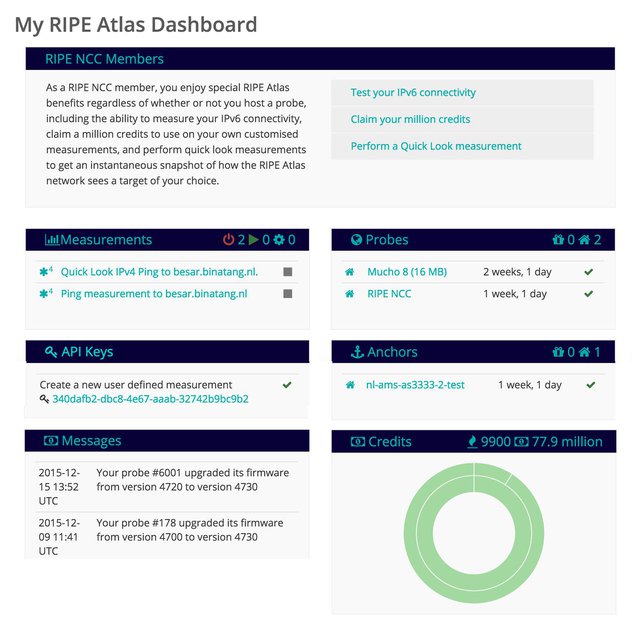 The new My Atlas dashboard view gives an at-a-glance overview of all your probes, measurements, credits and more
Continued Improvements: Data Tables
As we started restructuring the information, we realised there were other improvements we could make along the way. As a result, we started a side project to improve the data tables used throughout the site. These include the lists of probes, anchors and measurements that are at the heart of RIPE Atlas.
Once we have completed this project, these tables will load much more quickly and users will be able to sort these lists by their various headings without having to reload the entire list, making things much faster. You will also be able to search these lists to find the information you want much more easily. For example, you'll be able to search all public measurements by target, such as a particular hostname, to see all measurements that are already being performed toward a target that you're also interested in (which could save you using your own credits to perform the same measurement). Or you could search the probe list for all probes in Paris, France.
So far, we have implemented this new format for the anchors list, the messages list in My Atlas and, if you are a RIPE Atlas ambassador, you'll also see improvements to your list of ambassador probes. We will work to implement it for the probes and measurements lists in the near future.
Feedback
The revamped RIPE Atlas website launches today, and we hope you'll like what you see. Take some time to look around and use the new site, and let us know what you think. We know that change can take some getting used to, but we think that once you've had a chance to spend some time on the new site, you'll find that the information you're looking for is better organised and easier to find, and we hope you'll enjoy the fresh, new look.
Be sure to leave your comments below, or subscribe to the RIPE Atlas mailing list for discussions with active users and RIPE Atlas developers: ripe-atlas [at] ripe [dot] net. And if you happen to spot any errors, you can let us know at atlas [at] ripe [dot] net.