The RIPE NCC Academy is closed for some updates. Here's what we're changing to make it easier for you to learn on the go.
---
We launched the RIPE NCC Academy in 2014 to make our learning material accessible to the RIPE community and beyond. Now, a few years down the line, we're giving the Academy an overhaul to make e-learning even easier!
Over the coming year, we plan to update the material for more of our online courses. We also want to make sure that all our content is in short 10-20 minute modules, so that you can learn exactly what you need, when you need it!
What Happens Next? 
The RIPE NCC Academy will be closed from 2 - 27 January 2020 so we can make the necessary updates. And then we're back, brighter and shinier than ever, with a new and improved RIPE Database course! 

Update: The upgrades to the Academy are taking a bit longer than anticipated. We hope to have the Academy back online by mid-February.

If you have received a RIPE NCC Academy certificate – make sure to download it and keep it safe. Your certificate will not be available from 2 January 2020 onwards!
In fact, we will no longer be issuing certificates using the RIPE NCC Academy. All certification from now on will be through the RIPE NCC Certified Professionals exams, so that your expertise is verifiable through a digital badge.
We will also stop issuing badges that are earned by completing activities in the RIPE NCC Academy courses. From 2020 onwards, any badges we issue will be earned by completing the RIPE NCC Certified Professionals exams. 
We have also removed scores from learning activities. When you complete an activity in the Academy, you will get feedback on whether the activity had been completed correctly, but without any points or scores allotted to it.
Our focus in the Academy is to give you a thorough learning experience, with an emphasis on being able to carry out practical tasks.
An Updated RIPE Database Online Course
We're completing a major overhaul of the RIPE Database online learning course. The course content is now aligned with the RIPE Database Associate exam, so anyone studying to become a RIPE NCC Certified Professional can prepare using the RIPE NCC Academy. If you successfully complete the RIPE Database online course, you should have the fundamentals in place to take the RIPE Database Associate exam.
Here's a sneak peek at what our updated content looks like: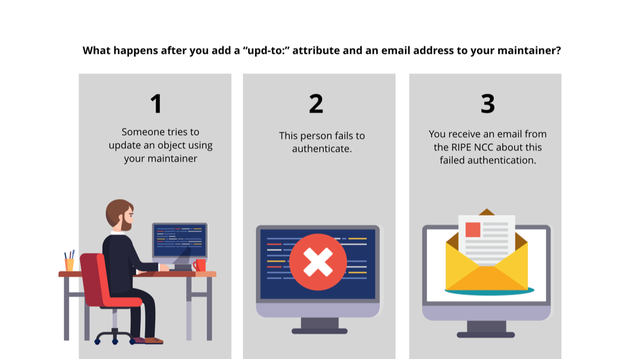 New interactive exercises to help you learn quicker!
The modules in the course have been made shorter and crisper. Each module covers one topic. The shorter modules are about 10 minutes long and our longer ones will require 20 minutes at the most. This really does mean that you can fit in a little learning whenever you have a few minutes to spare, wherever you might be – waiting at an airport, while commuting, or during a break at work. 
The course itself has become more hands-on and interactive. We want to do more than only give you information, we want you to be able to use the RIPE Database correctly. There are exercises and challenges to help you learn to carry out tasks you might need to do at your job. And we've tried to make the course more engaging overall.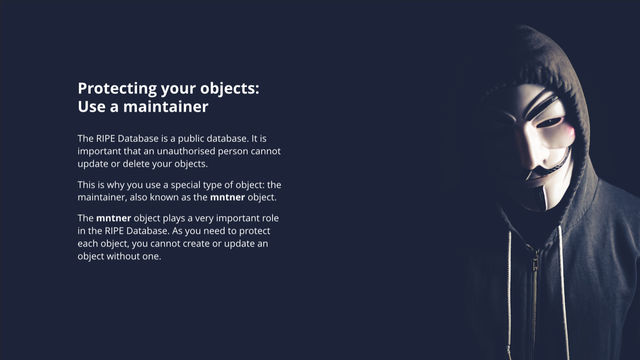 Bite-sized learning for when you're on the go! 
Remember the Training Database?
The RIPE NCC Academy also hosts a copy of the RIPE Database that is used for training exercises. The Training Database will now be updated to the latest version of the RIPE Database software. Going forward, the Training Database will be updated with every future update of the RIPE Database software as well.
RIPE NCC Certified Professionals and the RIPE NCC Academy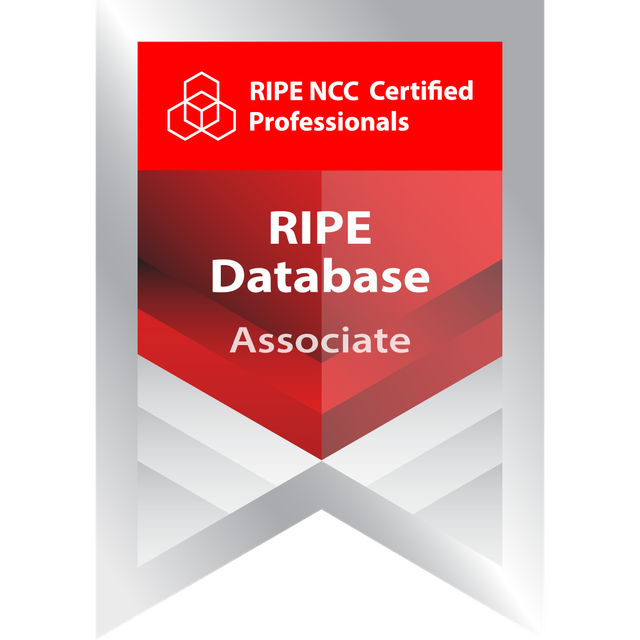 RIPE NCC Certified Professionals is our assessment programme, which issues validated digital badges on the basis of an online exam. We are about to launch our very first RIPE NCC Certified Professionals exam – RIPE Database Associate. If you successfully complete the exam, you will receive a verifiable RIPE Database Associate digital badge that can be shared to social media networks or added to your digital CV. The final round of pilot testing is underway, and you can read more about participating in the RIPE Database Associate pilot exam here.
We plan to launch more Certified Professionals badges over 2020, starting with IPv6 in the first half of the year. RIPE NCC members will receive a fixed number of vouchers, which can be used to take the exam. The exams are also open to non-members for a fee. You can read more about how RIPE NCC Certified Professionals has been developed in this RIPE Labs article.
RIPE NCC Academy is our e-learning environment which currently houses three online courses – the RIPE Database course, the Local Internet Registry course and the Introduction to IPv6 course. Learning on the Academy is free and open to all. 
We aim to have an online learning course to complement every new Certified Professionals exam that we launch, so that you're always well-prepared to earn another badge to certify your expertise. 
So come 27 January, we hope to help you get started with your e-learning journey with the RIPE NCC Academy!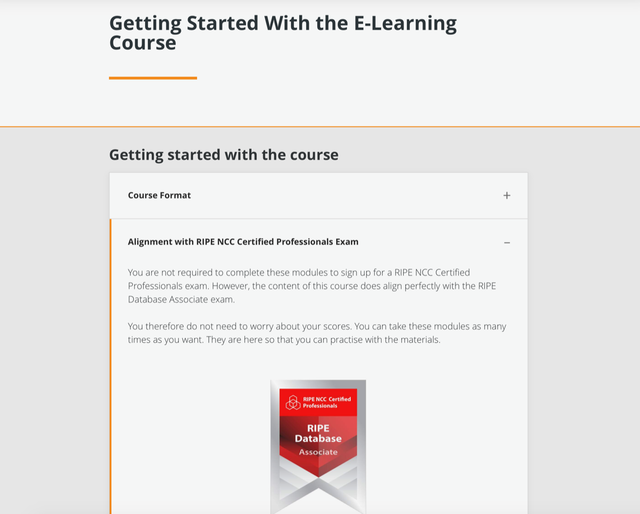 Aligning e-learning content with our Certified Professionals exams