Over the last couple of months we've been putting a lot of focus on improving the usability of the RIPE Database web interface. We started with tightly integrating our Single Sign-On system, RIPE NCC Access, into webupdates. This allows users to seamlessly make changes in all of the different RIPE NCC service interfaces while only requiring a single set of credentials. Then we added better validation, auto-complete, "diffs", integrated abuse-contact creation, updates in a text-area and many more tweaks and improvements to enhance the user experience. The last big part of the RIPE Database web interface that was left untouched is Syncupdates. Until now...
---
Syncupdates   allows users to create or update multiple objects in a single text area, and get an immediate response from the RIPE Database server on the result. This is truly a power user interface, the usage is relatively small with about 1,000 visits a week. While this target audience is used to dealing with raw output, we felt that they would also benefit from the efforts we've made in for example improved validation and showing a diff of the updated objects. 
Today, we're happy to announce a beta version of the new Syncupdates . You'll be presented with exactly the same empty text area that you are used to. The good stuff happens after you submit some objects...
In this example, I'm going to submit my person and maintainer objects simultaneously. The maintainer contains a typo in the attribute: "remrks".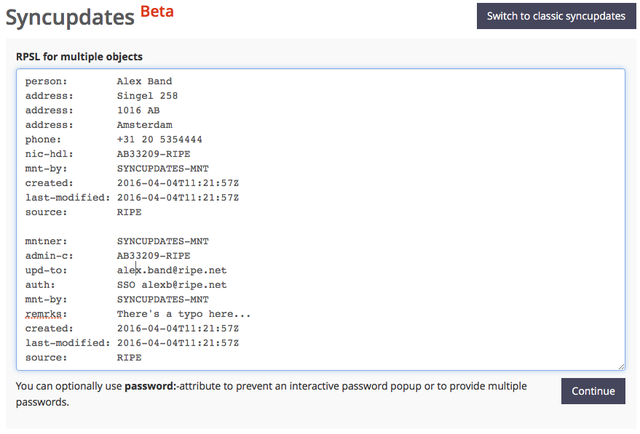 After clicking continue, the whole set is not yet submitted  to the RIPE Database. Instead we first perform validation, find  conflicts, authentication and syntax errors: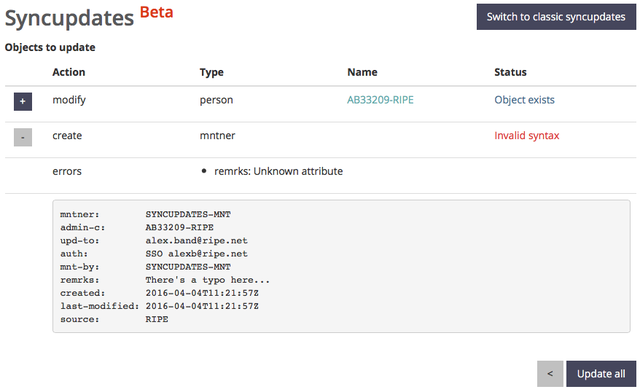 Now you can go back, correct the mistake and try again: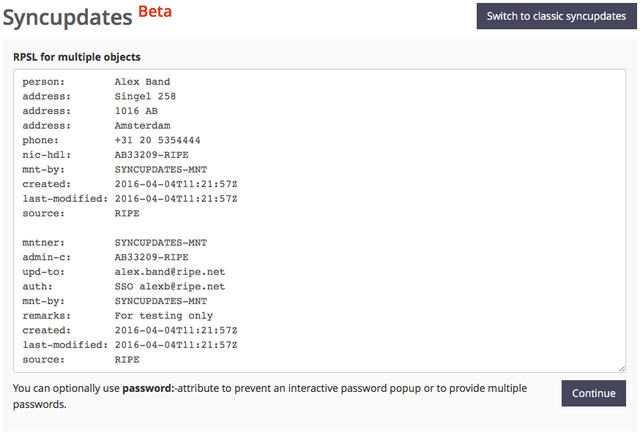 After clicking continue, everything looks better now:
After choosing "Update All", you'll land on a success page that also offers a diff of all the changes that you made: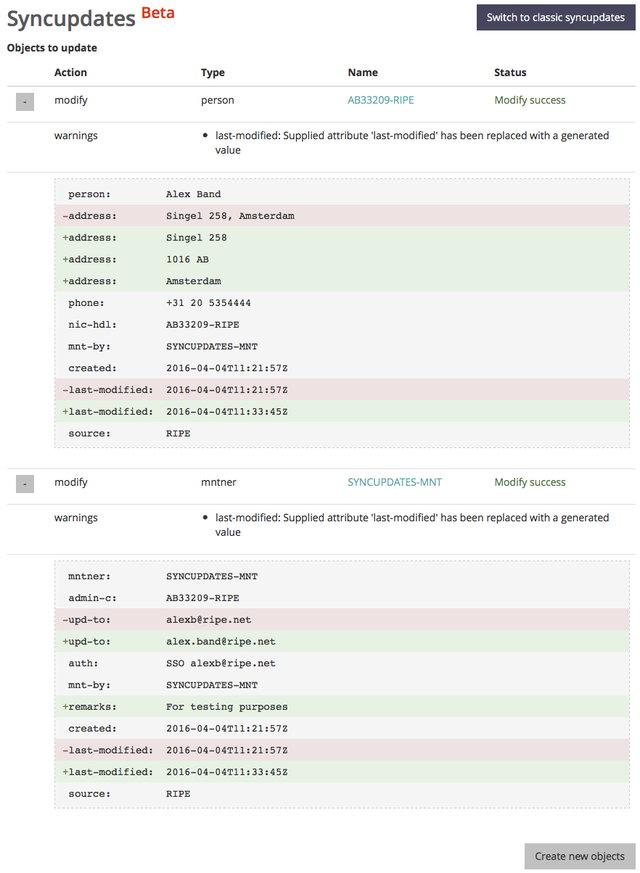 Of course, this is a simple example of what the new user interface for Syncupdates can do. The improvements should especially prove useful if you are trying to track down a single typo or authentication problem in a long list of submitted objects. 
We're curious to hear if we're headed in the right direction, and what other changes will improve the usability of this interface. If for any reason you would like to switch back to "classic" Syncupdates, just hit the button on the page and you'll be taken back to the familiar interface. Your preference will be remembered for future visits.
Let us know what you think by using the dedicated Feedback button on the RIPE Database pages. This will allow you to submit a screenshot with annotations so we get a good understanding of your wishes.