Four years have passed since the RIPE NCC announced its plans to put RIPE Atlas anchors into production. Since the first anchors went online in 2013, we've been working hard to both maintain and expand the network. As a result, we currently have 238 anchors deployed across 66 countries!
---

Anchors are a vital component of the RIPE Atlas infrastructure. Like probes, anchors perform continuous active measurements of Internet connectivity, but with a measurement capacity that far exceeds that of probes. And there's more:
Anchors act as highly stable targets for user-defined measurements on the RIPE Atlas network
They allow HTTP measurements to be made, which can only target anchors
Anchors play a crucial role in DNSMON, which measures DNS performance between sites that host RIPE Atlas anchors and those where DNS servers are installed
They perform anchoring measurements, which give an overview of regional reachability, thus helping to provide an historical record of the health of the Internet
Latest Stats
Back in January 2015, we published a RIPE Labs article marking the connection of the 100th anchor. Given that the number of connected anchors has more than doubled since then, it's time for an update. Of the 238 anchors now online: 
The majority are located in the US, which hosts a total of 39 anchors. Germany also deserves mention here, with 28 anchors currently hosted across the country. 
There are now 15 anchors deployed in countries in the southern hemisphere, including Argentina, Peru and New Caledonia. 
Of the organisations who host anchors, Booking.com and the Leaseweb Network are the hosts with the most, with six anchors each.
The number of anchors deployed has grown consistently each year, with 27 anchors connected by the end of 2013, 96 by the end of 2014, 163 by the end of 2015, and 238 at the time of writing (see the complete list of anchors).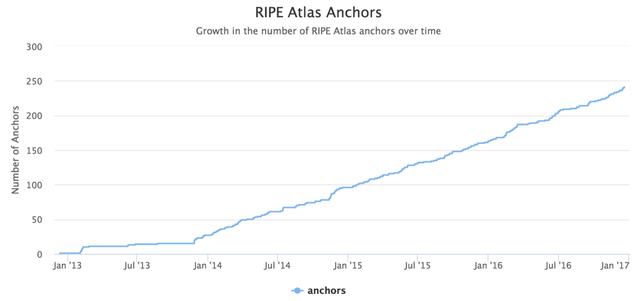 Expanding the Network
The success of the RIPE Atlas anchor project relies on an ongoing effort to expand the network's coverage. We couldn't do this without the help of hosts who perform the critical task of connecting and maintaining anchors at different locations all over the world.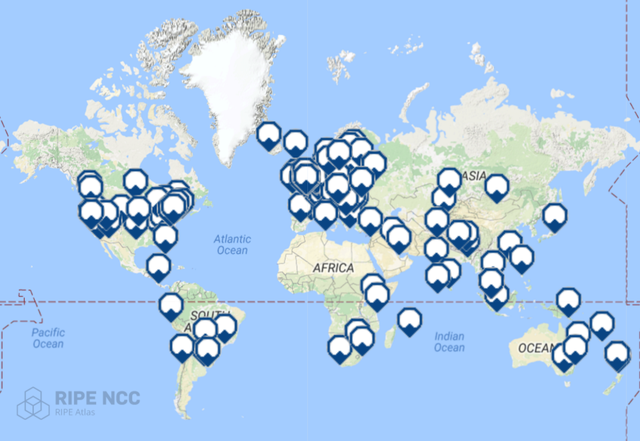 Coverage has also been greatly increased through ongoing cooperation with sponsors, including other RIRs such as APNIC, who sponsor twelve anchors, and LACNIC, who sponsor four. Just recently, AFRINIC pledged to sponsor five new anchors in Africa, along with ISOC, who will increase their number of sponsored anchors in Africa from two to five.  
As of January 2017, the RIPE NCC will kick off a campaign to sponsor fifteen new anchors. We'll be particularly interested in sponsoring anchors in regions that are not yet covered. Look out for more details on RIPE Labs in January 2017.
Hosting an Anchor
To keep up the rate at which anchors are being deployed, we're always looking to encourage more organisations to become anchor hosts. Anchor hosts, who don't need to be members of the RIPE NCC, enjoy various benefits:
If you're willing and able to host a RIPE Atlas anchor, please read all about the steps involved in becoming an anchor host and apply today!
Anchor Upkeep
Keeping the anchor network healthy means making sure that anchors stay connected and continue to function properly. To this end, we're always busy maintaining and improving the functionality of the network.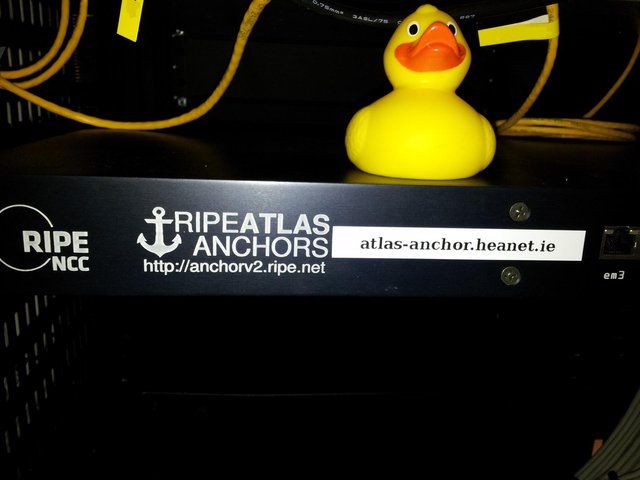 Right now, for instance, we're in the process of decommissioning the Dell servers that were put into use during the pilot stage of the anchor project. 
We also continue to refine the procedures we have in place for ensuring that anchors are operating correctly. Just recently, there have been two noteworthy changes to these procedures: 
We've revised our approach in dealing with unresponsive anchor hosts. Now, if anchors become disconnected, hosts will be informed that they have three months to acknowledge the issue so that we can work together to get the anchor back online. If a host does not meet the deadline, the anchor will be disconnected from the network.
We've also chosen to ease up on certain restrictions previously placed on the use of anchors that are no longer in warranty. Anchors that are out of warranty may still be used as long as they are functioning correctly. Note, however, that anchor hosts are still responsible for repairing or replacing anchors if they begin to malfunction.
For more details on the work we've been doing to develop the network, see the RIPE Atlas Roadmap.
Looking Ahead
We have every expectation that the RIPE Atlas anchor network will only continue to grow, and as the project moves forward, we're always keen to get feedback. So, if you have any questions or suggestions, or if you know someone who might be interested in hosting an anchor, please get in touch:
Join the discussion on Twitter: @RIPE_Atlas
The RIPE NCC would like to send out a big thank you to everyone who has contributed to the anchor project over the past four years. Here's hoping the next four are equally successful!