The RIPE Atlas Open House takes place tomorrow. Here's a look at what to expect!
---
Over the past ten years, RIPE Atlas has continued growing and evolving in the midst of a rapidly changing Internet. For the user, there have been new kinds of phenomena and events to measure and new use cases to explore. For us, there have been new challenges in achieving greater coverage and new solutions to those challenges. In all of this, we've continued working together as a community to make RIPE Atlas into something that can be of benefit to all of us, no matter from where in the world we happen to be using the Internet.
10 Years of RIPE Atlas Open House 
As part of the celebrations around ten years of RIPE Atlas, we'll be holding an Open House event on Wednesday this week where five speakers will join people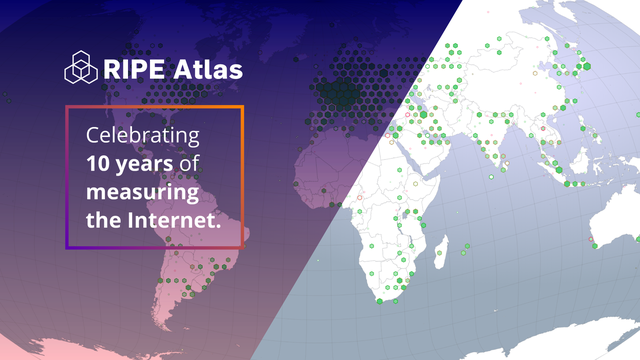 from all across the community to talk about how far RIPE Atlas has come and how it's being used today.
The Open House takes place on Wednesday 18 November from 12:00 - 13:30 local Amsterdam time (UTC+1) and is open to everyone. 
Come listen to a mix of talks on the history of RIPE Atlas and current developments from the RIPE NCC. Hear use cases from external speakers all working with RIPE Atlas in diverse and interesting ways. As an Open House, there's also plenty room for open discussion, giving you the opportunity to talk about the past, present and future of the service with the people who are using and supporting it right now.

Programme
Here's a quick look at the talks we have lined up:
Robert Kisteleki, R&D Manager, RIPE NCC
To get the ball rolling, Robert will be talking about what RIPE Atlas is and where it came from. Get his unique perspective on the development of RIPE Atlas from its inception right up until today. 
Martijn Schmidt, VP of Network, i3d.net
i3d is a Ubisoft company with a dedicated following of gamers. Martijn will speak about how i3d are using RIPE Atlas as a debugging tool to improve the experience for the gamer community.
Swapneel Patnekar, Managing Director, Shreshtha IT Technologies and RIPE Atlas Ambassador
Representing RIPE Atlas ambassadors, Swapneel will be diving into use cases and coverage information to talk about the current state on the RIPE Atlas in India.
Kevin Chege, Director - Internet Development, ISOC
Kevin will talk about how RIPE Atlas data is helping the Measure Internet Resilience in Africa (MIRA) project attain its goal off getting a better view of the state of the Internet in African countries.
Philip Homburg, Software Engineer, R&D, RIPE NCC
Ahead of the RIPE Atlas Software Probe Deployathon (happening next week!), Philip will talk about software probes, why you might want to host one, and how to do so if you do.