The RIPE NCC launched its campaign to sponsor fifteen new RIPE Atlas anchors in January. We're glad to announce that we've now selected the first five candidates who'll benefit from the campaign!
---
At the start of 2017, we released an article detailing the RIPE NCC's plans to sponsor fifteen RIPE Atlas anchors. Since then, we've received a high number of applications and we're happy to inform you that we've selected our first five anchor hosts to receive sponsorship.
The First Five
The aim of the campaign is to further extend the reach of the RIPE Atlas network. That said, we're particularly interested in applicants from within the RIPE NCC's service region based in areas that have thus far received very little or no coverage. We're also prioritising applications from not-for-profit organisations.
The first five candidates are: 
Ss. Cyril and Methodius University - Faculty of Computer Science and Engineering 

– Skopje, Macedonia
University of Sibiu – Sibiu, Romania
IMT Atlantique – Plouzané, France
Electronic and Postal Communications Authority (AKEP) – Tirana, Albania
University of Edinburgh School of Informatics – Edinburgh, UK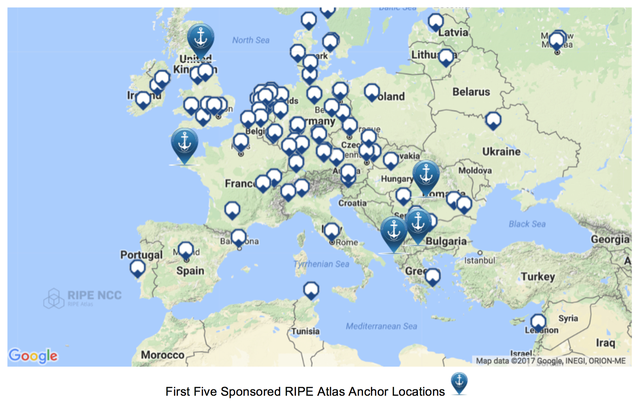 The Next Ten
Please note that applicants who've not yet been selected are still in with a chance to receive one of the ten remaining sponsored anchors! Given the high quality of the applications received so far, many will be saved for consideration in future rounds of the selection process. And of course, we still look forward to receiving more applications over the coming months.
Apply to Host a Sponsored RIPE Atlas Anchor
One final thing we'd like to point out is that, whilst the campaign has certainly gotten off to a good start, this is our first run at this process and we're keen to observe and keep learning as we go along. Also, as always, we'd be happy to receive any feedback from our readers.