On 19-20 September 2023, the second Central Asia Peering and Interconnection Forum (CAPIF 2) brought together over 200 participants from 19 countries to support regional interconnection and drive Internet growth across Central Asia, Iran, and neighbouring regions.
---
Tashkent welcomed a growing Central Asian Internet community to discuss peering and the development of interconnection in the region - quite a new agenda point in Central Asia.
As interconnection was to be a central topic at the event, Nishal Goburdhan (Packet Clearing House) hosted an introductory session on core concepts in peering and peering forums.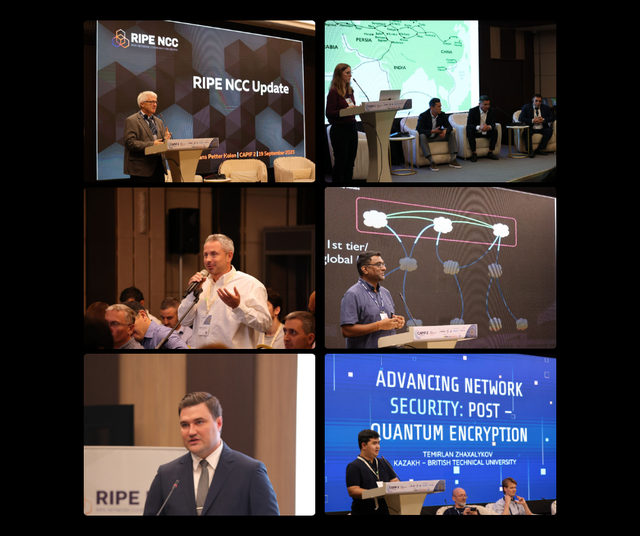 The event officially opened with talks from Oleg Pekos (First Deputy Minister of Digital Technologies of Uzbekistan), Akmal Arifdjanov (Deputy Chairman of the Board for Prospective Development and Innovation of Uztelecom), Muzaffar Djalalov (Rector of INHA University in Tashkent), and Hans Petter Holen (Managing Director and the CEO of the RIPE NCC).
In their welcome talks, they highlighted important changes happening in Uzbekistan - the creation of a sustainable telecoms system, increasing interconnectivity across networks, deeper cooperation with the RIPE NCC, and so on. Each speaker emphasised how crucial a role events like CAPIF play in making sure that knowledge of best practices is shared as these developments continue to unfold.
Building regional connectivity
There was one recurring message throughout the event: stronger interconnectivity in the region can only make the Internet more resilient, fast and cost-effective.
As we mentioned earlier in our article on Central Asian connectivity, national telecom operators play a crucial role in the interconnection environment. The panel on connectivity in Central Asia brought together large national telecom providers from Kazakhstan (Kazakhtelecom), Kyrgyzstan (Kyrgyztelecom), and Uzbekistan (Uztelecom) to discuss Central Asia's current and future interconnection landscape.
The session commenced with an overview of Central Asian connectivity from Jelena Cosic (RIPE NCC). In her analysis, she showed how gaining a clear overview of interconnection and interdependencies between ASes is vital for understanding how global connectivity can develop.
The panel then proceeded with an open discussion about actionable solutions for interconnectivity in the region - a dialogue that was hard to imagine a decade ago. However, there are still issues to overcome. The reality is that countries like Uzbekistan focus on keeping the traffic local. Some countries only route to the global Internet through Russia, and the global content providers still don't come to Central Asia.
Speaking about peering might be a bit premature at this point. As Chief Director for Innovation of Kazakhtelecom Nurlan Meirmanov pointed out: "Let's be honest, there is no peering between our operators [in Central Asia]."
But despite challenges, all panellists agreed that cooperation is key, and emphasised the need for such platforms as CAPIF as a way to keep these conversations going. They also highlighted the importance of participants from Iran in such a platform, as Iran can serve as a gateway to cross barriers to the undersea cables.
After this fruitful discussion, researchers took to the stage. We heard about post-quantum encryption for advancing network security, the use of RIPE Atlas to determine the quality of communication with external Internet services in Central Asia, and updates on RPKI in the region. The first day ended with a ROA signing party, and like in many peering forums, some participants had B2B meetings.
Is there a future for IXPs in the region?
Day two mainly focused on IXPs and IPv6, both hugely important topics for the Central Asian Internet community.
The session on IXP challenges and capacity building brought together experts from different areas. Vahan Hovsepyan (RIPE NCC) presented on behalf of Bijal Sanghani, (Secretary General of Euro-IX). He focused on the Peering Toolbox - a collection of information designed for newcomers to the peering community, especially relevant as more enterprise networks were finding themselves having to deal with peering issues.
Maxat Nessipbekov (State Technical Service, a primary government cybersecurity body in Kazakhstan), shared some best practices on cybersecurity that they implemented such as digital signatures and the use of bots in Telegram.
Oleg Yemelyanov (Founder NOG.KZ) brought the perspective of network operators in Kazakhstan and regulation obstacles they face to provide good quality services for the citizens.
IXP panel
IXPs from the region came together to discuss the issues connected with starting an IXP, getting resources for them, legislative and regulatory frameworks, and possible ways of contributing to regional Internet development. The panellists noted a very similar regulatory environment in the telecommunication industry in Central Asia, and similar challenges they face due to the complex geographical landscape.
Uzbekistan is one of the two double-landlocked countries in the world. Having always looked at it as an obstacle, it was a fresh perspective to hear that it can be an opportunity for Uzbekistan to get some transit income if the cables go through Uzbekistan to the Caspian Sea from China.
Salavat Ormoshev, Director, Association of Network Operators of Kyrgyzstan shared a very interesting model of peering: everything was regulated by documents that were agreed by members of the council which was comprised of the telecommunications operators. The panellists concluded that they could peer between themselves and other countries in Central Asia with a similar kind of council or association governing this.
IPv6 adoption
IPv6 adoption is quite low in the region, but the need for it worldwide is quite pressing. The session started with Jen Linkova (Google) sharing six misconceptions about IPv6. Unlike Scarlett O'Hara, we can't 'think About It Tomorrow.' Gladly, there are success stories from the region that hopefully incentivise local operators to adopt IPv6.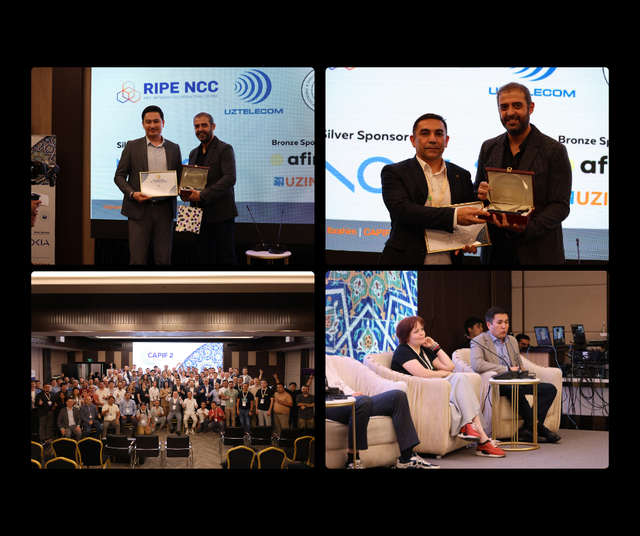 Yoshinobu Matsuzaki (Internet Initiative Japan) shared their story of IPv6 adoption. They started with an experimental service in 1999, and year-by-year they enhanced this as a production service.
Abolfazl Najafi (MTN-Irancell) shared their success story of IPv6 adoption. They were a mobile operator with 30 million subscribers and 12 million connections - a twelve to one ratio of users to IPv4 addresses. They wanted to migrate to IPv6 to reduce the use of carrier-grade NAT, and the cost of IPv4 blocks on the transfer market. He thought an important starting point was being clear on what your company's role was in the Internet - different companies (mobile operators, content providers and data centres) will have different priorities.
Roman Chuchuk (XCOM KZ) also shared their story, highlighting the importance of Planning of IPv6 networks. The hardest part for them was coming up with the addressing scheme for their network and explaining the need to deploy IPv6.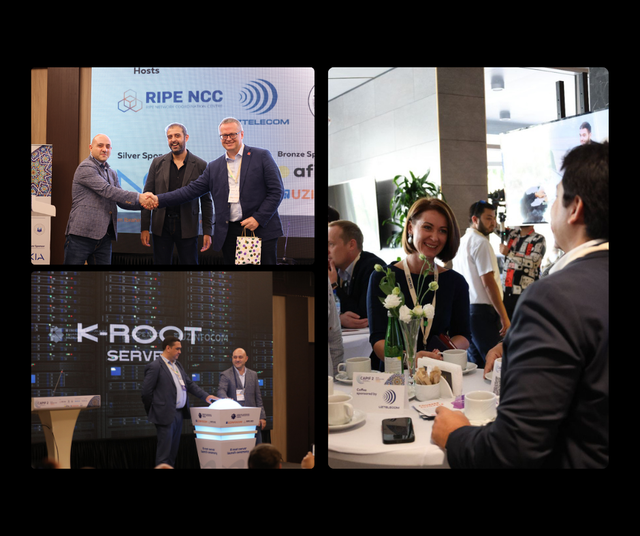 The last session before the official closing ceremony brought together experts from the Internet community discussing IETF, success story of IRNOG, and some challenges for IXPs.
K-root launch
CAPIF is a new platform, and it is amazing to see a new community coming together and discussing pressing issues for a better Internet in the region. The RIPE NCC wants to support the community and keep engaging with them through various activities.
One great result of the cooperation was the official K-root launch ceremony that took place during the event. The first K-root server was launched in Uzbekistan, an important milestone for the stability of DNS operations in Uzbekistan. The Central Asian one seems to be one of the warmest and welcoming communities, so believe the participants of the event.
We'd like to say a big thank you to all the session chairs, presenters, sponsors, and participants for making the meeting such a success!