Axel Pawlik
About the author
Axel Pawlik is the Managing Director of the RIPE Network Coordination Centre (RIPE NCC). He has served in this position since 1999, and has overseen the RIPE NCC's growth to an organisation of more than 10,000 members, including Internet Service Providers, enterprise organisations, academic institutions and others. Axel graduated from the University of Dortmund, Germany, with a Masters Degree in Computer Science. He was later employed at the University of Dortmund from 1985 to 1992, where he contributed to the establishment of UNIX networking as a publicly available service in Germany. Understanding the demand for a commercial operation to provide Internet services, Axel founded EUnet Deutschland GmbH in 1992 and commercialised the operation. Under his leadership, EUnet Deutschland GmbH became the market leader in Germany and one of the strongest EUnet networks in Europe.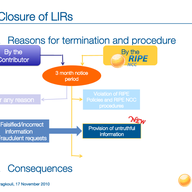 In light of concerns expressed at one of our meetings recently, we think this is a good time to discuss what it means to be an IP address registry in today's environment, and some of the challenges we face as an organisation.
RIPE NCC Managing Director Axel Pawlik recently gave an interview about what he sees as the most important developments of 2014 and looks ahead to the big issues in 2015.