FOSDEM is an opportunity for developers of free and open-source software from around the world to meet in "real life", every February, for one weekend in Brussels. Among all the conversations and experiences are many topics relevant for the RIPE community.
---

FOSDEM is a long-standing conference on free and open-source software. The RIPE NCC has a tradition of attending and participating. This year, I focused on community, RIPE Atlas and utopia.  
Form Determines Function
FOSDEM is large and crowded.

It's a week-long conference, crammed into one weekend.

All the rooms are full all the time.
These main characteristics of FOSDEM make it both a great success and insufferable: 
Run by volunteers
Decentralised 
Not-for-profit
On the university campus
The talks are streamed and recorded 
There were many many MANY visitors - but, because there is no registration, no-one knows how many. 5,000? 12,000? 
There were also many speakers - at least 300. And many different topics/tracks/devrooms. They were mostly small sessions, in small classrooms, so it was very difficult to enter any room: they were full pretty much the time. People developed different strategies:
Get into the room and stay the whole day
Watch the streaming of the talks over Wi-Fi 
Prefer hallway conversations 
Meet with your friends before and after talks, or during meal-breaks, or over beer
I have done all of the above :)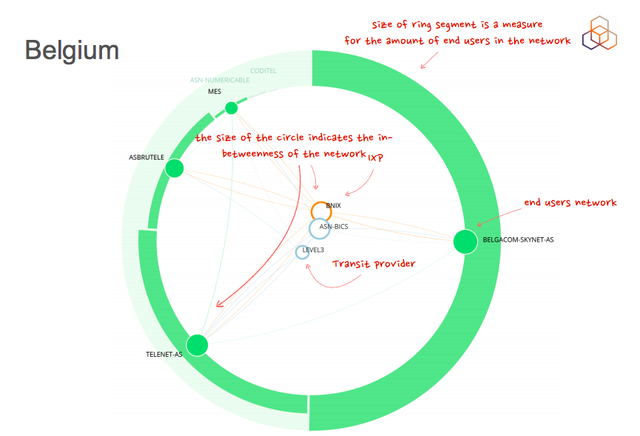 Data presented by my colleagues Emile Aben and Jasper den Hertog, based on RIPE Atlas and the IXP Country Jedi tool

Community (Building) DevRoom
On day one of FOSDEM (Saturday), I spent the whole day in room K4.601 - the session about community management practices, led by Leslie Hawthorn and Laura Czajkowski.  
It was amazing to experience the combination of warmth and organisational mastery with which the facilitators welcomed, entertained and handled the tight schedule, numerous speakers, impossible seating arrangements, crowds of audience, and technical challenges. I collected useful tips for my own events, for the future of the RIPE community, and for my personal development. Here are some examples of the most impressive talks: 
| Title | Presenter |
| --- | --- |
| Passing the Baton: Succession planning for FOSS leadership | VM (Vicky) Brasseur |
| Technical Writing for Non-Writers | Tanja Roth |
| A Bug in Your Ear - Patching the People Side | Deb Nicholson |
| Cooperative Communities - Do we really have to set up a new community for every cause? | Regina Sipos |
Decentralisation, Privacy and other Utopias 
On the second day, I arrived early at the DevRoom to be able to grab a seat - but I was mistaken: most people were still recovering from the traditional hackerspace party. The most interesting topics for me were discussed in the room dedicated to the Decentralised Internet and Privacy. This is where Emile Aben presented about RIPE Atlas. 
I only saw the early morning talks - and I highly recommend watching ALL THE VIDEOS from this session! 
After I left to have an informal meetup about "Sustainable Internet" - I could not get back into the room - so I stayed in the hallways and in the friendly cafe-space, where we held an informal RIPE community meetup, focused on: NOGs, hackathon participants, hackers and RIPE Atlas Ambassadors. 
Part of the criticism of the current Internet practices was targeted against "the big five", and that was best expressed by the posters provided by La Quadrature Du Net: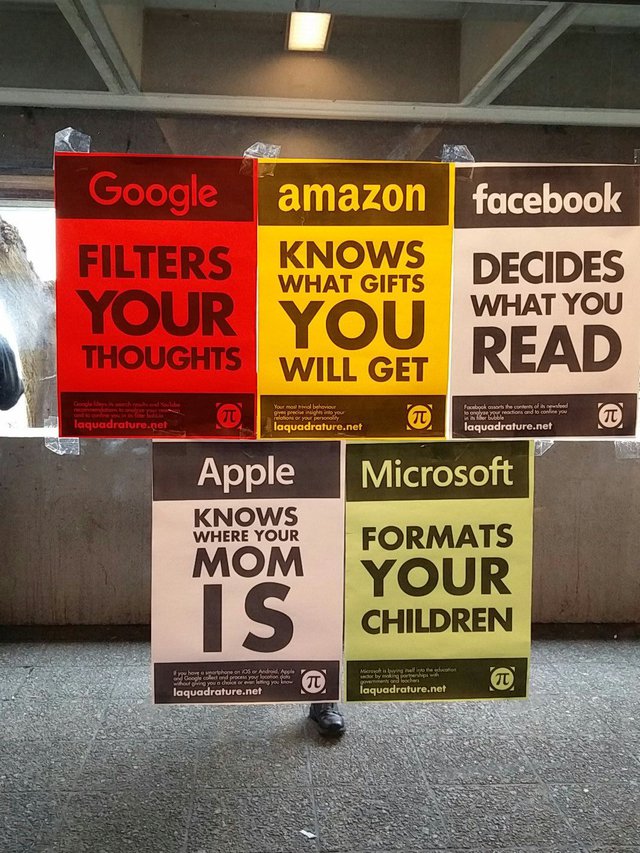 (The absence of) Diversity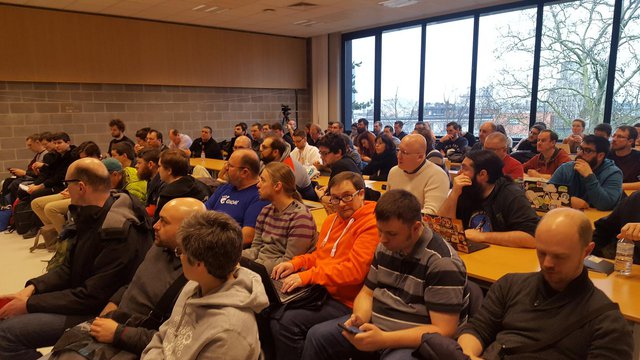 Unfortunately, my expectations have been adjusted to the historically accurate assumptions that the "geeky" topics are mostly reserved for (white) men and boys - and in that respect, FOSDEM is quite typical. Recently, I have started to demand better from our communities. I do want to point out what I think the "problems" are:
All the 32 (but one!) interviews conducted before the event were with male speakers 
Most photos of the audience show the lack of diversity
Even when the Code of Conduct was mentioned, most people spoke up to question the need for it
Therefore, I want to recommend excellent presentations by some outstanding women who were at FOSDEM:
| Title | Presenter |
| --- | --- |
| The future of the internet from a Mozilla perspectiveBrought to you by Mozilla's executive chairwoman | Mitchell Baker |
| Moving from policy to action: Lessons from learning to live by our Community Participation Guidelines | Larissa Shapiro |
| Harmonize or Resist?A Global Survey of Strategies for Freedom and Free Software | Deb Nicholson |
| Ecosystems of Professional Libre Graphics Use | ginger coons |
| Next Generation Internet Initiative - An opportunity to fix the internet | Marietje Schaake et.al. |
FOSDEM orga, please make improvements next year to encourage more inclusion, because diverse participants make for a better event! I am willing to help, and you can learn from both the RIPE community efforts (Diversity Task Force), from the IETF and from the CCC. 
See You Next Year! 
By choosing to focus on community management and RIPE Atlas, I missed the other 99% of the event, so I invite you to add your own comments below this article, or post a link to your own blog post.