RIPE NCC and iNOG are co-hosting a hackathon in June 2018 in Dublin, with the focus on tools for network operators. We are looking for participants, sponsors, and interesting project proposals - you can apply today!
---
Added on 22. August 2018:
Apply for the Quantum Internet hackathon
13-14 October 2018, Amsterdam
The 16. edition of iNOG (iNOG::10) will be held on Thursday, 21 June 2018 at @Workday in Dublin, Ireland. The following weekend (Saturday & Sunday, 23 - 24 June 2018) we will organise a RIPE NCC hackathon together. 
Join us! Apply by filling in this form 
(Final deadline in 10. June 2018)
Introduction
Hackathons provide great opportunities for students, network operators, designers, local community and other enthusiastic coders and hackers to come together and develop new and creative tools, meet others in your field, and exchange knowledge and experience with people very different from your everyday colleagues.
Our events are cooperative, rather than competitive, and we produce Free and Open Source Software (FLOSS), to be contributed back to the community. Read more about previous six awesome hackathons organised by the RIPE NCC.  
 
Focus on tools for network operators 
Since this hackathon is co-organised with iNOG, we decided to focus on improving the tools that are needed for the day-to-day work of network operators: 
Troubleshooting network issues, or monitoring reachability of services, while making use of RIPE NCC data (RIPE Atlas, RIPEstat, DNSMON, whois) 
Detecting and mitigating DDoS
Automating the staging / orchestration of new devices / networks
Verifying the running / expected states and processing telemetry
New and existing visualisations of networked phenomena (shutdowns, cable cuts, traceroutes...) 
Improving existing network monitoring tools (for example, adding alerts based on RIPE Atlas) 
The integration of existing web front-end tools (based on RIPE Atlas APIs) into a network operator's "dashboard" view
Giving back to the community (we insist on FLOSS licensing, & GitHub repository sharing)
Participants
We are looking for:
Anyone who is enthusiastic about cooperation, and can bring new, creative ideas to the mix - we are looking for the diversity of points of view, diversity of experiences, diversity of levels of knowledge 
Network engineers from all possible backgrounds (Enterprise, ISP, CDN, Content Providers, etc) 
Graphic designers
User-interface (UX / UI) and front-end developers 
Software developers familiar with scripting and programming languages (i.e. Python, Node.js, Perl, Go, Rust, R, etc.)
Support staff from companies with networking infrastructure, who can give feedback about what is really needed in their day-to-day work 
Researchers in the field of Internet measurements or networking 
Students, hackers, makers 
Details
Event Date: 23 - 24 June 2018
Time: Saturday: 09:00-19:00, Sunday: 09:00-21:00 (including social event)

Location: DoSpace, Dublin, Ireland 

Apply
Interested in participating? Apply today! It only takes a few minutes.
Please help us spread the word to others who might be interested.
The final deadline for (local) applications is 10 June 2018. The jury will review the applications and make the final selections of successful participants. All applicants will be informed of their application status by 15 June. 
Please note, the deadline for applicants who require funding is 1 May 2018 - in order for those who are selected to be able to get their visa, flight and accommodation arranged on time. These applicants will be informed of their funding status by 15 May 2018. 
(Partial) Travel Grants
In order to help increase diversity of hackathon participants, travel funding of EUR 500 per person will be available to six participants. Applicants will be told whether they qualify for funding when they are informed of their application status on 15 May 2018. The jury will make all final decisions regarding funding, however, preference will be given to applicants from the "least developed countries", those working for not-for-profits, and those with previous contributions to free and open-source software and projects. Please justify your request for travel funding in your application. 
The organisers are NOT going to book any travel or accommodation for the participants. If you need help in getting a visa, we might be able to offer assistance and an invitation letter - please state this in your application.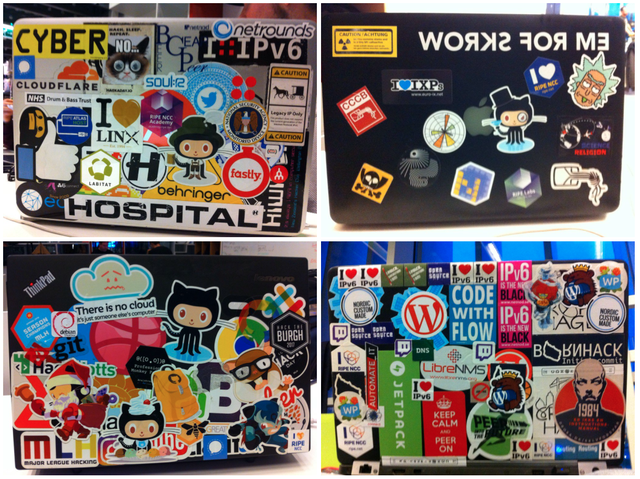 Format
During the event, participants will be grouped into small teams, with each team focusing on a given project. Food and drinks will be provided throughout the event. All source code developed during the hackathon will be publicly licensed and available on GitHub and accessible for the entire community to use. A variety of goodies will be provided for participating, including T-shirts, stickers and credits for RIPE Atlas measurements. 

Since we want to focus on collaboration and not on competition, there will be no winner and no single prize. We will celebrate the achievements during the closing party on Sunday evening. 
Prior to the event, the participants can use the discussion mailing list, EtherPad and IRC in order to coordinate the collaboration beforehand. The RIPE NCC also offers a webinar to the participants, where we give a basic introduction to the available data sets, tools and proposed projects, a week or two before the event.
Code of Conduct
RIPE NCC hackathons are events for sharing experiences, diversity of views, and have an open, respectful exchange of ideas – values that we want all of our event attendees to uphold.
Please treat each other with tolerance and respect. Free speech and an open exchange of ideas are encouraged and celebrated. Demeaning, intimidating or harming anyone at the meeting is wrong. We are especially sensitive to behaviour that offends based on gender, sexual orientation, religion, race or ethnic origin, or other perceived social, cultural, or personal differences.
If you experience or witness behaviour that violates this Code of Conduct, please report this to hackathon organisers / facilitators. All reports will be handled confidentially.
Please be aware that attendees violating the Code of Conduct may be asked to leave the event and other actions may be taken as deemed necessary.
Timeline
29 March : open applications 
1 May: First deadline 

Information sent to all applicants: 15 May

10 June: Second deadline 

Information sent to all applicants: 15 June

23 - 24 June: Hackathon 
1 July: Results published as an article on RIPE Labs 
Organising Committee
Cristian Sirbu, iNOG organiser
Lorcan Boyle, iNOG organiser
Graham Barker, logistics, DoSpace 
Vesna Manojlovic, Community Builder, RIPE NCC  
Emile Aben, R&D, RIPE NCC
About the organisers
The RIPE NCC is one of five Regional Internet Registries (RIRs) that support the global operation of the Internet. The RIPE NCC is an independent, not-for-profit organisation responsible for distributing and administering Internet number resources for more than 16,000 members in Europe, the Middle East and parts of Central Asia. We support the global Internet community by providing data, expertise and a neutral platform for the exchange of ideas.
RIPE Atlas is a global network of thousands of volunteers around the globe who host probes that measure Internet connectivity and reachability, providing an unprecedented understanding of the state of the Internet in real time. The entire Internet community can access the data collected by the network, as well as Internet maps, graphs and analyses based on the aggregated results. Tools for analysing measurement data is shared on GitHub , and the measurement source code is open and available to everyone. RIPE Atlas is coordinated by the RIPE NCC.

iNOG (Irish Network Operators group) is building an open, diverse, and inclusive Community of Practice around network engineering. The Irish Network Operators Group (iNOG) began in 2015 by re-birthing community focused on learning, sharing, connecting, and having fun, both online and offline (with around 4 events a year).
The RIPE NCC is grateful for iNOG's support of this hackathon.
About Sponsors
  ZPE Systems is the industry's first provider of an "Open Infrastructure Management  Solution" for in-band and out-of-band access and control of Network, Compute, Storage and Power Devices in both physical and virtual IT Infrastructures, as well as Nodegrid® platform. ZPE's global headquarters is located in Fremont, California with offices throughout the US and globally in Ireland, India, Brazil and Japan.
ThousandEyes delivers Network Intelligence—immediate visibility and insights into experience for  every user and application over any network. Smart monitoring agents provide the most complete understanding of app delivery, topology dependencies and network behavior, so companies can deliver superior digital experiences, modernize their enterprise WAN, and successfully migrate to the cloud.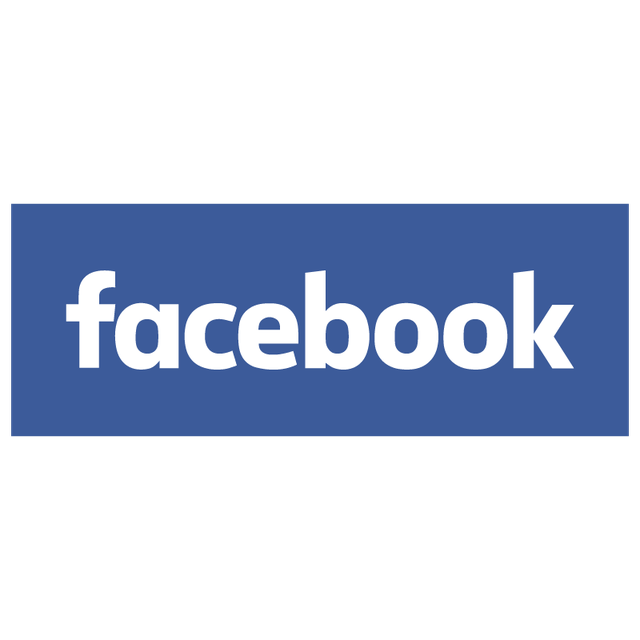 Network Infrastructure Engineering at Facebook is responsible for engineering solutions to monitor and operate the Facebook network, from Edge to Backbone to Datacenter. This involves both vendor gear and our own gear, as well as stretching into the optical domain. Our goal is to ensure that people using Facebook are not affected from any event that happens in the network. We solve our issues using code and automation as much as possible.
The RIPE NCC and iNOG are grateful to ZPE Systems, ThousandEyes and Facebook Engineering for their financial support of this hackathon.
Media Sponsor
 Increase your hiring velocity with automated expert screening!
 Better candidates, faster! Reduce costs and time to hire.
Supporting Sponsor
Consulting, training and, automation delivered with passion and discipline.
RIPE NCC and iNOG are grateful to PanSift and Redbit Networks for their support in logistics and media outreach. 
Searching for more sponsors 
Each of the previous RIPE NCC hackathons had one or more sponsors: they help both financially, logistically, and by demonstrating their support for the Free and Open Source Software (FLOSS) tools development. As a sponsor, you will be promoted during the event, and in all of our communications (announcements, blogs posts, Social Media); and you will get warm fuzzy feeling of of supporting the community effort! 
We are looking for the financial support from EUR 2,000 to EUR 20,000. We will spend your funds on: hiring the location, providing food and drinks to participants, providing several partial travel grants to increase diversity; T-shirts, good coffee, and a closing celebration (dinner and drinks). We prefer to NOT give material or financial prizes to participants, since this is the event focused on collaboration, not competition. 

Previous sponsors include: Comcast, Facebook, Akamai, ISOC, Euro-IX, DENIC, Afilias and Farsight Security.
Please contact labs@ripe.net if you are interested in sponsoring the hackathon.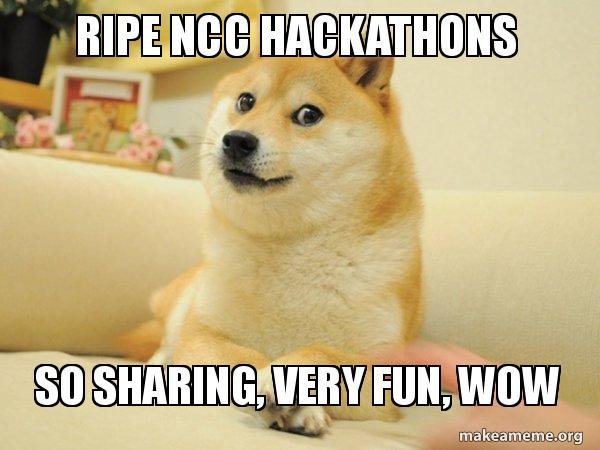 Save the Date
Next RIPE NCC hackathon will be co-organised with Technical University Delft / QuTech; it will be held during the weekend before the RIPE 77 meeting in Amsterdam: 13 - 14 October 2018. Topic: Quantum Internet. 
All about RIPE NCC Hackathons: http://labs.ripe.net/hackathons