The RIPE Atlas tools hackathon is an opportunity for network operators to work together with RIPE Atlas developers and other enthusiastic coders and hackers. The goal is to improve or come up with entirely new tools for using RIPE Atlas data to monitor networks and troubleshoot issues. The hackathon will take place from 14-15 November in Bucharest ahead of the RIPE 71 Meeting. Find out how you can take part!
---
Introduction
Hackathons provide great opportunities for developers and users to work together on creating solutions that satisfy multiple needs, producing fast results and happy people.
RIPE Atlas is a global active Internet measurement network that provides open data to monitor the "health" of Internet infrastructure. In addition, end users and operators can use RIPE Atlas data to monitor their own servers or troubleshoot issues within their own networks. 
Join us on 14 and 15 November 2015 in Bucharest for the RIPE Atlas hackathon!
As RIPE 71 runs from 16-20 November in Bucharest, the weekend before is a perfect opportunity to come together and will also serve as a nice introduction to all the discussions that will take place at the meeting.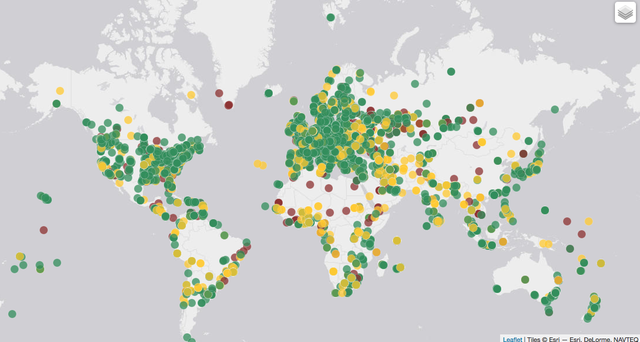 Focus on Tools 
Together, we want to use RIPE Atlas data to develop useful analytical tools for the benefit of the entire Internet community. Specifically, the goal of this hackathon is to improve access to RIPE Atlas data for network operators, by creating tools that fit with their existing ways of working. We'd also like to come up with solutions tailored to the needs of RIPE NCC members who do not have time to develop their own tools. 
Typical use cases for these kinds of tools include:
Helping ISPs monitor the reachability of the websites most visited by their users
Hosting companies with multiple POPs around the world that need to be alerted of high latency from a certain part of the world
People who prefer command-line tools for interfacing with RIPE Atlas APIs
The integration of existing  web front-end tools  (based on RIPE Atlas APIs) into a network operator's "dashboard" view
Participants
We are specifically looking for:
Developers familiar with Python, Node.js, Perl, Go, etc.
People who can do packaging of existing tools for operating systems (Debian, Fedora, Mac OS, etc.)  
Network operators who can give feedback about what is really needed in their day-to-day work 
You'll have the chance to work alongside RIPE Atlas developers, meet others in your field, and exchange knowledge and experience.
Details
Event Date: 14-15 November 2015
Time: Saturday: 9:00-19:00, Sunday: 9:00-21:00 (including social event)

Location: JW Marriott Bucharest Grand Hotel - Bucharest, Romania
Timeline
The deadline for applications is 6 October 2015 . The jury will review the applications and will make final selections about successful participants. All applicants will be informed about their application status by 12 October .
Apply
Interested in participating? Apply today! It only takes a few minutes. And please help us spread the word to other developers and and network operators who might be interested.
Travel
Unfortunately, we are unable to cover any travel expenses for participants. 
Format
Small teams will work with RIPE Atlas developers to meet one of two goals:
Work on furthering existing ideas developed by the RIPE Atlas team and community
Work on developing entirely new tools
At the end of the two-day event, we aim to have completed tools or advanced prototypes.
All this work will culminate in short presentations to the jury on Sunday afternoon. Food and drinks will be provided throughout the weekend.
All source code developed during the hackathon will be publicly licensed and available on GitHub, and available for the entire community to use.
Participants will receive the usual "swag": t-shirts, stickers and a few surprises. The winning team's work will be presented at the MAT (Measurements, Analysis and Tools) Working Group session during the RIPE 71 Meeting. 
Examples
Please take a look at the existing tools in these repositories on GitHub, and the list of other related tools: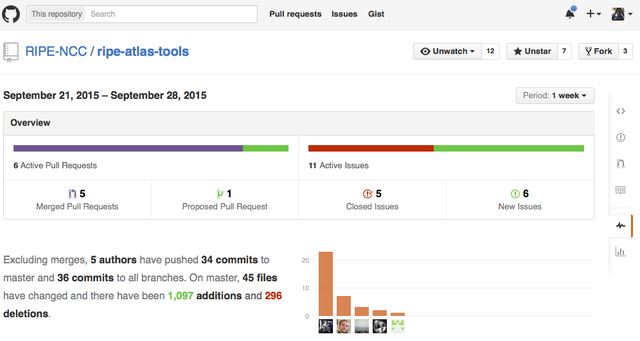 In March of this year we held the first RIPE Atlas hackathon, which focused on data visualisations. You can see some of the really impressive resulting presentations  and cool  data visualisations by super interesting and talented people from all over the world. 
More information will be provided to the hackathon participants about the available data and tools in the coming weeks.
For any questions, please contact us at mcb-staff@ripe.net  
About the Organisers
The RIPE NCC is one of five Regional Internet Registries (RIRs) that support the global operation of the Internet. The RIPE NCC is an independent, not-for-profit organisation responsible for distributing and administering Internet number resources for more than 12,000 members in Europe, the Middle East, and parts of Central Asia. We support the global Internet community by providing data, expertise and a neutral platform for the exchange of ideas.
RIPE Atlas is a global network of thousands of volunteers around the globe who host probes that measure Internet connectivity and reachability, providing an unprecedented understanding of the state of the Internet in real time. The entire Internet community can access the data collected by the network, as well as Internet maps, graphs and analyses based on the aggregated results. Tools for analysing measurement data is shared on GitHub , and the measurement source code is open and available to everyone. RIPE Atlas is coordinated by the RIPE NCC.