The thirteenth Hackers On Planet Earth (HOPE.net) conference is being held entirely online from 25 July to 2 August 2020.  We are following talks relevant to the RIPE community and reporting back. Join us in participating in real time, or watch archived presentations. 
---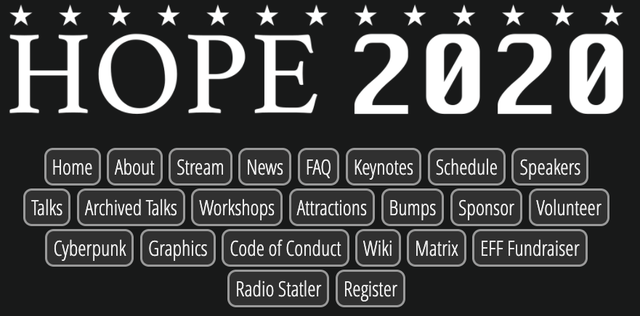 Join us in taking part in the conference about technology, security & society: HOPE2020.  
tl;dr 
Talks relevant to RIPE community working groups

 
At the intersection of the hacker community and the technical-Internet governance space that the RIPE community occupies, here is a selection of talks I've curated, that I find relevant for specific working groups, grouped by the most relevant RIPE working group. Note - I've sourced the talk descriptions from the HOPE 2020 website.
Incidentally, the next RIPE Meeting (RIPE 81) will also be held online between 27-31 October 2020.
The call for presentations is now open! 
DNS WG
Launching the Cyrillic IDN TLD as the first Internationalized Domain Name in the World, by Dr. Yulia Ovchinnikova
Wednesday, 29 July, 01:00–02:00 (Europe/Amsterdam) 
This talk will cover the birth of the Russian domain space (.RU), its evolution, and how it addressed challenges such as creating/managing non-Latin international domain names (IDN) starting with the first Cyrillic domain (a pioneering ICANN program) and de-monopolization of the Russian domain business while educating government officials.
Connect WG
Censorship Is No Longer Interpreted as Damage (And What We Can Do About It), by Michal "rysiek" Wozniak 
Monday, 27 July, 18:00–19:00 (Europe/Amsterdam) 
In 2020, the Internet no longer interprets censorship as damage. Countrywide targeted web blocks are in effect everywhere from Azerbaijan to Zimbabwe. TLS SNI-based blocking is deployed in places like Kazakhstan. And the only "solutions" seemingly on the table lead to further centralisation ... 
Open Source WG
Hacking Web Servers to Make Them More Secure and Faster Using Open Standards, by Dan York
Tuesday, 28 July, 21:00–21:50 (Europe/Amsterdam) 
So how can you promote open standards like TLS and IPv6 if your own websites don't support these standards? Shouldn't there be step-by-step recipes out there (or default configurations) that just make this easy? In this talk, Dan will dive into how the Internet Society fixed its multiple websites, and discovered how it could make these sites faster and more secure with some easy changes to the site configuration. He will share the crowd-sourced documentation that the project team has developed for self-hosted web servers, hosted servers, and sites using content delivery networks (CDNs), and will outline how you can help contribute to this project. He'll cover how to implement HTTP/2, IPv6, TLS, HSTS, and DNSSEC - and provide the recipes his project team used. If we want an open Internet where we don't need permission to deploy new services and systems, the Internet needs to be based on interoperable, open Internet standards. Join us in helping build a more secure and available Internet for everyone!
MAT WG
People Are Not Bots - or How Researchers Delegitimize Social Movements, by Michael Kreil
Monday, 27 July, 02:00–03:00 (Europe/Amsterdam) , Public Talk Stream 
At first, it didn't sound wrong. Scientists were going to track down social bots using scientific methods in order to study their influence on public debates. But a deeper look into the research shows that it is anything but scientific.
Researchers work with wrong claims and flawed methods. Algorithms, instead of being open source, are opaque. Results contradict each other. Papers have been rejected by scientific journals. To this day, nobody has been able to present any scientific proof of "mass manipulation by social bots." ... 
IoT WG 
Secure or Get Compromised: Unveiling the Web Security in IoT Devices, by Dr. Aditya K. Sood
 Saturday, 1August, 16:00–17:00 (Europe/Amsterdam) 
Threats in IoT space are increasing on an exponential scale. One of the issues encountered in IoT devices is the management and deployment of embedded web servers and security controls associated with them. A number of security flaws exist due to the inability to impose strong authentication and authorisation controls at the granular level. In addition, bad design practices result in inherent vulnerabilities. This talk highlights the state of security in embedded web servers by presenting undisclosed vulnerabilities in IoT devices. Additionally, the talk unveils how the embedded web servers used in IOT devices are exploited by adversaries to trigger advanced cyber attacks. There will be demonstrations and very detailed case studies will be discussed.
Cooperation WG

 
1. Updates on I-star Organizations From the Bullshit Police
Saturday, 1 August, 17:00–17:50 (Europe/Amsterdam) , Public Talk Stream
A panel of experts, technologists, and lawyers will give an update on several I-star organisations, namely ICANN, IETF, IEEE, and ITU. Short presentations will touch on the major controversies in each space as they relate to human rights, namely freedom of expression and the right to privacy. Questions to the panel from the moderator will draw out the tensions and synergies of human rights considerations in Internet governance and standards setting across the I-star bodies. Questions from the audience are encouraged.
Speakers: 
Amelia Andersdotter, Mehwish Ansari, Daniel Kahn Gillmor, Mallory Knodel
2. Principles of Digital Autonomy, by Karen Sandler and Molly de Blanc
Saturday, 1 August, 22:00–23:00 (Europe/Amsterdam) 
We have rights with respect to our technology. These rights are imperative to ensuring our digital autonomy: our right to be in control of our own destinies. As the border between the physical and the digital breaks down, it is increasingly becoming necessary to reexamine what we consider to be the rights that protect our digital autonomy, and the way those abstract ideas apply to existing (and theoretical) technology.
Cyborg lawyer Karen Sandler and digital rights activist Molly de Blanc will first discuss the principles of digital autonomy, clarifying what your rights are and the principles that define them. They will then analyze popular technologies including video chat software in the context of these principles.
Karen and Molly wrote the Principles of Digital Autonomy to summarise what they have learned in their time as digital rights advocates and activists. In this session, they will share them with the audience and then look at software and hardware, including Zoom, from the lens of those principles. 
3. Hacking Fake News: How Hackers Can Help Fact Checkers
Wednesday, 29 July, 03:00–04:00 (Europe/Amsterdam) 
Fact-checkers around the world are overrun. There's too much misinformation, too little time, too little data, and stakes that are too high. Hackers can help. Fact-checking focuses on systems, on analysis and deconstruction, on bypass, on verification and hardening. Sound familiar?
Fake news is social engineering on a vast scale, and the consequences are real, dangerous, and increasingly deadly. Hackers and fact-checkers both value truth - it's time to work on it together.
Speaker Christopher Guess has been the lead technologist at the Duke University Reporters' Lab for the past five years where he helps lead a team dedicated to automating fact-checking and making fact-checking more accessible to the audience via policy, technology, and reporting. Previously, Christopher worked on organised crime and money laundering in Eastern Europe with the Organized Crime and Corruption Reporting Project as a technologist for two years based in Sarajevo. 
Security WG (doesn't exist yet!) 
Beyond End-to-End, by Phillip Hallam-Baker
Tuesday, 28 July, 22:00–23:00 (Europe/Amsterdam) , 
And in the plague years, the words "end-to-end encryption" were on everybody's lips. For they were using Zoom for education and commerce and their socially-distanced sex parties, and suddenly became worried that a government or two might be looking in. The fact that they had been doing all the same things over email for the past quarter century was never considered. The Mathematical Mesh is a personal PKI that addresses the trust gap in current end-to-end solutions, allowing the user to manage credentials for all the applications they use. The Mesh is built using and enabling the use of threshold cryptography, a form of public key cryptography that enables further separation of cryptographic roles by splitting and combining private keys.
An alpha release of the Mesh under MIT license will be announced at the end of the presentation.
NRO / Other RIR Regions
Experiences in Sharing Digital Security Workshops in an Autonomous and Open Hackerspace in Mexico, by Carlos Martinez 
Sunday, 2 August, 23:00–00:00 (Europe/Amsterdam) 
This is a talk about the conditions in a very large city where a group of people who support this hacker space have already made possible seven years of activities related to free software, free culture, hacking, digital security, and book presentations. Carlos will talk about the conditions that were faced by this autonomous hackerspace, along with the problems and successes in digital security workshops pre- and post-COVID-19, as well as the collaboration with other groups from other cities and countries that have made it possible to continue with this project.
No One Can Predict the Future, by Xiaowei Wang
Saturday, 1 August, 04:00–05:00 (Europe/Amsterdam), Public Talk Stream
This talk is about the rural-urban connections of tech in the Chinese countryside, and the impact of tech on rural areas that are increasingly globalized. Xiaowei will tell the story of their visit to a police station in the city of Guizhou, and how they talked to a police officer about the implementation of their "Real Population Platform," a platform designed to surveil rural migrants in the city. A visit to the the offices of Face++/Megvii, which makes face recognition algorithms for China's Skynet surveillance system, will also be described. Through this research, they look at the realities of how these platforms and algorithms are used on the ground (along with implementation challenges, from data quality to collection, and the global profiting on surveillance).
This talk seeks to open up a broader discussion on data, representation, and the ethical and philosophical questions surrounding prediction as an industry built by tech. As the police officer in Guizhou said, "No one can predict the future." So why do predictive policing platforms still exist? What is the circular logic that remains in engineering? What are the potential strategies and areas of countering these types of surveillance? 
Routing WG (pun intended)

 
XLterrestrials present: CiTiZEN KiNO ( v.86 ): Frackyworld Inc. and Routing Around It !
Friday, 31 July, 21:00–22:30 (Europe/Amsterdam), Performances and More!
CiTiZEN KINO is a public event series which mixes media activism plus analysis, curated film screenings, performance, and public discussion. They are community artists, writers, independent media activists, VJ/DJs, and event producers.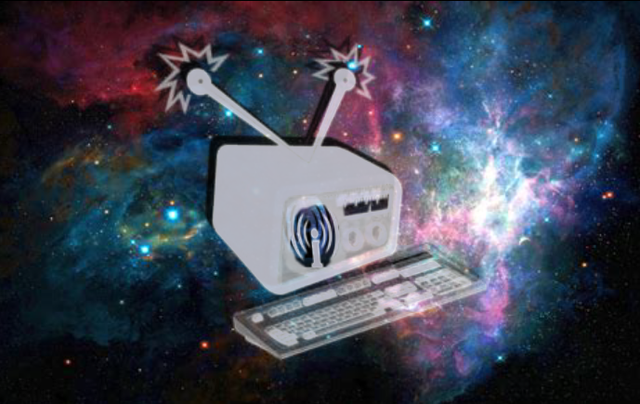 Personal Favourites
Here is a selection of the talks that I found interesting, and/or are by my friends, and/or you might appreciate.
I recommend these for future watching: 
Hacking ISO Shipping Container, by Yoshinari Nishiki

Shipping containers are a backbone of our civilization, being involved with 90 percent of all the products that circulate around the globe today. The 20-foot equivalent unit (TEU) contributed a significant cost reduction in the handling of goods
by introducing intermodality for freight transport. 

In this presentation, Yoshinari explains in what process and supporting environment he managed to pull off the container
rolling project - without having any engineering background. 
Link: https://scheduler.hope.net/hope2020/talk/8W3PG3/ & Video 
Cybersecurity and Clown by J.M. Porup 
Sunday Aug. 2, 03:00–04:00 (Europe/Amsterdam)
Charlie Chaplin once said to be truly funny, you must take out your pain and play with it. How can we use comedy to address the anxiety and despair in cybersecurity? 
Link: https://scheduler.hope.net/hope2020/talk/NDC7AR/ 
DIY Learning COVID-19, by Jiang Xueqin
 Wednesday, 29 July, 15:00–16:00 (Europe/Amsterdam) , 
COVID-19 has exposed the major failings of the world's school systems, mainly how schools are failing to prepare students to learn on their own. In this talk, China-based educator Jiang Xueqin explains how, with a learning journal, students can master the skills necessary for lifelong learning during the COVID-19 lockdown, and learn how to set precise measurable goals, how to develop personalized learning paths and strategies, and how to self-assess/self-reflect. The learning journal activity also encourages students to seek feedback from peers, teachers, and parents, and work towards a YouTube presentation as a final project. The science behind this learning journal that empowers students to hack their own brains will be explained.
Link: https://scheduler.hope.net/hope2020/talk/KW7HV7/
Hackers and the Gnostic Tradition, by The Tarquin
Friday, 31 July, 04:00–05:00 (Europe/Amsterdam) 
Hackers and hacker culture are usually portrayed as being novel, with even the earliest proposed dates for "hackers" as a cultural group only going back to the 1960s or so. This talk will examine hacker culture in light of earlier cultural movements for whom knowledge and information were morally significant (as opposed to just good in a utilitarian sense) and show that moral, aesthetic, and sociological beliefs that are thought to be unique to the hacker culture, in fact existed in these earlier precursors. This talk will examine gnostics, alchemists, and various occult traditions and tie them together into a cultural lineage from which hackers still draw today
Link: https://scheduler.hope.net/hope2020/talk/GCBHRX/
On Doing Good Enough, by Mek
Tuesday, 28 July, 23:00–00:00 (Europe/Amsterdam)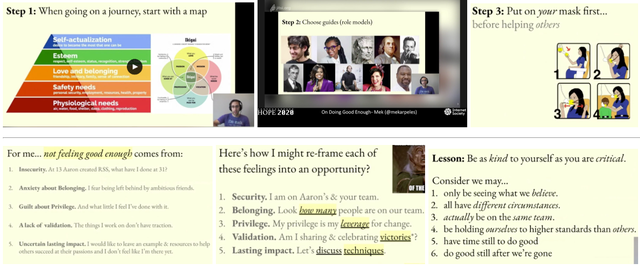 We're facing pretty difficult times and many in our communities are struggling. COVID-19, unemployment, racial inequality, turbulent politics, and the psychological stresses of shelter-in-place all conspire to form a perfect storm. If there is a silver lining, it's that there too are a multitude of opportunities for us to help each other, to share resources, and to use our hacks for good. It's hard knowing where to start, it's hard to get started, and it's hard to keep going.
As technologists, many of us are uniquely positioned to do work remotely and collaborate. This talk will describe how to use this to our advantage. Whether you're out of work and need help, you're trying to stay employed and avoid burnout and distractions, or you have extra bandwidth and are looking for ways to "fight for the user," Mek will show how to share resources, techniques, and opportunities which hopefully will help each of us do good enough, together. 
Link: https://scheduler.hope.net/hope2020/talk/H7JFMV/
On Computational Law: Why the History of Computing Could Be the Future of Law, by Meng Wen
Tuesday, 28 July, 16:00–17:00 (Europe/Amsterdam) 
The government of Singapore recently bet ten million dollars on a research program to develop an open-source domain-specific language - for law. This talk explains why, and introduces lesser-known corners of computer science (like formal methods, controlled natural languages, and logic and constraint programming) and suggests that together they could permanently divide the traditional legal profession (which runs on humans) from a future legal industry (which runs on computers).
Link: https://scheduler.hope.net/hope2020/talk/NXBU7Z/
Pick Better Fights With Your Boss, by Nada O'Neal
Saturday, 1 August, 02:00–03:00 (Europe/Amsterdam) 
There's nothing worse than being right all the time, but having no power to persuade or make change. In this talk, Nada will show you how to talk to the suits in your work life, first about mundane matters like software purchases and info security, and then about what we really care about: violations of equity or rights. Learn how to meet them where they're at to bring them onto the right path.
Link: https://scheduler.hope.net/hope2020/talk/UAETLE/
Solarpunk, Cyberpunk and Popculture: Technological Narratives, by Pawel "alxd" Ngei (he/them)
Monday, 27 July, 17:00–18:00 (Europe/Amsterdam) , Public Talk Stream
Western culture offers a very distilled narrative on what technology is and who builds, owns, and profits from it. Most non-technical audiences are unaware of how subjective this perspective is - and how strongly it favors well-marketed multinational corporations over local solutions. This talk will explore most problematic themes in popular culture and how they relate to the hacker approach. The more the technology advances and becomes interconnected and complex, the less the non-technical public understands the changes, their repercussions and the policies that come along with them. Most people end up relying on stories present in the popular culture to understand the tech world around them: the well-polished product ads hidden in their favorite films, the lone genius-inventor legends, cyberpunk visions of a world with no privacy, but so much convenience!
With the constant changes around, it's hard not to be future shocked and give up on any attempts of understanding the technology yourself. The alternative narratives, especially within the hacker scene, are anything but accessible. They're shrouded with technical terms, full of cryptic references and lacking any clear introduction. Very few stories explain why values such as net neutrality are important without speaking code. People need stories with clear explanations appealing to their emotions and remaining in their memories much longer than a dry technical evaluation of pros and cons.
Link: https://scheduler.hope.net/hope2020/talk/N7ARAC/
We Need to Talk About Amazon: An Introduction to Capitalism, by  Johannes Grenzfurthner and Jasmin Hagendorfer
Wednesday, 19 July, 21:00–21:50 (Europe/Amsterdam) 
Amazon is an American multinational technology company based in Seattle. It focuses on e-commerce, cloud computing, digital streaming, and artificial intelligence. Amazon is called "one of the most influential economic and cultural forces in the world" and the world's most valuable brand. For nerds who grew up in the 1980s, it's like a cyberpunk dystopia's wet dream come true. Amazon has moved into healthcare and insurance. It has dug deeper into AI and automation, and bolstered its in-home delivery services. But that's not enough to understand the brutal capitalist force it represents and the future Jeff Bezos wants to create. This discussion will look at some of the curious aspects of this company, along with what we can learn from its behavior about late capitalism.
Link: https://scheduler.hope.net/hope2020/talk/RPTAUS/ 
Keynote by Yeshimabeit Milner, the founder and executive director of Data for Black Lives.   
Story: https://www.ft.com/content/156f770a-1d77-4f6b-8616-192fb58e3735 
 Video: https://archive.org/details/hopeconf2020/20200728_1400_Keynote_-_Yeshimabeit_Milner.mp4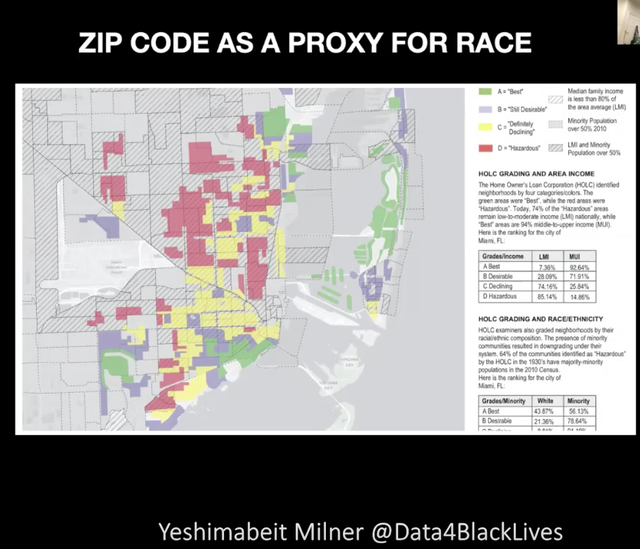 We Used to Have Cake, Now We've Barely Got Icing: Keynote byCory Doctorow
Saturday, 25 July, 22:00–22:50 (Europe/Amsterdam) 
When free software licensing was born, software copyrights were essentially nonexistent, software patents didn't exist at all, terms of service weren't enforceable and there was no anti-circumvention law. In other words, you were legally permitted to clone or interoperate with any digital product. Today, we think of free software as a way for a company to say, "We probably won't sue you if you write code that can interoperate with ours", but when free software started, it was more like, "I know I've got the absolute legal right to reverse engineer all your code and make a competing product, but that's such tedious work. Please, make it easy for me by giving me your source code." Back then, free software was icing on the cake. Then they stole the cake and left us hoping for a little icing every now and then.
Link: https://scheduler.hope.net/hope2020/talk/RQGRDT/ & Story & Video
The Hackbase Revolution, by Liam Kurmos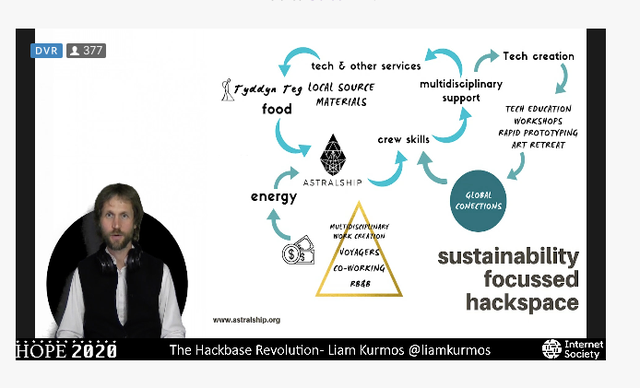 This talk looks at the hackbase movement and its potential to change the world by building a new economy through hacking and co-living. Hackbases are residential hacker spaces, of which there are currently only a few in Europe. Liam will look at the challenges faced by hackbases from the experience …
Link: https://scheduler.hope.net/hope2020/talk/JMNVTQ/   
Hackers helping to fight Covid-19 
https://wiki.hope.net/index.php?title=Helping#Hackers_Helping_to_Fight_COVID-19
Hacktivism Rides Again, by Cult of the Dead Cow
Saturday, 25 July, 19:00–20:00 (Europe/Amsterdam) 
The publication of the definitive history of hacktivism pioneers Cult of the Dead Cow in mid-2019 renewed interest in the influential group and inspired members and others to revive the mission that cDc defined two decades ago as hacking for human rights. For this panel, three stalwarts in the group return to HOPE to discuss their new initiatives and what they see as most admirable in others' work fighting surveillance, racism, and disease.
Speakers: Oxblood Ruffin, Joseph Menn, Omega, Javaman
Link: https://scheduler.hope.net/hope2020/talk/RCNY9M/ & Video 
Hacking Society, Hacking Humanity, by Bruce Schneier
Sunday , 26 July, 01:00–02:00 (Europe/Amsterdam) 
A hacker mindset is essential to understand the security of complex technological systems. This way of thinking applies much more broadly, not only to socio-technical systems but to purely social systems as well. Tax loopholes, for example, can be understood as hacks of the tax code. Disinformation campaigns can be understood as hacks of the democratic election process. This talk extends the core language of hacking to the broad systems that underlie our society. Bruce will talk about what it means to hack the law, to hack the market economy, and to hack the democratic process. Others have written about how social engineering hacks trust and authority, and how social media sites hack attention. Bruce will generalise this further, discussing how our cognitive systems are hacked. Finally, he will extend these notions to discuss artificial intelligence and robotics; these systems will hack what it means to be human, and also how we react to things we react to as human. In the 21st century, everything is a socio-technical system, and everything is vulnerable to hacking. Our experience and expertise is necessary to secure these systems, and the goal of this talk is to explain how we can do that.
Link: https://scheduler.hope.net/hope2020/talk/AKDQXV/ & Video 
About HOPE2020
The 13th Hackers On Planet Earth (HOPE) conference will be held entirely online from July 25th to August 2nd, 2020

H.O.P.E. stands for Hackers On Planet Earth, one of the most creative and diverse hacker events in the world. It's been happening since 1994.

Thousands of people from around the world come to HOPE. Please join us for nine full days and nights of activities, including more of the provocative and enlightening speakers that the HOPE conferences are known for. The conference will make innovative use of online streaming and collaboration forums to create a unique experience that is sure to be satisfying.

In the past we've had fascinating talks, inspirational keynotes, and workshops on every topic from lockpicking to how to make a FOIA request. HOPE has showcased new movies, had cool live performances, done live radio broadcasts, and much, much more.

Now imagine all of that happening online! It seems impossible, but with the hard work and dedication of our huge volunteer staff, we're able to pull it off.

Unlike previous conferences, which were held in Manhattan, this one will be entirely online. Speakers, workshops, keynotes and other content will be scheduled, and will include live Q&A and interaction with registered attendees. Attendees will also be able to interact with each other.

We're literally only limited by our imaginations and how many volunteers come on board to help build the event. At the very least, we'll have a conference equivalent to previous HOPEs. At best, we'll have so much more.

Shifting the conference to happen entirely online requires massive coordination and more involvement from more people. We'll need to improve in the areas where we fell short and make the magic that HOPE conferences are known for even better.