We will be holding a session at the RIPE meeting for people interested in discussing user-defined measurements (UDM) with RIPE Atlas. Both beta testers and people who have not yet used UDM are welcome to attend.
---
If you can answer 'yes' to one of these two questions,
Did you participate in the beta-tests of RIPE Atlas UDM?
you are invited to join us at the UDM "birds of a feather" (BoF) session!
Join us for the UDM BoF
We will be holding a BoF session at  RIPE 64 in Ljubljana.  It is scheduled for Thursday , 19 April at 17:45 in the Grand Union Hall (main room).  We will begin after the end of the Measurements, Analysis and Tools (MAT) working group session (which takes place in the same room).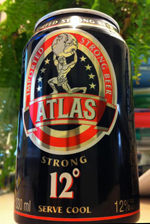 And, if you're lucky, you might get to taste one of the limited edition Atlas beers we've got on offer!
Meet us
If you would like to speak with someone from RIPE NCC about RIPE Atlas at another time during the RIPE meeting, several people are available:
Look at our list of scheduled meeting points (below) where we are available to discuss RIPE Atlas, or ask a RIPE NCC staff member (look for green badges) to schedule you for a personal meeting with one of us.
We also invite you to attend the Measurements, Analysis and Tools (MAT) Working Group session on Thursday.
Scheduled Meeting Points
Monday - Meet & Greet (Vesna)
Monday, 10:30 - 11:30 - Info hub (Ann, Robert)
Tuesday - Meet & Greet (Vesna)
Tuesday, 10:30 - 11:00 - Info hub (Philip, Ann)
Thursday 12:30 - 14:00 - Info hub (Robert, Ann, Philip until 13:15; Vesna from 13:15)
Friday 10:30 - 11:00 - Info hub (Vesna, Ann, Philip)