Maybe surprisingly, there is quite an overlap between the RIPE community and the hackers community. Visiting a local hackerspace has been a tradition for more than five years: during RIPE Meetings, network operators groups, IXP meetings and other technical events. This is a nostalgic look back to the history of these encounters, and an invitation to join us for future explorations.
---
I've been a Community Builder at the RIPE NCC since 2011 (and a trainer since 1999), but I have been a hacker for much longer: since 1996 I have been taking part in hacker camps, conferences and other events, and now I am a member of several hackerspaces in Amsterdam.

My favourite definition of the hacker
See also:
Historically, the RIPE community consists of network operators, telecommunications and electrical engineers. Also historically, computer programmers and network engineers have been where the hackers community originated, and today this can be seen in the overlap that exists between the RIPE community and the hackerspaces community. 
The most fun with this overlap is when we visit local hackerspaces. 
Join us during RIPE 73 on Tuesday evening: visiting local hackerspace! 
See details here
What is a Hackerspace? 
"Hackerspaces are community-operated physical places, where people share their interest in
tinkering with technology, meet and work on their projects, and learn from each other."
-- Definition from hackerspaces.org 
There are more than 2,000 hackerspaces around the world today. Most of the "new" ones in Europe were created after 2007, although C-Base is much older, and a few in Amsterdam that I was part of existed before the name "hackerspace" became popular. 

Hackerspaces are often similar to each other in many ways: their members are interested in a hands-on approach to technology, sharing their knowledge with like-minded people, and they value belonging to a self-organised community. To me, this sounds very much like RIPE community ethos too! 
There are also differences: some spaces are more artistic than others, some are more dedicated to activism & political awareness (often called hack-labs), and some are focused on the general public and offer commercial services (fab-labs and makerspaces). But in most of the European hackerspaces you can find several characteristic things:
Club Mate
3D printers (self-made)
Stickers, T-shirts, other swag
Electronics & soldering workshop area 
Collection of books on technical & social topics (cryptography, programming..)
RIPE Atlas probe
Visiting Locals
We have been to about 20 places together in the last six years! Usually it's a small group of five to ten people, and we've had lots of fun exploring various local hackerspaces together. You can find all the links and upcoming events on this page:  Hackerspaces_tour#During_RIPE_Meetings.
What can you expect to do when you visit a hackerspace?
A local host often gives us a tour of the local facilities
You can get your "hackerspaces passport" stamped 
You will meet people you might have met before on another conference
Drinks are available and you are supposed to leave a donation (a system based on trust)
Please bring some stickers of your favourite Linux distribution/SW/other hackerspace 
Be careful when taking photos: some hackers are very privacy conscious: ask first!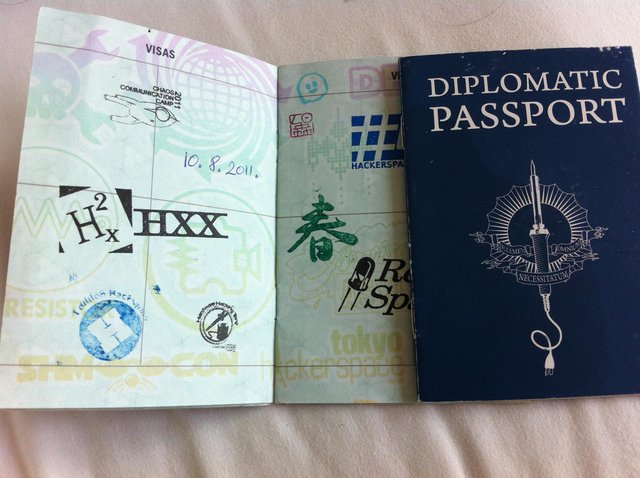 Hackerspaces passport: Collect a stamp at each visit
Hackers on Tour: Six Years, 20 Visits
| Name | City, Country | Event | Month, Year & Link |
| --- | --- | --- | --- |
| MetaLab | Vienna, Austria | RIPE 63 | November 2011 |
| CERN | Geneva, Switzerland | Swinog#23 | November 2011 |
| CyberPipe | Ljubljana, Slovenia | RIPE 64 | April 2012 |
| FixMe | Lausanne, Switzerland | Swinog#25 | May 2012 |
| TempInc | Amsterdam, The Netherlands | RIPE 65 | September 2012 |
| KIKA | Skopje, Macedonia | SEE2 | April 2013 |
| TOG | Dublin, Ireland | RIPE 66 | May 2013 |
| Hackerspace Budapest | Budapest, Hungary | BalCCon 2013 | September 2013 |
| Hackerspace.gr | Athens, Greece | RIPE 67 | October 2013 |
| TechInc | Amsterdam, The Netherlands | MORE-IP | May 2014 |
| Hackerspace.PL | Warsaw, Poland | RIPE 68 | May 2014 |
| London HackSpace | London, UK | RIPE 69 | November 2014 |
| TechInc | Amsterdam, The Netherlands | RIPE Atlas DataViz Hackathon | March 2015 |
| Belgrade HackLab | Belgrade, Serbia | SEE 4 | April 2015 |
| TechInc | Amsterdam, The Netherlands | RIPE 70 | May 2015 |
| Hatch | Bucharest, Romania | RIPE 71 (hackathon) | 13 November 2015 |
| Karkhana | Kathmandu, Nepal | SANOG 27 | January 2016 |
| Labitat | Copenhagen, Denmark | RIPE 72 (hackathon) | May 2016 |
| Illutron | Copenhagen, Denmark | RIPE 72 (hackathon) | May 2016 |
| Makerspace Madrid | Madrid, Spain | RIPE 73 | October 2016 |

   Doors & logos of hackerspaces worldwide
Hacking (&) RIPE 
I like bringing these two worlds together. I like combining my work and my hacking passions. To this end, I have been connecting
hackers & operators by giving presentations at hackers conferences, bringing input from these events back to the RIPE NCC,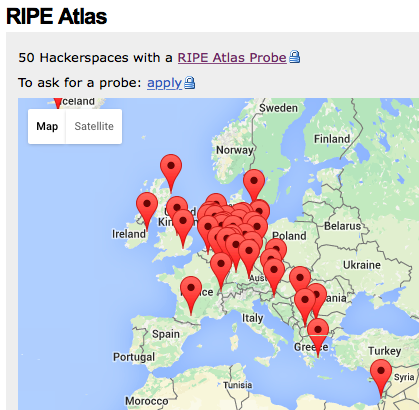 Map of hackerspaces in Europe with RIPE Atlas probe installed
Call for Actions
Let's strengthen the ties that exist between these two communities! 
If you're a hacker:
Take part in the RIPE Meetings - they are fun, you can learn a lot, present your projects, and meet other hackers
Join RIPE mailing lists: that's where Internet policy is made! 
Place a RIPE Atlas probe in your hackerspace, register it on hackerspaces.org & tag it on atlas.ripe.net  
Invite your members to join our hackathons
Invite other from the RIPE community to visit you 
If you are a network operator:
Go visit your local hackerspace - they are fun, you can learn a lot and you can meet other hackers (you can find the list & map on hackerspaces.org )
Make a new local hackerspace! 
Organise a hackathon 
Go to the hackers conferences: summer camps, winter congresses, and other events 
 So, join us during RIPE 73 on Tuesday evening: visiting local hackerspace! 
See details here