While developing RIPE Atlas, we are engaging with the community to get feedback on the features we are working on, and to help us with distributing the probes. This article highlights Seismograph, zoomable ping graphs, and other new features we have made available for RIPE Atlas users over the last two months. We also announce where you can meet RIPE Atlas developers and "ambassadors" in the following months.
---
A lot has happened since our last update in July.
We updated the RIPE Atlas roadmap  to reflect our recent planning, and we have already delivered some of the items marked "in progress".
As described recently in Future of RIPE NCC Technical Services the RIPE NCC  is going to use RIPE Atlas as the main  data collection system.
Latest Numbers
RIPE Atlas continues to expand its network. At the end August 2013, there were:
1,370 IPv6-enabled probes
 

8,208 users
 

3,000 of these users are RIPE NCC members
 

We saw over 26,000  user defined measurements in total!
Seismograph
Seismograph is an interactive tool to easily visualise multiple ping (user defined) measurements. It provides users with a stacked chart and a control panel to interact with the system.
Instead of the raw RTT values we graph the absolute or relative RTT increases. This makes it possible to easily catch behavioural patterns and failures in reachability of targets.
To access the Seismograph you need to be logged in. In My Atlas, My Measurements view select the specific ongoing measurement you want to visualise. You will find there a tab called Seismograph.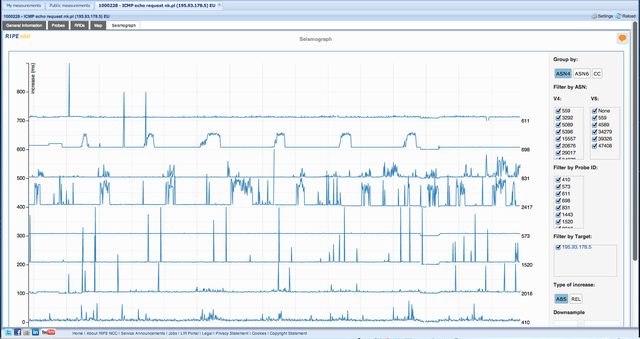 Figure 1: Seismograph
Features
Grouping: you can group the probes by ASN (IPv4 or IPv6) and by Country Code (CC)
Filtering: it is currently possible to filter the dataset by ASN (IPv4 and IPv6), by probe ID, and by target (IP)
Type of increase: you can switch between absolute increase and the relative increase, 

relative to the per-probe minimum RTT seen in the selected time frame.
Limitations 
For now, you can only visualise the data of the last week, and only for ongoing measurements. 
You can only visualise up to 40 probes.
Future work
We'll make it possible to use this feature also for older (stopped) measurements.
We'll allow you to zoom out to see a larger time frame, and then zoom back in on any interval within the available dates.
While we plan to keep the limit of maximum 40 probes per graph, we'll allow you to select those from all the probes involved in a measurement, which comes handy if you involve a lot of probes.
... and more, stay tuned!
Have fun with the new seismograph! Please, let us know what you like and what we can improve! 
Zoomable ping graphs
The visualisation for built-in ping measurements was based on multiple RRDs graphs (showing the last day, last week, last month and so on). They have now been replaced by one single graph which is based on the RIPEstat framework.
Features 
Easy zoom in/zoom out using the same graph to visualise the period you are interested in without loss of details.
Selection of RTT class: you can visualise the one you are interested, choosing between RTT Min, RTT Max and RTT Average.
Easy visualisation of details of an event by placing the cursor on the specific part of the graph makes a tooltip appear.
A possible new feature could be to enable a comparison of different time periods by displaying two graphs for the same measurement.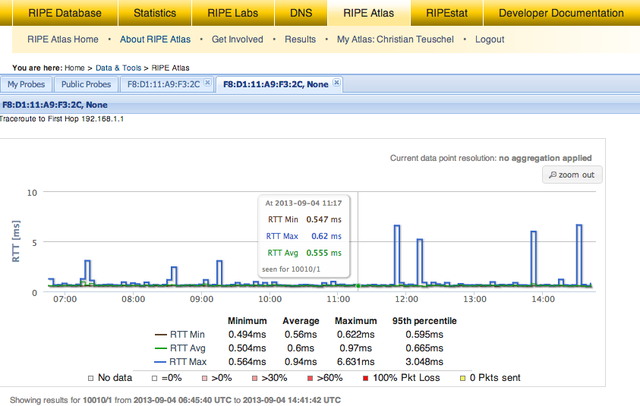 Figure 2: Zoomable ping graph
Other new Features
New features include:
We added NLNOG RING nodes as measurement targets. You can see all of them them as a list , or on the map .

When scheduling user defined measurements, users can now select as a target either

RIPE Atlas anchors, or a RING node (or, as usual, any other target of their chosing).

Since users expressed a need to take measurements more often than every five minutes, we have increased the maximum frequency.

We are giving you hints about why your probe is disconnected, in the cases where we can recognise the symptoms. You can find this under the "my probe" view.
There is a new tab where we display the logos of RIPE Atlas anchor hosts on the  Community  page.
We released a new firmware for the probes: version 4550.
We enabled more fine-grained control of downloading results, via API.
The look of  Coverage and Statistics  has improved, and we have new functionality: users can now choose to display the probes in a certain country, or based on AS number or prefix.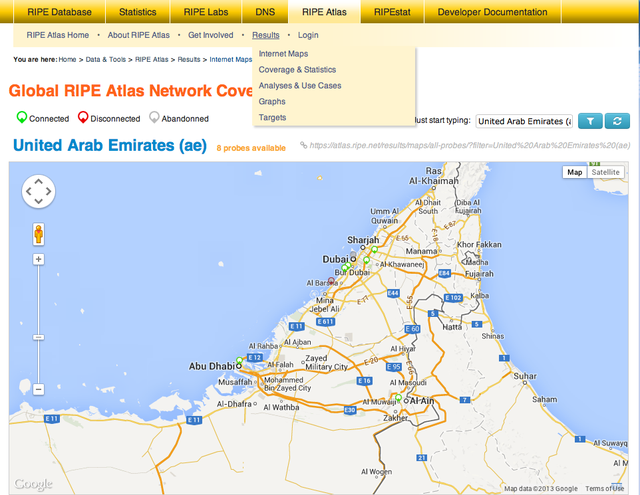 Figure 3: Global RIPE Atlas Network coverage in the United Arab Emirates
RIPE Atlas Ambassadors
Thanks to all RIPE Atlas ambassadors who spread the word about RIPE Atlas and help distributing RIPE Atlas probes, we are able to extend the RIPE Atlas network to farther parts of the world and reach wider communities.
We added a map, only visible to the ambassadors, where they can visualise the distribution of their probes.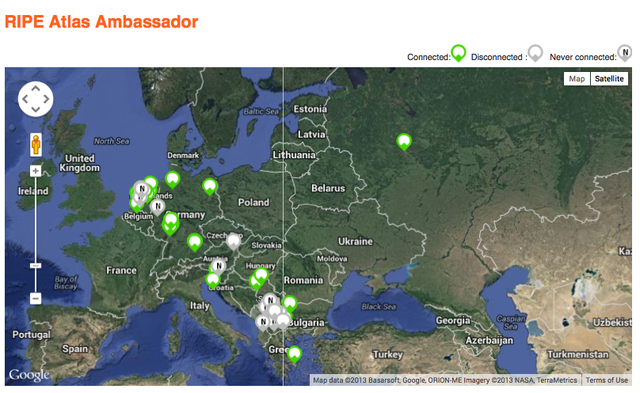 F igure 4: RIPE Atlas Ambassador map
I'd like to mention some of the events where our ambassadors were present:
In the following months, we will be at:
If you would like to distribute RIPE Atlas probes at your event, or if you want to give a presentation about RIPE Atlas, we can support you with slides and printed materials (brochures, stickers, printed instructions).
Join Us at RIPE67
We hope to see you at the RIPE 67 Meeting in Athens in October, where you'll have a chance to meet some of the RIPE Atlas developers face to face and ask questions, request new features, and give us your feedback.
As usual we will be giving an update about RIPE Atlas during the MAT-WG on Thursday, 17 October in the afternoon. 
On Monday, 14 October, there will be a tutorial about using the RIPE Atlas API - stay tuned. In the meantime, find out more in  RIPE 67 .
Feedback
We look forward to hearing from you!
If you would like to give us your input or ask questions:
Please subscribe to the RIPE Atlas mailing list for active users, which is also followed and answered by developers: ripe-atlas [at] ripe [dot] net
Follow us on our dedicated RIPE Atlas Twitter account @RIPE_Atlas!
If you want to report a bug or problem: atlas [at] ripe [dot] net
For direct feedback: Contact Vesna

Manojlovic, Senior Community Builder, at

becha [at] ripe [dot] net or @Ms_Measurements (#RIPEAtlas)