It all started with a message on IRC asking, why doesn't Croatia have its own NOG? Good question, we thought! In this article, we look at the steps we took last year to launch NOG.HR and hold our first NOG event.
---
A year ago, Croatia was one of the few countries in the EU without its own NOG. That's not to say Croatian network operators haven't felt the need to keep in touch with each other. For some time, the local Internet community was using a local annual vendor conference as an opportunity to meet once a year. Although not strictly related to ISPs, the event was useful way to socialise and hear from other engineers about what's going.
That said, when the question of a Croatian NOG came up for some of us, we found the idea of organising events focused entirely on network operations very appealing. Several calls and emails later, it turned out we weren't the only ones who thought so.
Building a NOG in Croatia
Given the enthusiasm of our colleagues, to get things rolling, we set up a meeting with Vesna Manojlović and Jelena Ćosić from the RIPE NCC who were able to share more information about the NOG concept and how others have set up similar groups. Hearing what they had to say, it was immediately clear this is something we want to do - to be part of the RIPE community as a NOG.
One of the first decisions was what to name our NOG. We decided to use the regular acronym followed by our country web domain - NOG.HR. This keeps things simple and it's easy to remember when you want to access the web site.
Unlike other NOGs, many of which tend to be a bit less formal, we decided from the start that we want to establish our NOG as a legal entity that would organise meetups and conferences. However, we underestimated the amount of time required to register a non-profit organisation in Croatia. Even though lots of things can be done online, this is one of those things that has to happen on foot, working with one government entity at a time. It took us almost two months to have everything done – prepare our organisation statute, get a stamp, VAT ID, identification number (different to the VAT ID!), open a bank account, hire an accountant…
Oh, I almost forgot, there are three different registries where our organisation needed to be reported. It was not really fun. On the other hand, the ease of setting up the website and mailing list was a pleasant surprise – the NOG alliance provided all of the infrastructure and actually deployed everything. We really appreciate the help - thank you once again!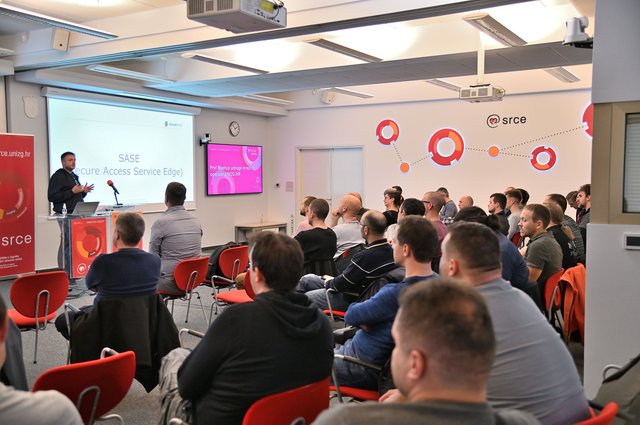 NOG.HR meetup 1
Our first conference took place on the 10 November 2022 as a half-day event, with RIPE NCC covering the expenses (thanks to Alistair Strachan for the help!). We decided to go with multiple shorter presentations to give everyone present an overview of different technologies and concepts, instead on focusing on fewer (longer) topics.
Along with some well-known names in the RIPE world such as Vesna Manojlović and Jan Žorž, we had local experts as well, covering topics such as SASE, IPv6, QUIC… Here's a look at the programme from the day (or look at the complete programme with presentation archive on our website):
NOG.HR meetup 1 agenda

| | | |
| --- | --- | --- |
| 13:00 – 13:10 | Branimir Rajtar | Introduction |
| 13:00 – 13:10 | Ivan Marić, Srce | HR-ZOO |
| 13:30 – 13:50 | Vesna Manojlović, RIPE NCC | Killing the Planet with Cat Videos |
| 13:50 – 14:10 | Igor Mamuzić, SmartNet | SASE != SDWAN |
| 14:50 – 15:10 | Ivana Golub, PSNC | RARE |
| 15:10 – 15:30 | Jan Žorž, 6connect Labs | IPv6 |
| 15:30 – 15:50 | Dejan Jakšić, Cisco | QUIC |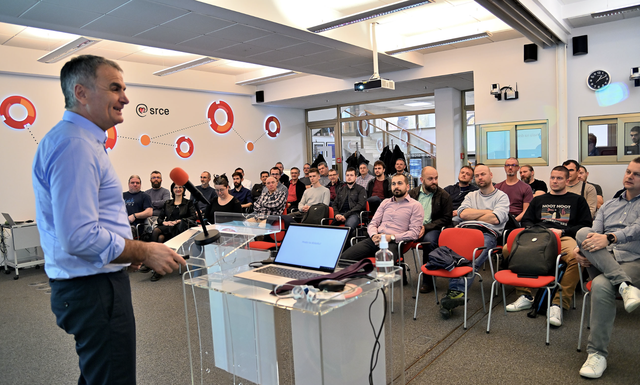 In all, there were around fifty people present in person, and another twenty attending online. Given the number of attendees and the quality of the talks and interaction, we consider our first NOG meeting to have been a success!
Follow up
We circulated with a survey among participants after the event. The unanimous response we got was that they were very happy with the meeting and would definitely attend again! This is something that really exceeded our expectations and every time we see somebody that was at the conference, they ask us when the next one is going to be. As the organisers, we can only be proud at what we have accomplished and try to make the next event even better. It is nice knowing that all the effort we out into setting up NOG.HR and the initial conference really paid off.
What next? The survey after the conference confirmed what we were already thinking – we would like events like this twice a year, in the same format. A total of around three hours and 5-6 presentations per event, with each presentation 20 minutes long. This will enable us to cover a variety of topics, without going into too much detail. And, of course, there will be a networking event afterwards. You can't have a NOG meeting without one.
To keep up with future events, check in on the NOG.HR website, track us on LinkedIn , or stay tuned to the NOG events calendar here on RIPE Labs.