Supporting IPv6 deployment involves working with many different stakeholders. We wanted to outline some of our recent activity in Lebanon to show how this can work in practice.
---
The ICT sector in Lebanon is the fastest-growing sector of the economy with a huge amount of development potential. In 2016, the Investment Development Authority of Lebanon (IDAL) forecast that the sector would make a $6 billion contribution to GDP. Increased demand to get online is transforming the Internet market in Lebanon. And with its new vision to "Connect the Nation", Lebanese incumbent operator OGERO has had a strong focus on developing its infrastructure and services, which includes deploying IPv6 this year. This is an outcome of the recent coordination between OGERO management and the RIPE NCC.
We have been working closely with Lebanese stakeholders since we held a RIPE NCC Regional Meeting in Beirut in 2016. There, Lebanese officials announced their readiness to move to IPv6 and position Lebanon as a leader in the region. However, despite recognition that IPv6 would need to be adopted eventually, preparations to deploy native IPv6 connectivity were slow to materialise and practical adoption did not take place.
A major reason for the slow pace of progress was the misconception that there was little demand from customers and End Users, who saw no pressing need to adopt IPv6. Another factor was that the current workarounds using Carrier Grade Network Address Translation (CGN) seemed to be working well.
Collaboration is Key
The RIPE NCC has aimed to facilitate the transition to IPv6 through efforts such as workshops, seminars, conferences and dedicated meetings for stakeholders. Our Train the Trainer initiative was also helpful in developing the skills of people in Lebanon who could support organisations with their IPv6 deployments. Other successful efforts were aimed at explaining the benefit of IPv6 and sharing best practices and information on IPv6 deployments.
The RIPE NCC and the American University of Beirut (AUB) signed a Memorandum of Understanding (MoU) in 2017, focused on capacity building and Internet development in Lebanon through training courses, meetings and IPv6 Roadshows. AUB was also the first RIPE NCC member to deploy an anchor in the Levant region in 2016, though this was initially IPv4-only. However, just last week the anchor received IPv6 connectivity, offering new potential for measurements in the region. For comparison, none of the other countries in the Levant have any IPv6.
The RIPE NCC also gathered key stakeholders from the Lebanese banking sector for a roundtable discussion on secure banking and resiliency. These meetings came as banks and other financial institutions in the country were becoming increasingly reliant on the Internet for online transactions. At the same time, banks are becoming aware that IPv4 address sharing and delaying the transition to IPv6 have a range of security and operational implications. This can degrade the quality of Internet services for their customers and increase the cost of developing new applications and services.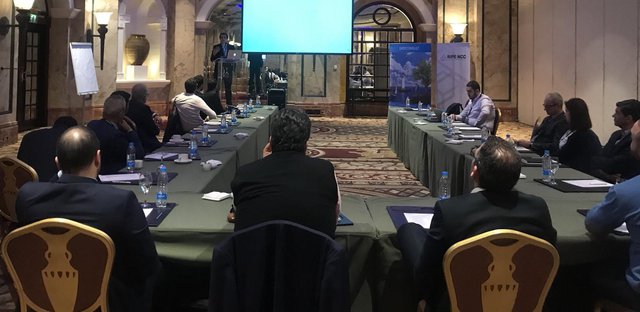 A roundtable discussion on secure and resilient Internet banking was held in Lebanon in January 2018

Alongside the banking roundtable, the RIPE NCC conducted training for local Law Enforcement Agencies (LEAs) that provided an introduction to the RIPE Database and IPv6. Law enforcement in Lebanon and elsewhere is increasingly alarmed by the widespread use of CGN technologies by fixed and mobile operators. For them, the transition to IPv6 is critical, as CGNs are making online attribution very difficult in the context of criminal investigations.
Additionally, the RIPE NCC visited the AUB, Balamand and USJ universities in Lebanon as part of our academic engagement activities. We spent time with students, faculty and staff to walk them through the basic technical fundamentals of the Internet, and we organised dedicated workshops for the Computer Science and Engineering departments that covered IPv6 address notations and basic address planning.
A Successful Case Study
Taken together, these activities have been successful at influencing the behaviour of Internet policymakers and End Users in Lebanon. OGERO has now opened IPv6 connectivity on its networks and many RIPE NCC members are beginning to deploy IPv6 natively. While there is still some way to go, we see Lebanon as a case study of effective engagement in a region that is still lacking a clear understanding of the need for IPv6.
We are continuously working with members, governments and other organisations across our service region to provide technical expertise and support the development of the Internet. After two years of collaboration and coordination, Lebanon has completed the required infrastructure preparations and now has the needed expertise for IPv6 deployment.