The Historical Whois widget is a new RIPEstat widget that allows users to visually navigate through RIPE Database objects and their historical versions. It comes equipped with a set of handy features for comparing historical changes to objects in a diff-tool like fashion.
---
The Historical Whois widget is the successor of the Registry Browser widget and comes with a bunch of improvements:
Improved user experience 
Full alignment with the RIPE DB
Visual comparison feature 
Improved User Experience
This widget is the first we've created in cooperation with our Product Management department. The goal was to create a clean and clutter-free UI that allows users to see the relationships between database objects and to quickly find relevant information in this hierarchy.
The main interface has two elements: a focus object and two lists of related objects. The focus object is the currently selected object shown with attributes and - if available - historical versions. Related objects are presented as two lists. The list on the left side are objects that reference the focus object. The list on the right are objects that are referenced by the focus object. The objects can be navigated by clicking the "open" link of a related object which makes this object the new focus object.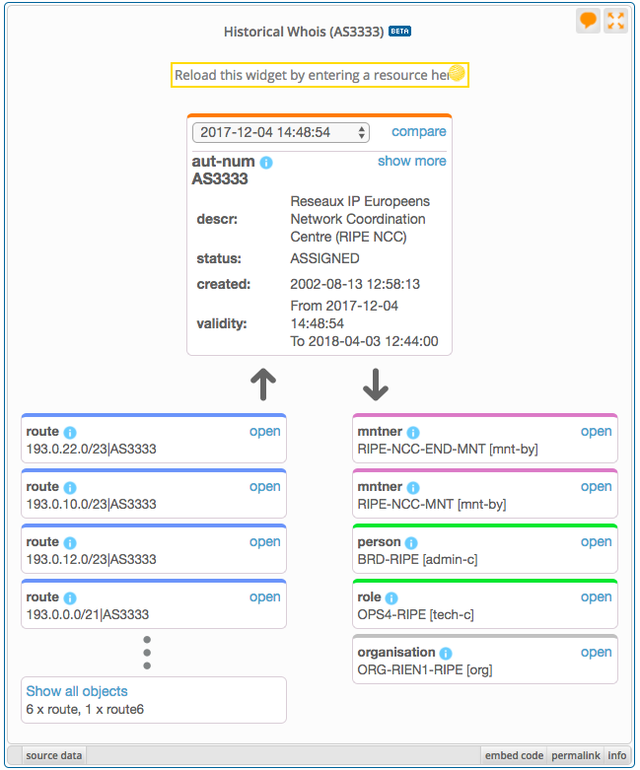 The representation of the focus object comes with a drop-down list that allows the user to select and load a historical state of the focus object. Please note that limitations apply as to what information is available here: e.g. historical personal data objects (i.e. person and role objects) and deleted objects will not show up in this listing.
As the volume of users accessing RIPEstat from mobile devices continues to increase, we also took care that the widget renders appropriately on smaller screens: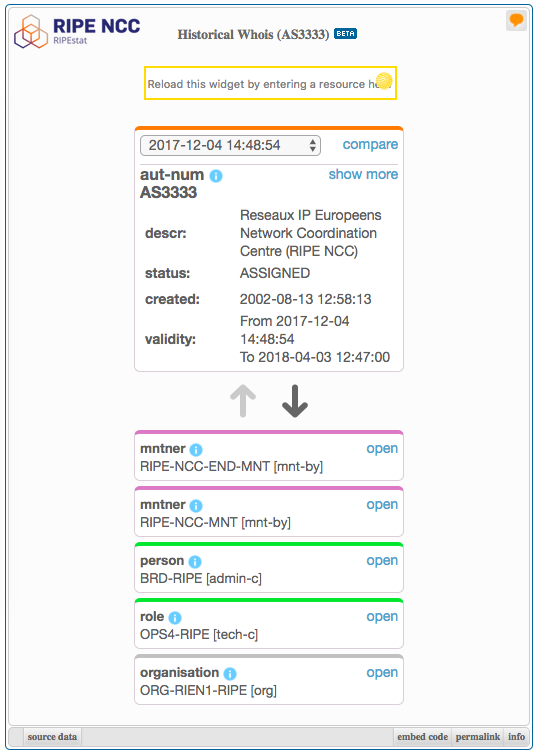 Alignment with the RIPE DB
The widget is based on the RIPE DB API for historical queries, which means that the presented data is provided in real-time without any gaps between historical and current data.
For your convenience we also provide this data as a RIPEstat data call.
Visual Comparison Feature
The feature to compare different versions of the same object was often requested and is finally available. For every object with accessible, historical versions the "compare" link opens a two-column view in which two versions of the object are compared in a diff-tool like fashion.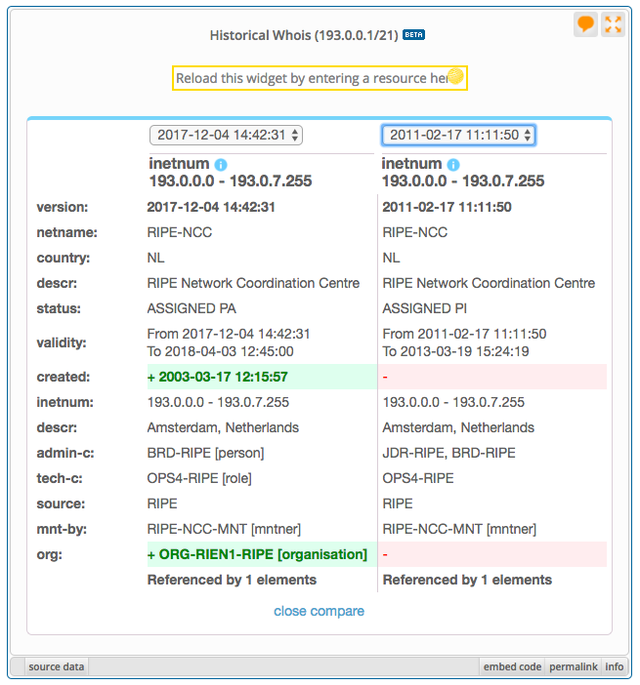 Live Version
Did you know that RIPEstat widgets can be embedded in other pages? Here's a live version of the widget:
RIPEstat widget will be rendered here
We hope that this widget will help you to work with the RIPE DB easier and more efficiently.
Feedback
RIPEstat is a large-scale information service and the Open Data platform of the RIPE NCC. The service provides an access point to Internet-related data, which comprises a unified interface to more than 20 different backends and offers over 50 different data API end points supporting JSON and YAML, along with over 50 different data visualisation widgets.
RIPEstat receives in excess of 55 million daily requests (from over 1+ million unique clients) to collate and visualise data in order to inform research, support network operators or reproduce patterns and events.
RIPEstat is developed iteratively, and is a work in progress. Your feedback helps us identify development priorities, so take a moment to share your thoughts, either as a comment to this article, or using one of the RIPEstat feedback channels, see https://stat.ripe.net/feedback for more details.
For all the latest updates on RIPEstat, follow us on Twitter @NCC_RIPEstat.