The next RIPEstat demo will be presented live at RIPE 64 in Ljubljana. After the demonstration there will be time to discuss RIPEstat development with other interested people. If you're not able to attend the demo, there are other opportunities to meet the people behind RIPEstat, and to watch a recording of the demo.
---
What is RIPEstat?
RIPEstat is a modular and extendable toolbox designed as a single point of access to Internet-related data from RIPE NCC and other sources. Stat stands for statistics and status .  RIPEstat is a work in progress, and is being developed iteratively. Feedback from users helps determine the direction of development. Regular demos provide information about new functionality and the opportunity to share your thoughts about development priorities.
Join Us for the Live Demo
The next RIPEstat demo will be held live as part of a "birds of a feather" (BoF) session at RIPE 64 in Ljubljana. It will take place on Monday, 16 April at 18:15 in White Hall (side room).  We will begin with a demo of RIPEstat, followed with time to discuss the development of RIPEstat with other interested users and a RIPEstat developer.
If you haven't used RIPEstat, this is a good time to try it out. There will be plenty of help available, and you can give us a valuable perspective on how RIPEstat appears to someone viewing it for the first time.
If you have used RIPEstat, we're also very interested in what an experienced user wants from RIPEstat. Come tell us what you like, and what you don't like.
We hope to see you there!
Topics
In the next RIPEstat demo, we will provide an introduction to RIPEstat for new users, and demonstrate developments since the last demo :  ranges, widgetisation, the RIPE Database Object Browser widget, and the Hierarchy Browser widget.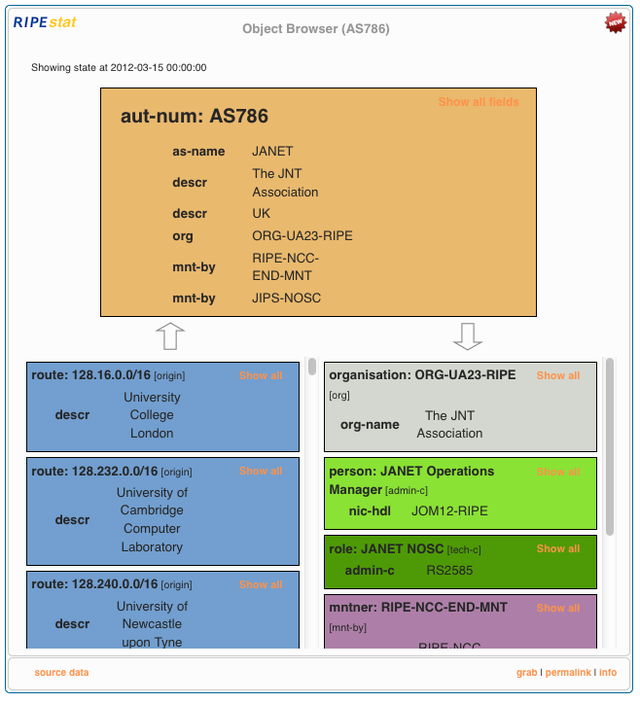 Figure 1: Preview of the RIPE database Object Browser widget
Meet Us
If you would like to speak with someone from RIPE NCC about RIPEstat at another time during the RIPE meeting, several people are available:
Look at our list of scheduled meeting points (below) where we are available to discuss RIPEstat, or ask a RIPE NCC staff member (look for green badges) to schedule you for a personal meeting with one of us. You can also use one of the regular feedback channels to contact us.
You may also wish to attend the Measurements, Analysis and Tools (MAT) Working Group session on Thursday.
Scheduled Meeting Points
Monday - Meet & Greet (Vesna)
Monday, 10:30 - 11:30 - Info hub (Christopher, Ann, Robert)
Tuesday - Meet & Greet (Vesna)
Tuesday, 10:30 - 11:00 - Info hub (Christopher, Ann)
Thursday 12:30 - 14:00 - Info hub (Robert, Ann until 13:15; Vesna, Christopher from 13:15)
Friday 10:30 - 11:00 - Info hub (Vesna, Ann)
Feedback Channels
Recording
If you are unable to attend the demo in person, you will still be able to view the recording or read the summary after the event.
Archive
Videos of previous RIPEstat demos and other RIPEstat movies are available on the RIPE NCC YouTube channel (look for the RIPEstat playlist).
Summaries of previous demos, as well as other articles about RIPEstat , are also available.