In December 2010, RIPEstat, the RIPE NCC's "one-stop shop" for Internet-related information, was released in its first beta version. With the start of a new year - marking RIPEstat's first year in action - it is a good time to briefly recap 2011.
---

The idea of creating a "one-stop shop" for information about Internet resources (IP prefixes and Autonomous System Numbers (ASNs)) was already floating around for quite a while at the RIPE NCC. So was a prototype implementation of this idea, called REX (Resource Explainer), already available since September 2009. Seeing REX's overwhelming popularity among users, we knew that we couldn't leave it there. We had to take the idea to the next level - more elaborate user interface, more data, more features, more power or just call it REX on steroids. That was the moment when RIPEstat was born. Now at the beginning of 2012, it's time to look back at RIPEstat's first year in action.
Some Highlights of 2011
Development Roadmap Recap
Networks On the Go

To bridge the gap between your desktop and anywhere else (like the server room), we went mobile and created a mobile version of RIPEstat for iOS . Since September 2011, it has been freely available in the App Store.

The Data Views

During the first half of 2011, the main development focus was clearly on adding new data views. The very first version of RIPEstat started out with eight data views (among them were Whois, Geo-Location and BGP Update Activity). In the following eight months, we added another set of 14 views, and by August 2011 we managed to have 22 views serving our users with a broad variety of information on IP prefixes and ASNs (see Figure 1 below).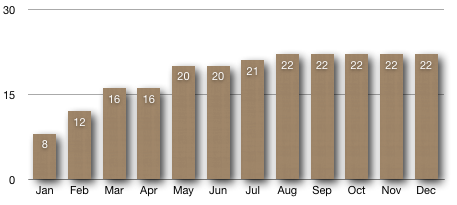 Figure 1: Total number of views available on RIPEstat
Working Hard on Improvements

The second half of 2011 was mainly occupied with further improving existing views. A great amount of effort went into performance improvements. The diagram below shows the average processing time (observed over one month) of each plugin at the earliest possible time as compared to the latest measurements from December. Systematic measuring of performance was introduced in March, so plugins created prior to March use March as the earliest date. All measurement values are in milliseconds.
| Plugin | Initial Observation Date | Initial Observation | Latest Observation |
| --- | --- | --- | --- |
| Whois Prefix/AS | April | 948 | 413 |
| Routing History for Prefixes (showing ASes) | April | 1083 | 492 |
| BGP Update Activity | April | 15341 | 1423 |
| Resource Information: AS | April | 1088 | 85 |
| Resource Information: Prefix | June | 1242 | 129 |
| AS Path Length | April | 7832 | 2687 |
| Blacklist | April | 4584 | 1438 |
| List of Announced Prefixes | April | 3691 | 179 |
| Number of Prefixes Announced | April | 3685 | 1179 |
| Prefix Size Distribution | April | 3806 | 685 |
| Routing Consistency for Prefixes | April | 24811 | 8381 |
| Address Space Usage | April | 1477 | 647 |
| Related Prefixes (PrefixOverlap) | April | 15513 | 198 |
| Looking Glass | June | 5216 | 1483 |
| Allocation History: AS | August | 1029 | 143 |
| Allocation History: Prefix | August | 818 | 162 |
| Visibility: AS | April | 8631 | 9827 |
| Visibility: Prefix | April | 5275 | 8037 |
| Geo-Location: AS | April | 20197 | 1902 |
| Geo-Location: Prefix | April | 1890 | 185 |
| Routing History for ASes | August | 35391 | 1253 |

Table 1: Processing time [ms] for plugins

Usage Facts

Since its first release, RIPEstat has served approximately 62,000 unique visitors. Starting in August with looking at location-based resolution, we were able to identify users coming from 137 different countries. The five most frequent origins were Germany, the Netherlands, France, Spain and Poland (in this order).

On Air

Over the course of 2011, we had the opportunity to host 11 public demos (10 remote and a live one at RIPE 63) which allowed us to demonstrate the progress of RIPEstat to a wider audience and gave us the opportunity to get direct feedback from our users.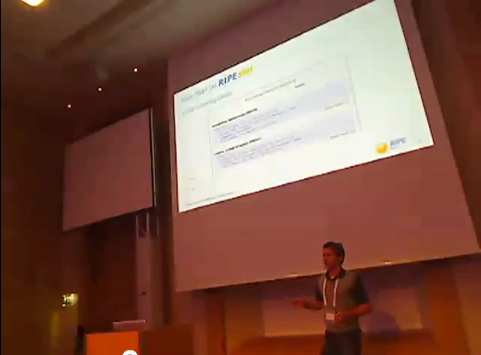 Figure 2: Live Demo at RIPE 63
In case you missed one of the demos, just go to https://stat.ripe.net and check out the "RIPEstat Demos" section for summaries and recordings of all the demos.
Starting into 2012
We are starting into the new year with a bunch of new ideas and a lot of knowledge we gained from user feedback as well as simply from experience. But see for yourself!
The next big things on RIPEstat are:
RIPEstat data API
Definitely one of the top things we are working on in 2012, the RIPEstat data API is providing users with accurate, reliable, on-time* data in various formats. The data can be used as input for simple bash scripts or elaborate software applications.
*Real-time is the target but this is not ready yet.
RIPEstat widget API
Built on top of the data API, the RIPEstat widgets provide HTML user interfaces, making visualisations of data, query manipulations and interpreting the results an enjoyable task. Additionally, the widgets can be included in any website without hassle.
RIPEstat web
All good things come in threes, and RIPEstat is no exception to that. In this regard, the third to-do for 2012 is to improve the RIPEstat website by giving the traditional web appearance a fresh start. Built with the RIPEstat widgets and in combination with Single-Sign-On, it will let our users experience a richer, more flexible and more convenient way of using RIPEstat.
With all the teething problems of a new project behind us and the new agenda ahead of us, we are pretty sure that 2012 will be a very exciting year for us and our users.
And that simply leaves us with the last but no less important part of this article: we'd like to say thank you to everyone who supported us with feedback, advice and motivating words. We can just hope that you keep up with that support in 2012 and beyond. We hope that bugs will less frequently be the reason for contact :)
RIPEstat Development Team