With the year 2009 behind us, here is a quick look at some RIPE NCC membership demographics.
---
With the year 2009 behind us, here is a quick look at some RIPE NCC membership demographics: 1,091 new members signed up in 2009 and there were 6,583 active members on 31 December 2009.  The following graphic shows all members that have signed up since 1995.  Each bar represents the number of members who signed the paperwork to become a member in one specific quarter:
We can see that around 200 new members joined in the last quarter of 2009.  We can also see that the third quarter of 2000 was the record quarter for new members with more than 250 joining.  However the same bar also shows that about 100 of these have left us since then; so that quarter was a record in both directions. "Pending-Closure" means that termination of membership was initiated by the RIPE NCC, most frequently because of long overdue payments or no contact with the member for some time.
We can clearly see the "bubble" of 1998-2000 in this graph. More recently we can see a steady growth-of-the-growth trend between 2002 and 2008. While the last six quarters clearly show a break in this trend, it is neither as drastic nor as sustained as we saw in 2001/2002. Of course past results are no indication of future performance, but economic crisis or not, the RIPE NCC has consistently attracted more than  150 new members each quarter for the past four years. Even more positively, members tend to stay. Members who joined after the "bubble" burst also seem to have been less likely to close down than those who joined before or at the peak of the "bubble".
Growth in the Regions
Next, we'll compare the growth in a number of geographic regions: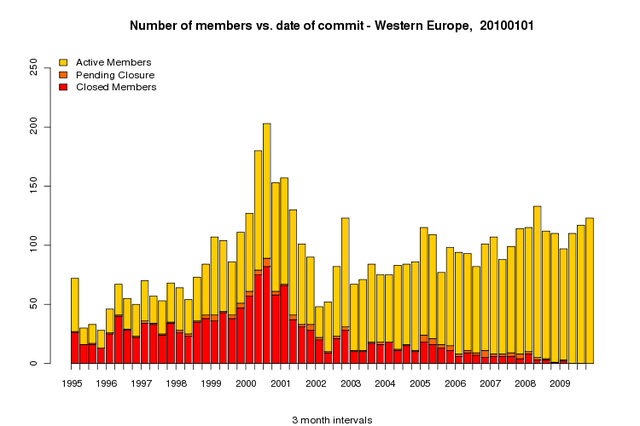 We can see that "Western Europe" still contributes most to the membership growth and shows the most pronounced "bubble" effect.
Western Europe: Greenland, Iceland, Faroer Islands, Ireland, United Kingdom, Isle of Man, Guernsey, Jersey, Gibraltar, Portugal, Spain, Andorra, Monaco, France, Luxemburg, Belgium, Netherlands, Finland, Aland Islands, Sweden, Norway, Denmark, Germany, Switzerland, Liechtenstein, Austria, Italy, San Marino, Vatican, Malta, Greece.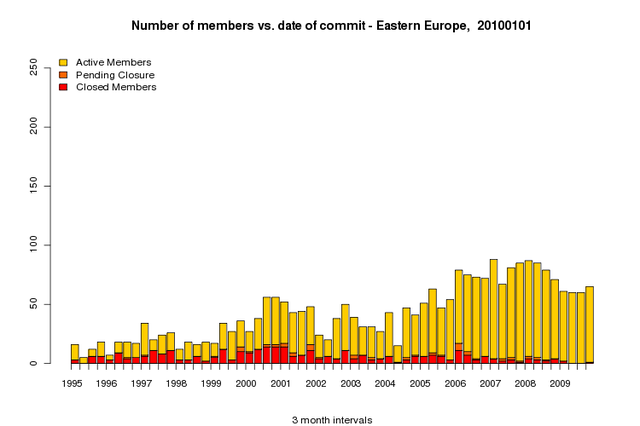 Over the last five years "Eastern Europe" has shown much higher growth than previously.
Eastern Europe: Estonia, Latvia, Lithuania, Poland, Czech Republic, Slovakia, Hungary, Slovenia, Croatia, Bosnia, Serbia, Montenegro, Macedonia, Albania, Bulgaria, Romania, Moldova, Ukraine, Belarus, Russia, Georgia, Azerbaijan, Kazachstan, Kyrgystan, Tajikistan, Turkmenistan, Uzbekistan.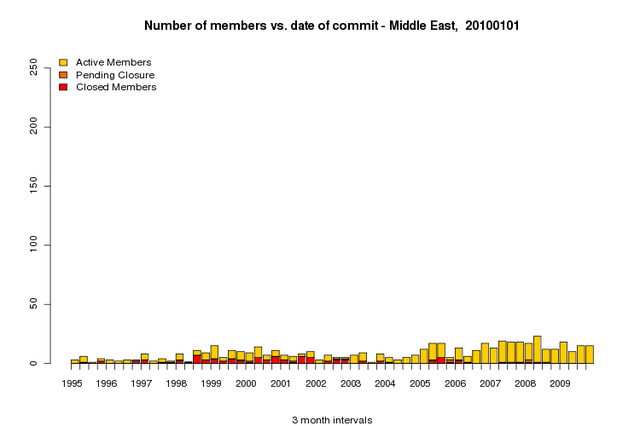 The "Middle East" has also shown sustained growth over the last few years.
Middle East: Turkey, Cyprus, Syria, Lebanon, Israel, Palestine, Iraq, Jordan, Kuwait, Saudi Arabia, Yemen, Oman, United Arab Emirates, Qatar, Bahrain, Iran.
Billing Categories 
Looking at the billing categories, things are as expected: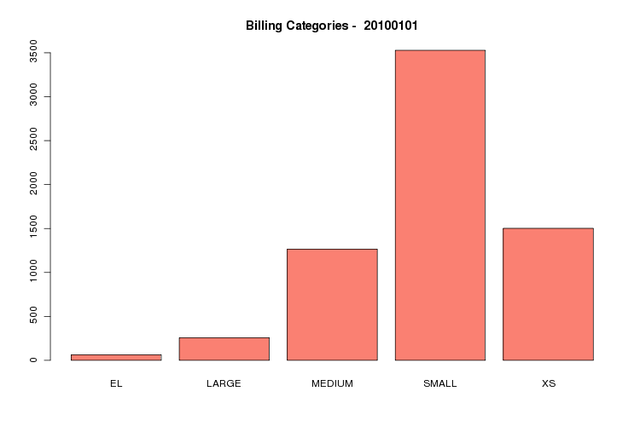 Small members are the most numerous, followed by extra small and medium respectively. This reflects realities of number resource usage. It is also good for short term stability of the RIPE NCC, as the load is shared by many shoulders. 
The next graph shows the current billing categoties in relation to the year the member joined. The width of the bars represents the number of members that signed up during that year. Looking over the years we also see a natural trend of members getting larger the longer they are in business.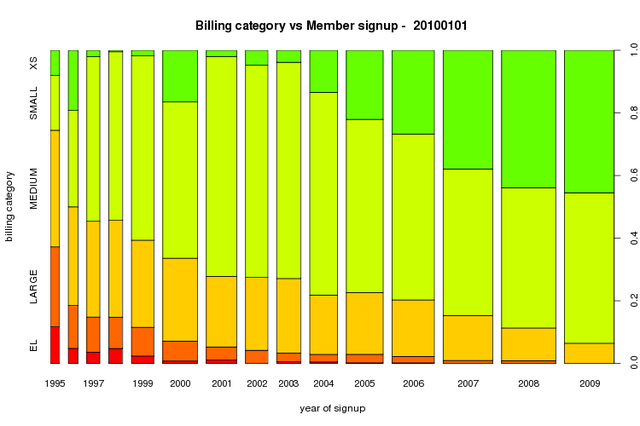 In the next article we will look at the distribution of number resources among the membership. Stay tuned!
René Wilhelm           - data analysis and graphics
Daniel Karrenberg  - initial questions and text