Our Routing Information Service (RIS) has been collecting global BGP routing information for 12 years. During this period, many different interfaces to analyse and visualise accumulated data have been developed. In line with our long-term goals to provide more consolidated services, we will be integrating the RIS interface's tools and services into RIPEstat.
---
You can now access all available information about Internet number resources, including routing information, in one place. We are planning to make RIPEstat an easy-to-use information portal, with the functionality and flexibility to serve as a "one-stop-shop" for all information about Internet number resources. As a result, routing information will naturally be provided through RIPEstat. To enable this transition, some older RIS interfaces and tools will be replaced with improved RIPEstat counterparts, although RIS itself will still be used for collecting routing information.
The RIS interfaces and tools to be replaced are the RIS Dashboard, ASInUse, RIS PrefixInUse, and the RISwhois web interface. IS Alarms has already been disabled ( see below ). Many users already access RIS data via RIPEstat, and there are a small number of features and tools whose functionality does not already exist within RIPEstat. The migration of these remaining tools and features to RIPEstat is expected to complete by the end of September 2013. From that point on, the old RIS web interfaces will be unavailable. Smaller features that are not much used in the RIS web interfaces will not be carried over to RIPEstat.  
We invite the community to comment on these upcoming changes via the MAT Working Group Mailing List . Please submit any urgent requests for additional features via email to stat [at] ripe [dot] net by 20 September 2013 so that we can implement these along with the planned migration of tools and features. Any feedback received after this date will be considered feature requests, and added to the RIPEstat Roadmap .
We understand that some members of our community may still be accessing their routing information via the RIS web interfaces, and this article addresses how you can now easily and directly access routing information using RIPEstat. The table below provides a simplified overview of all RIS interfaces, tools and features, and how their functionality is replicated via RIPEstat.  
RIS Interface / Tool / Feature
Corresponding RIPEstat Widget(s)
ASInUse
Via the

Routing Tab

:




Routing Status



ASN Neighbours



ASN Neighbours History
PrefixInUse
Via the

Routing Tab

:


Related Prefixes



Resource Overview



Routing History



Routing Status
RISwhois
Web interface will be discontinued



The Command-Line Interface remains.



IPv4 to IPv6 Origin mapping:


Resource Overview


and

Routing History
Other Tools & Features
Search Function
Will be discontinued
RIS Looking Glass
Some features are available in


BGP Looking Glass



Display of ASNs, regex, ping, show version or show threadcpu will all be unavailable



Ping and traceroute can be triggered in


RIPE Atlas
IS Alarms
Currently disabled and is being developed as part of a general alarms service
RIS Peering Policy

RIS Routing Beacons

RIS Raw Data
Will be maintained
Articles with RIS Analysis
This page will move to the legacy area and the articles will remain in RIPE Labs
Reports/Stats
Debogonising New Address Blocks
Will be removed. If required in the future, this will be implemented within RIPE Atlas
RIS Status Overview
Currently unavailable
RIS Report
Will be discontinued
RIS Weekly Statistics Report
Will be discontinued
RIS Dashboard
Prefix Size Distribution Pie Chart
Prefix Size Distribution
Prefixes Table
Announced Prefixes



Prefix Count



Prefix Size Distribution
Visualize Button
BGPlay
Name of the AS
Resource Overview
Transits Distribution
Can be implemented provided there is user demand
Former Bogon Filtering
Will be discontinued
Whois Information
Whois Matches

-still in development
Related Overlapping Prefixes
Related Prefixes
Prefix stability and visibility in the last 48 hours
Visibility
Complete List of Updates Sent per Peer
Currently unavailable
Complete List of Peers not Sending the Prefix
Visibility
Updates per Minute
BGP Update Activity
ASInUse
Users accessing ASInUse via the RIS web interface will have already noticed that there is a link to RIPEstat at the top of the page. For a more responsive user experience, RIPEstat replicates ASInUse functionality via three separate widgets,  all available under the Routing tab .

The Routing Status widget shows whether the AS is routed: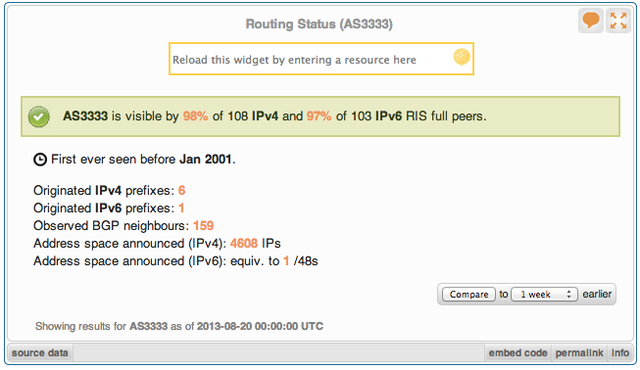 The ASN Neighbours widget provides information about the ASN neighbours.
The ASN Neighbours History widget shows historical information about neighbouring ASNs: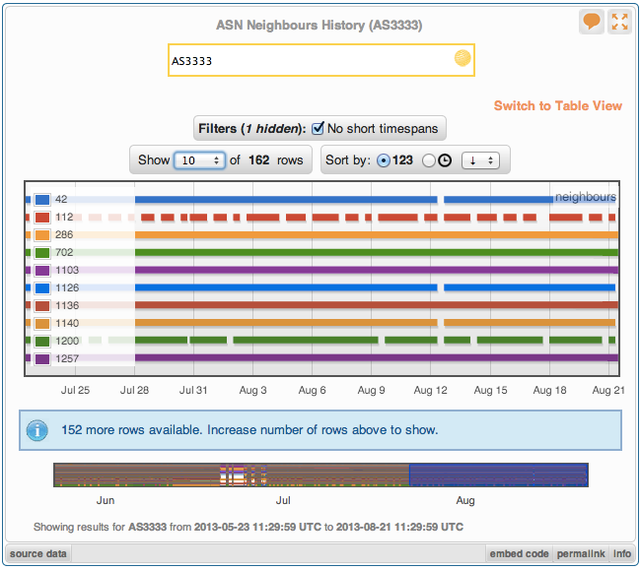 Results displayed by this widget cover three months from the time of query. This ensures that the widget is fast and responsive.
ASInUse via the RIS interface currently displays the full list of peers. We are not currently planning to migrate this functionality to RIPEstat; however, we are open to community feedback regarding this.  
The following ASInUse features are not currently available in RIPEstat but could be implemented depending on community demand: number of AS paths, average path lengths (for peers), number of originating ASes, and last seen AS path.
PrefixInUse
Users familiar with PrefixInUse via the RIS web interfaces may have noted that there is already a link to the RIPEstat landing page, as RIPEstat already replicates these functions within various widgets.
The prefix and origin AS can be found in the Related Prefixes widget under the Routing tab :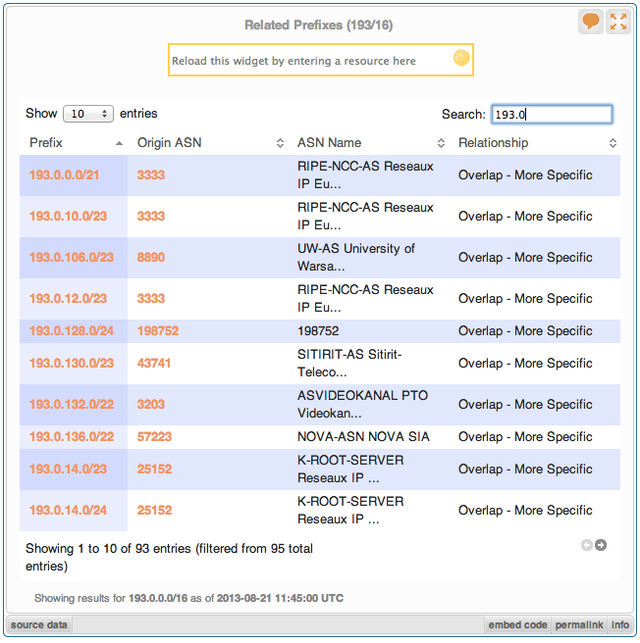 The exact match and origin AS can be found in the Resource Overview widget under the At a Glance or Database tabs: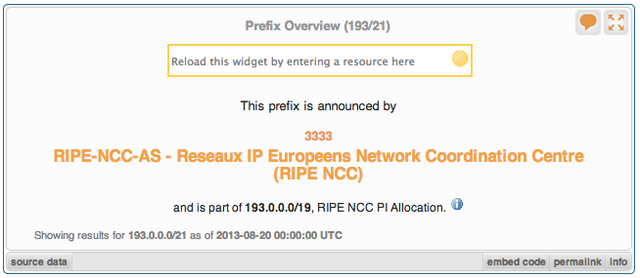 The first and last seen are available within the Routing History widget under the Routing tab :

However, this widget is slightly different from its RIS interface predecessor
RISwhois
The RISwhois web interface will no longer be available in its current format. We will keep the command-line interface as it is not dependent on the RISwhois web interface. We also have a command-line interface to RIPEstat that provides further information, via the RIPEstat Text Service . Some of the information provided by the RISwhois web interface can already be found in RIPEstat within separate widgets, which can be found in the Routing tab.
A dedicated RIPEstat widget is also being developed to provide visual information, expanding on the information previously provided by the RISwhois web interface. We are open to community suggestions as to what else should be included within this widget.  
IPv4/IPv6 Address to Origin Mapping is replicated within RIPEstat's Resource Overview and Routing History  widgets. 
Other Tools and Features
The search function in RIS will not be available in RIPEstat. We will continue to evaluate the migration of this feature following community feedback.
Functionality of the RIS Looking Glass are matched by the BGP Looking Glass widget in RIPEstat, found under the Routing tab :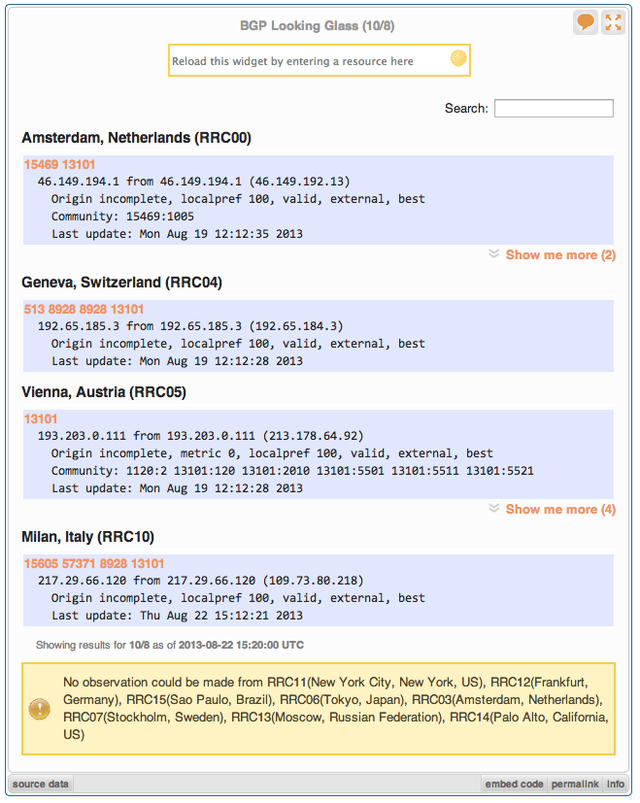 Features that will not be supported in this widget are the display of ASNs, regex, ping, show version, or show threadcpu. These features are open to inclusion if there is demand from the community. Ping and traceroute can currently be triggered in RIPE Atlas . Search by AS has already been requested and this feature will be added at a later stage.
IS Alarms has been disabled within RIS. We are currently working on implementing a new and improved alarms service to replace IS Alarms. This service will be integrated within RIPE Atlas, and will incorporate additional features. This service will also be removed from services that you are currently subscribed to via RIPE NCC Access .
The RIS Peering Policy , RIS Routing Beacons and RIS Raw Data will continue being maintained.
The Articles with RIS Analysis page will move to a RIS legacy area, as they are refer to these interfaces and elements which are being migrated or replaced. The linked articles that are hosted on ripe.net will remain; similarly, articles of this nature featured on RIPE Labs  will remain there.
Reports/Stats
As the RIS web interface is being replaced,  many of the related reports and statistics are becoming obsolete in their previous format. Time and effort will be invested elsewhere to maintain and improve the functionality of these reports and statistics depending on their usage and community feedback.
Debogonising New Address Blocks   will be removed. As IANA has distributed the last five /8s, the amount of debogonising required in the future will likely decrease. However, as IANA are receiving some IPv4 addresses back from the RIRs, it is possible that debogonising may be required again in the future, and, if so, we will implement this within RIPE Atlas.
The RIS Status Overview   that lists maintenance announcements, outages, and database insertion status will be implemented as part of RIPEstat in the future. 
The   RIS Weekly Statistics Report  and RIS report    will be discontinued as the information from these reports is replicated within the CIDR Report , BGP Update Report , and the Weekly Routing Table Report , all of which are sent to the Routing Working Group Mailing List weekly.
RIS Dashboard
Most of the functionality from the RIS Dashboard is already replicated within RIPEstat; the information is available via the widgets grouped under RIPEstat's  Routing tab .
The Prefix Size Distribution pie chart is now an improved widget , found under the Routing tab . While in the RIS Dashboard you only see how many prefixes there are, the  Prefix Size Distribution widget   has additional functionality and can display this information broken down by prefix size. You can also filter by the Internet protocol version (IPv4 or IPv6).
In the RIS Dashboard, it is important to note that the first and last seen reflect a different time period to the new, corresponding RIPEstat widgets, which refer to a clearer, more versatile first seen – a first "ever" seen.
The Prefixes table in the RIS Dashboard has not been duplicated to a single RIPEstat widget; however, this information (whois, the RIR responsible, peers seen) can be accessed via separate widgets under the  Routing tab -  Announced Prefixes , Prefix Count , and  Prefix Size Distribution . These can be combined to meet unique demands.
The "Visualize" button has been replaced by the  BGPlay widget  which can be found under the Routing tab :
Users accessing this via the RIS Dashboard are already redirected to RIPEstat.
The name of the AS can be found in the Resource Overview .
Transits distribution is currently not in RIPEstat; however, it can be implemented on request and we look forward to receiving user feedback regarding this possibility.
As mentioned above, there is currently decreased demand for former bogon filtering.
Whois information can be found as part of the Whois Matches widget under the RIPEstat Database tab . This is currently being developed to include more, relevant information.
Related overlapping prefixes is found in the  Related Prefixes widget , which has added functionality of showing the adjacent prefixes. The first and last seen is no longer displayed, but this can be implemented provided there is interest from the community.
Prefix stability and visibility in the last 48 hours is transposed directly to RIPEstat's  Visibility widget , found under the Routing tab .
The complete list of updates sent per peer, visible under the map in the RIS Dashboard, is not currently replicated within RIPEstat. If there is demand for this feature, then we may implement it within the BGP Update Activity widget under the Routing tab , which would be a more logical place.
The complete list of peers not sending the prefix can also be found in the  Visibility widget .
Updates per minute are fully migrated to RIPEstat, within the BGP Update Activity widget . This widget has additional functionality when compared to its RIS Dashboard predecessor and can load additional, historic data.
Feedback, Feature Requests and Questions
If you have any queries that have not been addressed regarding the replacement of RIS web interfaces, and the replication of features within RIPEstat, then please do not hesitate to contact us. We are always open to suggestions and feature requests from our community, especially while projects are in development, and kindly ask you to direct your feedback and discuss these changes within the MAT Working Group Mailing List . Please submit any urgent feature requests via email to  stat [at] ripe [dot] net  by 20 September 2013.
Hopefully, these replacements will not impact your regular activities and processes as we work towards our goal: to provide more centralised and improved routing information and related tools, via RIPEstat's reliable, more uniform, and intuitive interface.