The European Football Championships is the third most watched sporting event in the world (after the World Cup and the Olympics). Euro 2012 takes place in Poland and Ukraine from 8 June, so we are teaming up with Euro-IX (The European Internet Exchange Point Association) to look at Internet Exchange Point (IXP) traffic during the tournament.
---
Please also note the other articles in this series:
This collaboration with Euro-IX means that RIPE Labs is in a position to collect, in one place, the public data available from a number of Internet Exchange Points (IXPs) across Europe. These IXPs, which connect ISPs, make up a large constituency in the RIPE NCC membership and play a very important role in the global Internet community.
Please note that IXP traffic is not indicative of the overall Internet traffic in a country or region. IXPs connect the networks of ISPs to permit the exchange of Internet traffic. The traffic that goes through IXPs represents only a sample of all Internet traffic.
All competing nations in the tournament are in the RIPE NCC service region (Figure 1). From 8 June until the final match in Kiev on 1 July, the RIPE NCC and Euro-IX will look at the data from the IXPs and will present anything interesting that we see.
We can only speculate as to why different trends are seen in different countries and at different IXPs. What we do know is that over the past decade, hundreds of millions of people have been connected to the Internet. Bandwidths have increased to the extent that watching sports events online is now a matter of course for many. And recent years have seen the proliferation of mobile devices and social networking forums, allowing people to connect to online streams during events and share their views with the world immediately. Which of these factors, if any, are driving traffic in events such as Euro 2012? In 2010, matches often took place during office hours. Will the fact that this is not the case in Euro 2012 have an impact on traffic? We want to hear your interpretation of what the data provided during the tournament shows and if this information is useful for you operationally.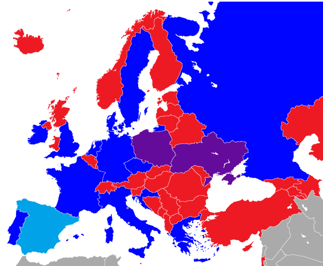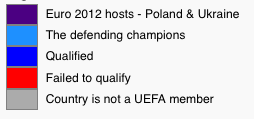 Figure 1: Competing nations at Euro 2012
For the 2010 World Cup, we published a short article on RIPE Labs showing the aggregated traffic statistics of 51 IXPs: IXP Traffic During the FIFA World Cup . For this tournament, we'll look at data from the IXPs before, during and after each match, comparing that data to the same times from previous weeks to see if there are noticeable differences. We will then report on matches that show any interesting data.
In 2010, a number of IXPs saw large increases in traffic during matches, while others reported clear dips. To prepare for EURO 2012, we looked at the traffic from LINX and TOPIX during the Champions League final on 19 May between Chelsea of England and Bayern Munich of Germany.
If we look at the traffic from LINX during the Champions League final (see the red line in Figure 2), we can see that, overall, traffic was lower during the match than at comparable times in previous weeks, with a slight increase in traffic as soon as the final whistle blew.
Figure 2: Traffic measured at the London Internet Exchange on Saturdays, 16:00-23:00 (game began 19:45, half time at 20:30, full time at 21:30, penalty shoot-out at 22:15)
Conversely, at TOPIX in Italy, overall traffic was higher during the final than at the same times during previous Saturdays (Figure 3). There is a noticeable dip immediately prior to the match, increasing again as the match started and gradually dropping. As with LINX, there was a bump in traffic at the end of the match.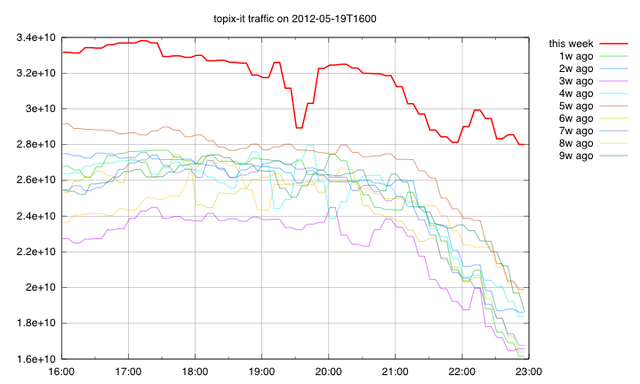 Figure 3: Traffic measured at the Torino Piemonte Internet Exchange (TOPIX) on Saturdays, 16:00-23:00 (game began 19:45, half time at 20:30, full time at 21:30, penalty shoot-out at 22:15)
Regardless of whether or not you are a fan of "the beautiful game", this summer's tournament will hopefully give you an idea of what happens to IXPs' traffic when much of the world's focus is on one event.
If you are an ISP or an IXP, will you do anything to prepare for events such as Euro 2012 or the forthcoming Olympic Games to be held in London at the end of July? Please leave a comment under the article. If you'd like to get involved, you can contact us at labs@ripe.net to let us know.
Participating IXPs with links to their statistics pages: