The benefits that improvements to our services bring to the community have to be measured against considerations of efficiency and value for money. In this report, Alvaro Vives - Technical Training and Development Team Manager for our L&D department - joins me to talk about how we balance service quality with cost-efficient planning.
---
Transparency around the activities we carry out and their cost is baked into the way we do things at the RIPE NCC. Even now, teams across the organisation are busy preparing the RIPE NCC Activity Plan and Budget for 2024, which will give an exhaustive breakdown of the activities we have planned for next year, their benefits for members and the community, and how they factor into our budget.
In the meantime, this seemed like a good opportunity to share a couple of examples of how we balance value for money and service quality in relation to our work in community engagement. After a few words from me about RIPE Meetings, I'll hand over to Alvaro for more from our learning and development team.
Free tickets for RIPE Meetings
As an open, inclusive forum that draws together the Internet community to discuss matters of policy, governance, and the technical operation of the Internet - the benefits of RIPE Meetings for the community are hard to overstate. And for a long time, to extend these benefits to new members, and help bring them into the community, we've offered two free RIPE Meeting tickets to anyone opening an LIR account with us.
The practice started when there weren't that many LIRs, and certainly before members voted to allow the creation of additional LIR accounts. And although the practice continued at the time, a couple of months ago we made the decision to tighten up the policy so that free tickets are gifted per member rather than per LIR. That way, new members are still encouraged to attend and get to know the wider community, but free tickets are no longer handed out to the same people repeatedly.
The change might sound small, but the savings add up. Here you can see how many members made us of their free tickets over the past few meetings, and how many used free tickets they got by opening additional LIR accounts:
| Meeting (ticket price) | #Members | #Multiple LIRs | Value of free tickets claimed by members | Value of free tickets claimed by multiple LIRs |
| --- | --- | --- | --- | --- |
| RIPE 84 (€350) | 127 | 54 | €44,450 | €18,900 |
| RIPE 85 (€350) | 83 | 39 | €29,050 | €13,650 |
| RIPE 86 (€400) | 131 | 56 | €52,400 | €22,400 |
| Totals | 341 | 149 | €125,900 | €54,950 |
Not only do we stand to save something close to the highlighted amount over the next few RIPE Meetings, but when you factor in that a checked in attendee costs the membership roughly €800 per meeting, the numbers really start to add up. With this change, we stay true to our objective of encouraging engagement, but in a much more cost effective manner.
Learning and Development
L&D plays a big role in community engagement at the RIPE NCC. As well as delivering in-person training across the service region, the team is also responsible for the online courses available in the RIPE NCC Academy, webinars, the Certified Professionals platform, and other educational projects aimed at helping the community to keep growing and developing.
Over the past few years - with the launch of Certified Professionals, new courses in the Academy, and all our work to improve our services - we made some pretty ambitious changes in terms of what we offer. But as those changes went into action, we soon started to feel the increased complexity and cost that came with them.
At the same time, while there were issues we had to address, people were responding positively to much of what we were doing, and we strongly believed we were moving in a good direction. So, rather than alter course, we worked on iron out issues, streamlining operations, simplifying internal processes, and reducing costs wherever possible.
A cost-conscious transformation
As a result, between 2021 and 2023, our department's overall budget decreased from 2.5 million to 1.9 million euros. Factoring in our budget for the year ahead, we will actually have achieved close to a one-third reduction in total L&D costs from 2021 to 2024, lowering our budget further still to an estimated 1.75 million euros.
RIPE NCC L&D budget changes 2021-2024

| | 2021 | 2022 | 2023 | 2024 (ESTIMATION) |
| --- | --- | --- | --- | --- |
| Total budget | €2,429,000 | €2,600,000 | €1,920,000 | €1,750,000 |
| Total budget Change % | | 7,04 % | -26,15 % | -8,85 % |
| Team members | 15 | 16 | 14 | 13 |
Yet despite running on a lower budget, I can confidently say that as a team, we've been able to maintain and even improve the quality of our services. We continue to tailor our courses to the learners' needs, we keep our content relevant and up to date, we collaborate with subject matter experts, employ sound pedagogical methodologies, and deliver engaging, accessible learning experiences across all our services.
The results speak for themselves. Community feedback for the Academy - our free e-learning platform that has served 12,500 new learners since the onset of the pandemic in 2020 - has been very positive. And we also see NPS scores for our face-to-face training courses, webinars, and CP all holding strong: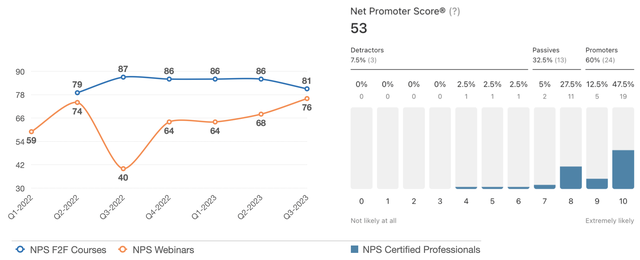 So how did we do it?
I am proud of the team's efforts to be more efficient while continuing to deliver top-notch services to our learners. Here are some of the strategies that have helped us:
Simplified staff structure
One factor that had a definite impact on cost were changes in the number of staff. We made the decision that, when staff left, we would not replace them but focus instead on simplifying team structure and governance in order to adapt. Doing this effectively involved reducing from three subteams to two, adopting a new meeting structure, and redefining roles to ensure better oversight.
Simplifying process and tools
Of course, having less people didn't come without a cost. The loss of power and skills left us reexamining the way we worked and we had to look for ways to tighten up our processes. We put more focus on core needs and better tools for project management. And where we had to make up for lost expertise in specific tools, we found alternatives that could do what we needed but weren't so time intensive to learn and use.
Decision making and communication
With all the changes that happened in a short time, internal communication and involvement in the decision making process was key to getting support and commitment from team members. Using meetings, tools, and processes we made sure information was properly shared – transparency was the goal. That allowed for good planning, prioritising, and better allocation of resources.
Data-driven approach
To help make decisions through this period, we've relied heavily on data. Putting together visualisations that give us a quick, clear view of relevant data and feedback from different sources - surveys, interviews, user feedback, detailed cost breakdowns - has helped us prioritise things better and faster. One main source of complaint a couple of years ago was the live proctoring we used for the Certified Professional (CP) programme exams. CP also came with high costs due to the platform provider and the expense that came with trying to develop a business around it. In the end, the data we collected showed there was not a "big market" for what we were offering. Acting on this, we were able to switch to an alternative that was cheaper, more sustainable, had lower barriers to access and was focused on members (for example, we are now able to get people certified from sanctioned countries, like Iran, that couldn't do it before).
Cost reduction strategies
To address cost increases related to inflation, we implemented measures such as reducing printed materials and optimising marketing campaign budgets. Comprehensive cost analysis led to adjustments in marketing campaign budgets to maximise their impact.
Running out of virtual ink
Tightening up the RIPE Meeting ticket policy and maintaining quality in our L&D services while bringing down cost are both good examples of how value for money guides our decision making. Once again, for a much more detailed breakdown of all these topics, I encourage anyone interested to look out for the Activity Plan and Budget 2024, the draft version of which will be made available ahead of the upcoming RIPE NCC General Meeting that will take place this November during RIPE 87.