As the first SEE meeting took place back in 2011, this year marks the 10th anniversary of these events that bring the Internet community across the region closer together. Although the meeting was originally scheduled to take place in April 2020, COVID restrictions meant a long wait for SEE 9. So, how did everyone manage over the last two years?
---
Having to delay the meeting to late 2021 had its advantages and disadvantages. On a positive note, most people - both organisers and speakers - have become quite familiar with virtual events, so the presentations and Q&A worked smoothly. On the other hand, everybody is feeling a bit "Zoom-fatigued", and people miss interacting with each other more naturally.
Despite that, 84 people – including me – joined the meeting looking for some good old geeky content.
Personally, I've attended numerous SEE meetings in the past, the first one being SEE 4 back in my hometown, Belgrade, in 2015. In fact, that was the first time I heard about our local Internet exchange! I'm now lucky to be working as a consultant on outreach efforts in the SEE region for the RIPE NCC, which gives me the opportunity to continue being a part of this special community and to make useful contributions to it. What a difference six years can make!
The meeting took place on the Meetecho platform and was opened by two members of the SEE 9 Programme Committee: Jan Žorž, calling in from Ljubljana, and Vladislav Bidikov, tuning in from Skopje. They gave a quick introduction and announced the first speaker.
Thoughts on Human Resilience
The first presentation of the day came from the RIPE NCC's Vesna Manojlovic and was quite unlike those that followed, mainly because it tackled the more difficult, less explored territory of the human side of technology. In order to adjust the lingo for the audience, Vesna came up with the clever hack of comparing OSI layers to Maslow's pyramid of needs.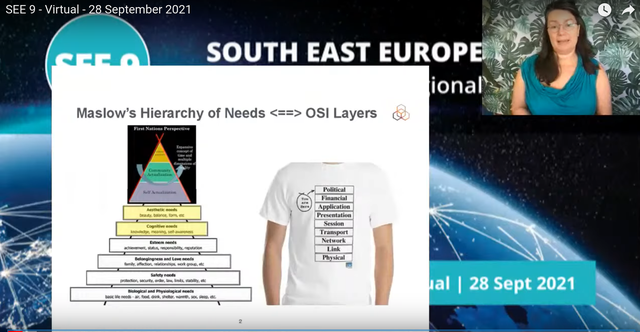 She presented on her six-month long effort of looking into the RIPE community's wellbeing, especially during the pandemic, which resulted in numerous articles on the subject, a task force and the creation of various support resources. Her talk left us with recommendations on how to build our better selves and the world around us.
IXP Readiness
IXP operators from North Macedonia, Montenegro, Serbia and Romania gave us updates on how their exchanges handled increases in Internet traffic last spring when their governments announced lockdowns and switched to remote work/online classes.
While many had to make substantial upgrades to equipment and capacity, experiences and focuses differed:
Vladimir Gazivoda of the University of Montenegro shared that MIXP was actually able to respond to significant increases in both household Internet access and Internet traffic across the IXP without any major upgrades.
Vladislav Bidikov, speaking on the behalf of the Macedonian IXP (IXP.mk), talked about the radical shift the exchange went through - from five IXP members and ~100 Mbit of traffic in 2019 to 10 members (including the incumbent operator) and a daily record 1.2 Gbit of traffic in 2021. The exchange upgraded its equipment and opened a new POP, with plans to continue upgrades in the following months.
Similarly, the Serbian Open Exchange (SOX) had to get to work on upgrading their network, with a lot of effort devoted to improvements in quality, security and Internet measurements. SOX CEO, Zoran Perović, emphasised their focus on building better relationships with customers and the broader community and adopting a proactive approach to future challenges. Sharing the experience of many commercial IXPs, SOX was hit with cash flow issues due to the urgent upgrade needs and slower return of investments.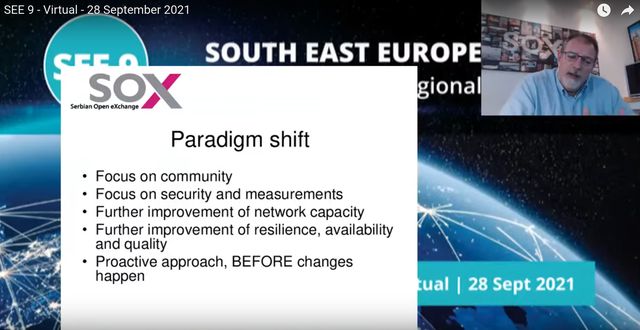 Lastly, we heard from Cristian Copcea of Romania's InterLAN Internet Exchange. In his talk, he confirmed that InterLAN went through a period of intense expansion in terms of capacity and members. The exchange also focused on bringing in root server operators, convincing peers to use the RS for peering and enabling IPv6. And with great success:

InterLAN hosts six out of eight root name server instances in Romania
99% of peers use RS
98% are IPv6-enabled
Setting a good example, InterLAN invested in utilising IXP Manager and PeeringDB, recognising the value of accurate and up-to-date information.
Reverse DNS in the SEE Region – Survey Results
ICANN's David Huberman shared the results of a new survey on the deployment of rDNS. For this purpose, he built a tool that put together three different datasets. The goal was to see, for any given country, how well deployed rDNS was as a function of all the different (IPv4) allocations made by the RIRs to that country.
A reverse DNS lookup is a DNS query for the domain name associated with a given IP address. This accomplishes the opposite of the more commonly used forward DNS lookup, in which the DNS system is queried to return an IP address.
When it comes to the SEE region, his results showed that 61% of IPv4 CIDR blocks are routed with the PTR and 28% are routed without it. The rest were not routed or not in use.
David highlighted the importance of publishing PTR records for different network infrastructure elements, seeing it as vital resource for network troubleshooting – something that still relies on manual human work.
Overview of the Montenegrin Communications Market
Next, Pavle Mijuskovic of the Agency for Electronic Communications and Postal Services (EKIP) gave an overview of the electronic communications market in Montenegro. With only 23 registered ISPs, the Montenegro Internet market still has room for growth.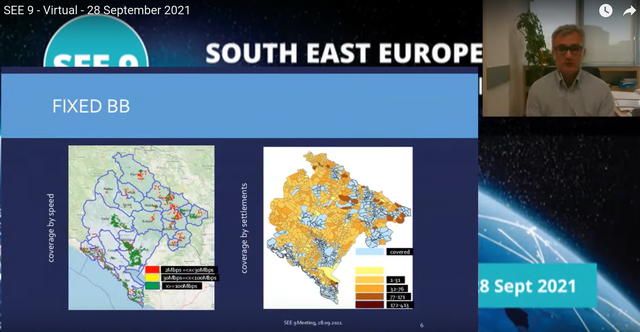 Pavle's data showed constant increase over the years in all relevant parameters: global Internet bandwidth, number of fixed BB users and traffic exchanged. When it comes to speed and coverage, Montenegro seems to be in a good spot: 77% of fixed BB users have access to high-speed Internet, out of which 67% use fibre to connect. There are strategies currently being developed on how to improve these numbers, aiming for near-total coverage.
COVID restrictions, as expected, disrupted the patterns of Internet consumption, causing a significant increase in Internet traffic numbers. An increase of 54% was detected between March 2019 and March 2020.
The Case of the Balkans' Missing CSIRT
The last presentation of the meeting was by Predrag Puharić of FKKSS, who spoke on the challenges of establishing a national CSIRT in Bosnia and Herzegovina. Due to its complex national and political structure, BH is the only country in the region without such a crucial institution, which puts a lot of different stakeholders at risk. It is important to note that one of the entities of BH, Republika Srpska, established a national CERT in 2015, but their work is limited to that entity. "Eh?!" you say? We hear you.
A computer emergency response team (CERT) is an expert group that handles computer security incidents. Alternate names for such groups include computer emergency readiness team and computer security incident response team (CSIRT).
So, how to overcome this bureaucratic hurdle? One of the proposed solutions is to create a new body – a national Cyber Security Excellence Centre – that will act as a facilitator for establishing an academic CSIRT and later as a catalyst for the creation of a proper national CSIRT. Responding to a shortage in experienced cybersecurity workers, the university plans to create training programs for students and trainers.
In BH, similar challenges were encountered when establishing an IXP and a NREN, something that was discussed at great length at SEE 8 in Sarajevo. Bosnia and Herzegovina remains the only country in the region without fully functional key elements of the Internet ecosystem.
To Ljubljana!
I'll conclude by repeating Zoran's sentiment: switches will work, routers will work. It is the people's mindset that changed more than traffic patterns. And we need to invest more into building quality relationships with people than into new equipment.
Hopefully we'll have a chance to do it in lovely Ljubljana at a physical or hybrid SEE 10. Stay tuned and mark the meetings listed below so you don't miss any fun.
Upcoming Regional Meetings You Can Join:
ISP Technical Meeting @IXP.mk – November 2021, Skopje

RSNOG – November 2021, Belgrade

SEE 10 – 11-12 April 2022, Ljubljana

RONOG 7 – October 2022, Bucharest