Transfers of End User resources in the LIR Portal will soon be handled in the same way as transfers of LIR resources. This is part of our ongoing efforts to improve the user experience and security of the LIR Portal, while making our own processes more efficient.
---
At the moment, both the offering and receiving party can initiate a transfer of End User resources, doing so via an open text request form in the LIR Portal. There are a few problems with this, however. It limits the number of automated checks that we can perform. It also introduces security risks and makes the whole process more prone to errors. Some issues that can arise include:
The resources may have been transferred in the past 24 months, which means they are not eligible for transfer under RIPE policy.
If it's a transfer from one End User to another, the sponsoring LIR acting on behalf of the receiving party might initiate the transfer before they have officially become the new sponsoring LIR. This can make it unclear who is actually representing the End User.
Transfer requests for the same resources can be submitted by multiple LIRs at the same time. This can cause delays, confusion and disagreements between the parties involved.
To avoid these issues, we will soon be applying the same system that is already in place for transfers of LIR resources. Only the holder of the resources (in this case the sponsoring LIR) will be able to initiate the transfer to another party, by selecting the resources in the LIR portal. There are important advantages to this:
Only resources that are eligible for transfer can be selected
Typos in IP prefixes are not possible
Transfer requests are submitted to us in a standardised format
Multiple transfer requests for the same resources cannot be submitted
We anticipate that in a small number of cases, the sponsoring LIR may be unresponsive or uncooperative, which could create issues for the End User looking to transfer their resources. If this is the case, the End User can always find a new sponsoring LIR and sign a contract with them. We believe that the potential for these kinds of complications is far outweighed by the benefits in terms of added security and efficiency that this alignment between LIR and End User transfers will introduce.
Part of a Larger Approach
Allocation, assignment and transfer requests used to be handled through email-based request forms. These were phased out in June 2015 and represented our first step towards standardising and automating these processes. We have initially focused on improving the process for resource transfers – this is the most logical approach, as these requests take up a large percentage of the time and resources of the Registration Services Department. The image below provides a high level overview of this approach.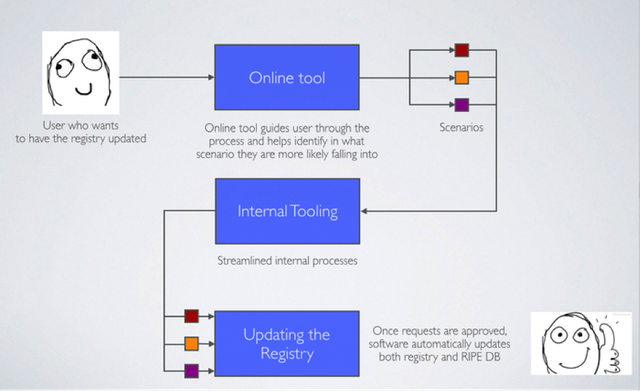 Standardising and automating registry updates

Ultimately, our goal is to cover all possible scenarios that involve requests for registry updates submitted via the LIR Portal. This latest development is another step towards an easier and more secure system. As always, we welcome any feedback on this latest development and how we can continue to improve.