High quality registry data is important - even more so with the recent increase in address transfers and the exhaustion of the global IPv4 pool. This article explores how we will be enhancing our tools and processes to ensure the RIPE Registry remains up-to-date in this challenging environment.
---
Enhancing Existing Services
It happens frequently that Local Internet Registries (LIRs) want to update the RIPE Registry, for example to reflect changes in the legal structure of their organisation. In most cases the LIR can't make these changes alone, because the RIPE NCC needs to approve them to ensure the registry is correct and community policies are followed.
There are many possible scenarios that all require different evaluation steps. A merger of two organisations requires different documentation than a transfer of resources from one organisation to another. An acquisition involves two organisations and added complexity, while changing the name of an LIR is relatively straightforward. These are just a few examples.
At the beginning of the process, it's often unclear which scenario we're dealing with. An organisation might think it's requesting a simple name change, only for us to discover later that we're really talking about an acquistion - which means the entire process has to start again from scratch. This is frustrating for both the requester and our staff. At the moment, all of this is done manually, which often involves lengthy email exchanges that can be time consuming and expensive. The image below shows some common scenarios and the various processes involved.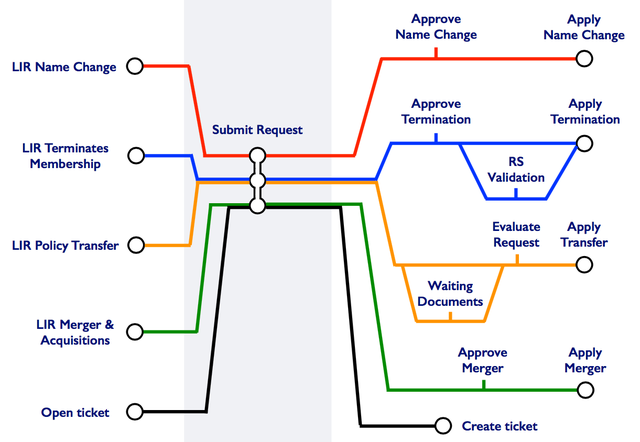 Figure 1: Various types of requests and related processes
Goals and solution
We want to streamline our internal processes and improve the customer experience at the same time. A request form in the LIR Portal will guide LIRs to the scenario that best fits their case, before submitting a request to the RIPE NCC. The image below provides a high level overview of this workflow.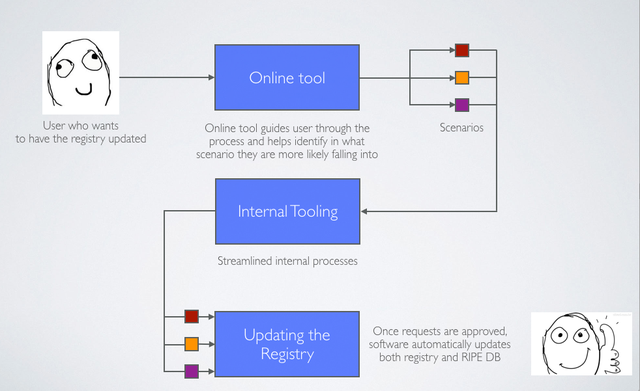 Figure 2: Overview of proposed workflow
The LIR will be presented with an online request form that asks a series of questions such as the type of request they have, the parties involved and any resources that are affected. This information will be passed on to the internal tooling to be evaluated by our team. Once all of the required information and documentation has been received, a team member will approve the request and ensure that the registry is updated accordingly.  
Phase One - Policy Transfers
As a first step, we will focus on improving the process around resource transfers as defined by RIPE Policy. Transfers take a lot of time for us to process internally and we expect the number of transfers to increase in the future. In the image above, this process is illustrated by the yellow line. While we are starting with transfers, this is only the first part of a larger project - ultimately all scenarios involving registry updates will be handled by the new tool.
Milestones
We have four milestones for this first phase.
Milestone one is implementing a simple version of the request form that will allow LIRs to create a ticket for different scenarios such as mergers and acquisitions, transfers, name changes, and membership terminations.
Milestone two will add some validation to the request forms. This will help LIRs to provide correct details about the receiving and offering organisations involved in a policy transfer. It will also help them to select resources that are eligible for transfer and help with preparing the associated documentation.
Milestone three will integrate with the existing internal tooling within the RIPE NCC. This will help our staff to process requests more efficiently.
Milestone four will complete the automation of the process. This will provide seamless integration between our internal tooling and external services such as the RIPE Database.
Next Steps
We are now ready to go with milestone one. Once this has been deployed, we will start work on milestone two. We're looking forward to the initial release of the request form and welcome any feedback from LIRs on how this can be improved.