Ondřej Filip succeeded Christian Kaufmann as RIPE NCC Executive Board Chair in September. We caught up with him to talk about his involvement with the RIPE NCC and ask him questions about his new role.
---
You've been a member of the RIPE NCC Executive Board for some time now. Can you tell us more about your role on the board and the work you've being doing there so far?
I was elected to the board three and half years ago, and truthfully speaking, I didn't at all expect the exhausting times that came with the COVID-19 pandemic. I had very little time for an onboarding process, but I managed to get the picture quite quickly. My day job as CEO of a domain name registry helped me a lot, of course.
Very soon after my election, the process of transitioning to a new Managing Director for the RIPE NCC started. I was involved from the beginning and I'm very happy that this task was completed so smoothly. Hans Petter started his role just as the global pandemic hit, which wasn't an easy time at all for a community-driven organisation.
My fellow board members appointed me to the role of RIPE NCC Treasurer to help the organisation through this challenging period. As Treasurer, I started work on two particularly important tasks: developing a new Charging Scheme that I presented to the membership, and a review of Treasury Statutes. Both of these are still ongoing projects.
Why did you accept the position as Chair?
I believe that everybody who submits their candidacy to the board has to be ready to accept the Chair position. When it became clear that the previous Chairman - Christian Kaufmann - would step down to start his position on the ICANN board, he reached out to every board member and talked to us about potential successors and the future board composition. Afterwards, we had an official vote and the majority of the board voted for me as the new Chair.
What values do you bring to the role?
Almost the whole of my professional career has been about serving either the local or global Internet community. I have been CEO of a registry with many community services for more than 18 years. For the whole of my career, I have been involved in many issues that are relevant to the RIPE NCC, such as the Registry, Database, routing protocols, DNS, Open Source and Internet Governance.
Especially during our times, I believe the fact I grew up in a communist regime in the so called 'Eastern block' helps me to understand, and to be sensitive to, the current global conditions.
What are your goals as Chair?
Immediately, I can see two areas that need attention. Global financial inflation combined with the expected consolidation of RIPE NCC memberships puts pressure on our budget. It is therefore very important to finish the review of the Charging Scheme. That's no easy task. Member opinions are very diverse and it would be difficult to find a commonly accepted approach.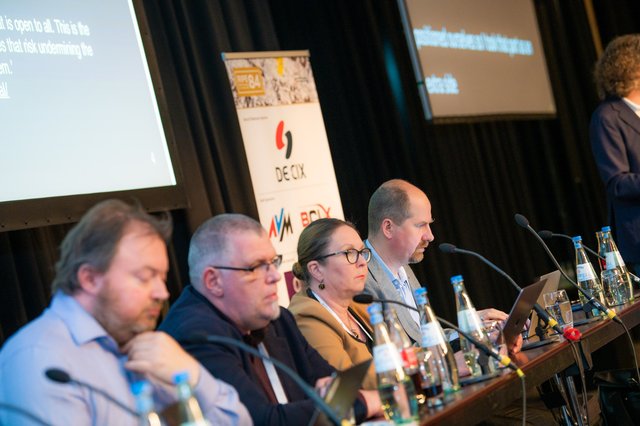 And of course, the war in Ukraine brings new challenges to our organisation. EU sanctions are also getting broader and we must fulfil our mission to keep the global Internet working.
In the longer term, I am troubled by the influence of the rising prices of IPv4 addresses. This will be impacting our community more and more and it will increase the barrier for entering the market for newcomers, which will create several tensions.
What are you most looking forward to and what do you see as the biggest challenges in your role?
I am looking forward to continuing to work with RIPE NCC colleagues. They are a very nice group of talented people and I really enjoy interacting with them. My challenge is quite obvious. I am Christian's successor and he is an excellent and charismatic leader, so the bar is set very high.