We've changed to a different voting platform for the upcoming RIPE NCC General Meeting. In this article, we take a look at the provider we've chosen, the reason behind the change, improvements this brings, and bumps in the road.
---
Why have we changed to a different voting platform?
At the November 2021 General Meeting, there were issues with reporting of voting that led to a delay in announcing the voting results. Following this, we carried out robust testing for the May GM and unfortunately encountered a number of issues with the reporting again. Employing a provider in a different time zone also brought challenges of its own in terms of availability of support at this time. Following these events, the RIPE NCC Board and senior management supported the idea of finding a new voting software provider.
Searching for a new provider
We carried out the search within our service region. This was for GDPR reasons and to ensure good support in our time zone. We assessed over 40 providers and narrowed the list down to three who matched our specific requirements. We assessed each provider and identified Assembly Voting as the best match.
Assembly Voting
Assembly Voting is based in Denmark and was the first provider of electronic elections in the country in 2001. Today, they provide election technology around the world, supporting 6,000 election events with 35 million voters and support over 1,000 clients in 75 countries.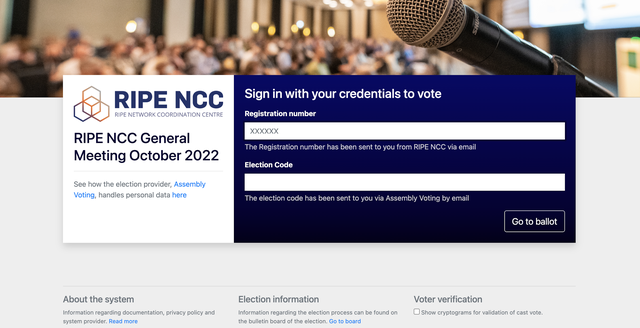 While Assembly Voting offers 'off-the-shelf' software solutions, we have some particular requirements which Assembly Voting have agreed to work with us on to provide a bespoke solution. Their technical team is also available to support us in our time zone, they are GDPR compliant and provide an easy-to-use UI.
The system also provides end-to-end verifiability, two-factor authentication, a digital bulletin board, encrypted votes, and opening and closing key ceremonies where an election can only be opened with all key holders present, including an external observer.
What's changed?
While the premise is the same - members will receive an email with a link to an election platform where they vote on each resolution in turn - there are some changes members should be aware of.
Member Log in - Assembly Voting provides two-factor authentication, so eligible members registered for the GM will receive two emails with their credentials to log in. One will come from the RIPE NCC with the member's registration number. Assembly Voting will then send a separate email with the link and second code required to log in to vote.
Bulletin Board - Assembly Voting is an End-to-End verifiable online voting system where all elements of the election - before, during and after it takes place - can be verified using a digital 'Bulletin Board'. The Board records all activity from ballot configuration to detailing anonymous votes. Members can access the Board from their voting dashboard when they log in.
Voting Receipt - The receipt is available for members to download as a JSON file once they have voted. Members will need to download and save it for verification purposes and can, at any time, check their vote by uploading the receipt to the Bulletin Board.
Opening and Closing Ceremonies - An election can only open after an opening keys ceremony. This is where Assembly Voting, the RIPE NCC, and an independent observer enter keys into a system together. Only after all keys have been added can an election begin. This process is duplicated in a closing ceremony where the voting report is produced after all keys have been entered.
Vote Verification - Members are able to verify the content of their vote by ticking the 'Voter Verification' box at the bottom of the election site, downloading an app 'Ballot Opener', then opening their 'envelope' using the app. Note that, if members choose to verify the content of their vote, they are essentially opening the 'envelope' of their digital vote, making it void. They will then need to vote again.
Split Voting - Assembly Voting do not support split voting where people representing several members can split their weighted votes to vote on one ballot. People representing more than one member will need to vote individually for each member at the October GM. This is something that will be enabled for the next GM in May 2023.
Let us know what you think
Since this is the first time we will be using this platform, we'd like to hear your feedback! Please add your comments below or send your questions to agm@ripe.net before or after the GM.