In this article, we explain why we have moved away from Zoom for the upcoming RIPE 81 and RIPE NCC General Meeting in favour of a more RIPE-friendly platform: Meetecho.
---
RIPE 80 was our first completely virtual meeting. It was very well-attended with an average of 1,200 viewers per day from almost 100 different countries, and a lot of discussion happened both on Zoom chat and IRC (more details can be found in the post-meeting report). Zoom worked very well, with excellent audio/video quality and we weren't subjected to Zoom-bombing (thanks to the fact we decided to use unique links rather than one for everybody).
So, in general, this was a successful meeting with positive outcomes, and we could have just replicated this format for all our future virtual events, making our life easy. 
However, there were various reasons that made us look somewhere else.
The most important for us concerned the restriction on the usage of Zoom due to company policies and restricted countries. 35% of people surveyed at RIPE 80 were unable to use Zoom because of these restrictions. This meant there was a large split between people using Zoom and the livestream on the event website. This resulted in attendees missing out on some important discussions happening in one or the other channel. Our priority is to build a neutral and inclusive space, and that's where the Zoom set up proved to be less than ideal.
Other reasons concerned our wish to have our meetings run in an IPv6-friendly environment and to be able to have control over our attendee's dataflow with the possibility to host the platform on our own infrastructure. Also, we really wanted to recreate the 'mic queue' that we all missed in previous RIPE Meetings. Zoom provided this function, even though we didn't find it completely reliable and there would have been limitations for those that weren't able to use it. 
These issues were the main feedback points we received from the RIPE 80 participants, which led us to investigate further.  
Immediately after RIPE 80, the Events Team started to review other conference platform options, although most had issues that made them unusable for our purposes. 
After an extensive investigation that lasted around two months, we decided to focus our attention on Meetecho, the only option that looked like it had strong potential.
Meetecho it was founded in Italy in 2009 as an official academic spin-off. They are specialised in Web Real-Time Communication. Those of you that attend IETF meetings are pretty familiar with this company already. They created a conference platform based on Janus, an open-source platform that can be customised depending on the needs of the specific event. 
It took almost two months for the team to intensely review Meetecho, making sure that all the aspects were covered following our community's and our expectations. After a lot of calls, emails and reviews, the decision was taken to use Meetecho at RIPE 81.
Meetecho is our preferred option because:
It allows all attendees to be on the same platform (which was our main goal)
It allows questions to be asked in writing using the Q&A window (with Slido embedded) and/or using audio
It runs on IPv6 and IPv4
It has a chat room system that allows also individual chat
It provides a time management tool for chairs and speakers
The platform does not require the installation of a client and can be used directly in any desktop WebRTC-enabled web browser
The platform allows all main elements to be placed in one interface: stenography, chat and Q&A window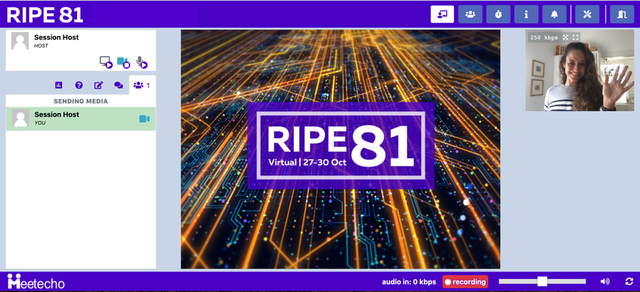 Lil' preview ;)
Also, the team behind the platform is incredibly proactive, very customer focused and knows our community very well already, which definitely helped them to understand our concerns and certain requests. 
One difference that's good to note is that Meetecho doesn't allow for customised backgrounds as Zoom does, although this could be the perfect excuse to finally have that makeshift home office cleaned up ;)
Meetecho gave us the option to host the platform on our own servers, one of their cloud accounts or one of our own cloud accounts. We chose to run it on one of our own cloud accounts. We decided on AWS as we are currently most experienced with them. Having the platform run in the cloud makes it easy to scale up when needed and the instances can be shut down after the RIPE Meeting ends, so we only have costs around the RIPE Meeting period, which is just a few weeks per year. This way we also make sure that the RIPE Meeting data not needed for the archives (such as presentation recordings and public chat logs) is removed after the meeting. 
What about the Live streaming?
We didn't want to change the RIPE Meeting format completely, so we decided to still have the option to watch the presentations live on the RIPE 81 website. Stenography will be also provided next to the streaming. However, we decided to not provide a separate IRC channel in order to have only one place for discussion during presentations. The stream will be most useful for those wanting to cast the conference onto a bigger screen without any interaction. Those wishing to view the chat and questions during the sessions should still join via the Meetecho platform.
What's next for you?!
If you want to join RIPE 81 and experience the platform first-hand, make sure to register for RIPE 81 and have a good read of the Meetecho guidelines we have prepared for all the RIPE 81 participants.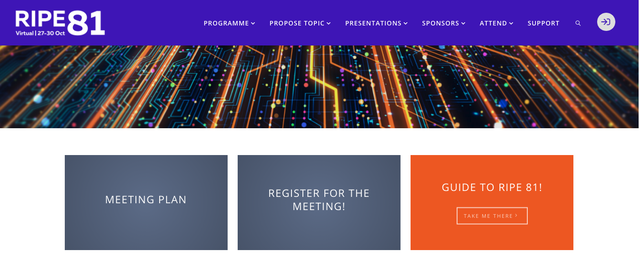 We're interested to know how you experience it to help us improve accordingly, so please join and let us know what you think about RIPE 81 via the survey. 
Last but not least, I would like to thank all the colleagues that were involved at some stage in this project and helped the Events Team in this difficult but smooth decision-making process: the RIPE Meeting Tech Team and Web Services, in particular Menno Schepers and Oliver Payne who also contributed to this article; the InfoSec and Engineering teams, and the zealous Legal Team who is always reminding us about GDPR ;)