We made some adjustments to the RIPE Labs front page so that you can find RIPE NCC operational statistics more easily. At the same time we also improved the look for mobile usage.
---
Statistics Rule!
If you came to the RIPE Labs website today, you will have noticed that the RIPE Labs Statistics Dashboard has moved from the left margin to the middle of the page. We decided to show these statistics more prominently because they are the most visited pages on the RIPE Labs site, especially statistics related to the number of members and the deployment of IPv6. And more stats will be coming!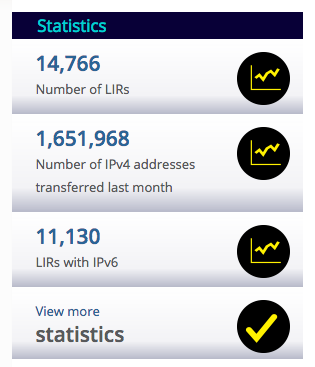 Previous view of the Statistics Dashboard


New view of the Statistics Dashboard

Mobile Use
Another reason for the update was to make the site more mobile-friendly. Almost 15% of visitors come to RIPE Labs from a mobile device. Before the change, the statistics dashboard basically disappeared when viewed on a mobile device: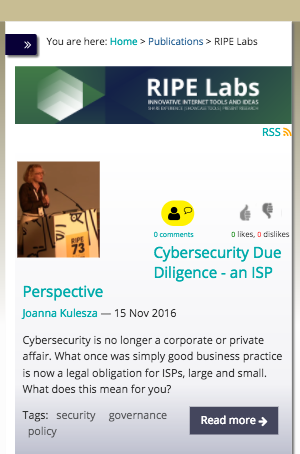 In the old view, statistics were difficult to find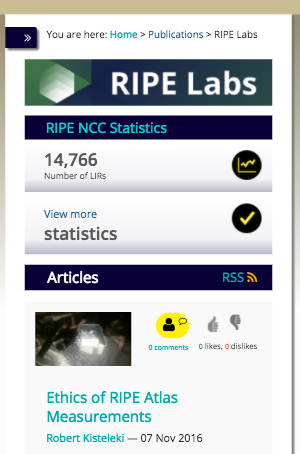 In the new version, the statistics are easily accessible on top of the page
Popular content
Apart from the statistics, we also see interest in the following topics:
 Would you like to see more articles on certain topics, either those listed above or others? Would you like to see any more statistics and, if so, which ones? Please let us know by leaving a comment below or fill in the poll next to this article.
More user features
We now link user comments to their RIPE NCC Access account, That allows you to easily see what other authors have written. We also included more social features such as profile pics next to your name when you leave a comment. If you want to make use of this feature, go to your profile page and add an image.