The RIPE Chair Team shares this month's updates on developments and events occurring in the RIPE community.
---
Preparations for RIPE 84
You've probably all been wondering if we can organise a face-to-face meeting again this coming May. After having had to cancel our meeting in Berlin twice, I am very happy to be able to write that our local host and the meeting venue are still available and we are finally able to go ahead!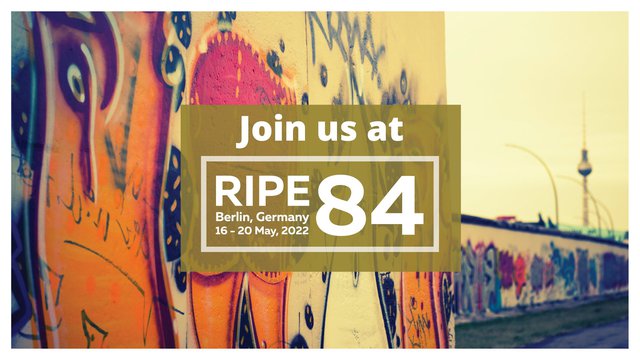 You might have already seen the call for presentations issued by the RIPE Programme Committee. The draft RIPE 84 meeting plan is published and registration has been opened. Please note that the details of the meeting plan can still change.
The last two years have been difficult for many of us and they've made it particularly hard for newcomers to the community to get involved. For this reason, we'll be making an extra effort to organise special events for young and new participants. Look out for more announcements on this as we get closer to the week of the meeting.
RIPE 84 will also be an opportunity for you to meet the RIPE NCC's new Senior Events Manager, Dan Mogosanu. While we will be missing Martina de Mas, who led the events team for many years, I am looking forward to see some refreshing and creative ideas implemented at RIPE 84.
Updating the Policy Development Process
After the new draft of the PDP was discussed at RIPE 83, we held an interim session to go over the main changes in more detail and to collect more feedback. I sent a summary to the RIPE Discussion list. You can provide additional feedback before 16 March 2022.
RIPE Governance and Visibility
We continued to work on improving the visibility of the RIPE community and to document RIPE governance. We now have the terms of each working group chair published on the respective working group page. That will make it easier for working groups and their chairs to follow the selection processes agreed by the working groups themselves.
Many new staff joined the RIPE NCC over the last few months. So, we held another staff onboarding session that was followed by an engaging discussion. I really enjoy these sessions with RIPE NCC staff and I hope I can meet many of you in person soon.
Industry Events
Over the last few weeks we participated again in a number of interesting industry events. Here's a quick summary:
Europe's Digital Principles
The European Internet Forum held a session to debate the Declaration on European Digital Rights and Principles. How can we keep an open Internet and protect sovereignty at the same time? How can Europe remain competitive? These were the types of questions the speakers discussed.
Chris Buckridge, participating as a member of the audience, urged the EU to add another important principle: an open and unfragmented Internet. This is currently being heavily discussed and stressed by many in the industry. Chris also warned of certain legislative developments that could destroy this important underlying principle.
Workshop on Internet Fragmentation
In this very interesting webinar organised by ICANN, the two speakers - Patrik Fältström from Netnod and Chris Mondini from ICANN - looked at some developments that pose threats to the stability and robustness of the Internet and would ultimately lead to a fragmented Internet. This is particularly relevant in light of recent political developments and I can only recommend everyone to watch the recording.
Workshop on Quantum Computing and Cryptography on the Internet
Another webinar organised by ICANN focused on the risks that advanced quantum computers might pose on security and protocols such as DNSSEC and TLS. Paul Hofmann presented his paper and said that while progress with quantum computers is very slow at the moment (both in terms of physics and engineering), interests from other areas such as chemistry could speed that up, which might then also have an effect on the cryptography used on the Internet. This is a topic the IETF will look into and I am sure we will hear more about it.
Government Roundtable
I gave a brief update at the Roundtable Meeting for Governments that took place place in February. Other topics on the agenda were developments in Internet Governance and the International Telecom Union. It was good to see so much support and collaboration from government representatives at the meeting.
Virtual UKNOF - Panel about Hybrid Meetings
The UKNOF Programme Committee kindly invited me to chair a panel discussion on the experiences the community has had so far with hybrid meetings and how we all see this going forward. As RIPE will have its first hybrid meeting after the pandemic in May, it was a great opportunity to learn from others who already held hybrid meetings; such as NANOG, NLNOG, and UKNOF.
Ukraine
I cannot publish this update without mentioning what's on everyone's mind at the moment: the terrible war that's going on in the eastern part of the RIPE region. I would like to point you to a number of statements made by various organisations over the last few days: Why the World Must Resist Calls to Undermine the Internet (by Andrew Sullivan of the Internet Society), a letter by Göran Marby, the President and CEO of ICANN, and a statement made by the RIPE NCC Executive Board. I would also like to recommend to follow the RIPE Discussion List as some organisations are offering help through that channel.