This June saw a variety of events taking place across the community, draft proposals issuing from RIPE Task Forces, and cautiously hopeful planning around future events that - fingers crossed - might just provide us all with a much needed chance to meet in person in the coming months.
---
Preparations for RIPE 83
RIPE 83 is still almost five months away, but we've already started to prepare.
One big question is whether this will be another fully online meeting or whether we'll be able to go back to the hybrid meeting format. At this stage, we're hoping for a hybrid meeting, but we won't really be able to make a final decision on this till September.
If we do go back to the hybrid structure, we'll have to restrict the meeting to a week. That might also mean going back to parallel sessions, at least for some days, so we can accommodate all the important bits that happen at a RIPE Meeting. On the other hand, perhaps some WGs will decide not to meet at every RIPE Meeting, but instead organise interim sessions with more focused and topical discussions, something we've seen more of over this past year.
Needless to say, this will be a topic we'll be paying close attention to in these reports in the coming months.
Update from RIPE Task Forces
In case you missed the announcement, the RIPE Database Requirements Task Force published their draft report. The TF decided to restructure the document based on feedback received from the community. Each recommendation is now supported by a clear rationale. The final report will be published after the comments period closes (on 13 August 2021). It will then be up to the community and the relevant WGs to look at the list of recommendations and see how each of them can best be addressed.
The Code of Conduct Task Force also published another draft code of conduct. This new document reflects feedback received on the mailing list and during RIPE 82 and includes a number of changes and additions that are listed and motivated in this RIPE Labs article. The TF will gather feedback until 17 September 2021 and will organise a workshop prior to that in order to answer any open questions about changes in the latest draft. It is expected that the new RIPE code of conduct will be in place before RIPE 83.
RIPE Governance
As mentioned in an earlier report, we are continuously working on RIPE governance, which includes documenting our processes and traditions and making them more accessible to the community - especially to new participants. You can now find all RIPE Documents that are related to RIPE governance under the RIPE Governance category in the RIPE Document store. We will soon add other documents, such as guidelines for Programme Committee members and guidelines for WG chairs.
Together with the RIPE NCC we will be reviewing the RIPE-related information and web pages on www.ripe.net to see how we can structure and present it better. We are even considering to review the good old RIPE logo and possibly modernise it somewhat.
Industry Events
NOG Organisers: The organisers of local network operators groups (NOGs) met to catch up and exchange experiences of maintaining local communities in times of COVID-19. Some NOGs continued to meet online while others decided to wait until it is possible again to meet in person. One important take-away for me was that through this crisis many NOGs are concentrating on the original purpose and scope of a local NOG - collaboration and knowledge exchange with your peers and colleagues in a local or national community.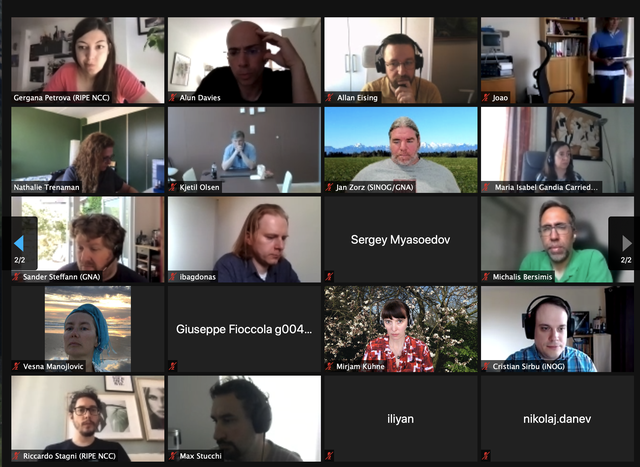 ENOG 18: I used my speaking slot during the opening plenary at the ENOG 18 Meeting to update the community about the discussions that took place at RIPE 82 and on the mailing lists. During a BoF session and also in the Programme Committee meeting after the event, the community got into important questions about how the scope and overall goal of ENOG ought to be embedded in the larger RIPE community.
RIPE NCC Executive Board Meeting: At the 145th meeting of the RIPE NCC Executive Board we focused mainly on the role the RIPE NCC plays in the overall Internet ecosystem and the long-term strategy for various RIPE NCC services. I welcomed the new engagement with the community regarding the RIPE NCC's cloud strategy and stressed the importance of community input for the RIPE NCC.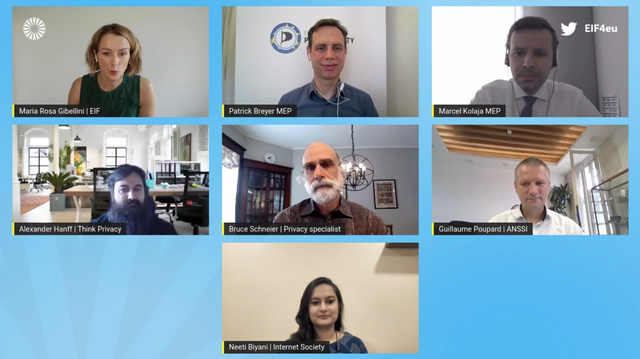 EuroDIG 2021: These messages were echoed in a session on encryption that took place as part of EuroDIG 2021. The speakers agreed that there is no such thing as weakened encryption and not even the speaker from Europol believed in the concept of backdoors, as they can be used by good and bad people alike. At the end of the session, Stephen Farrell (who also presented on the topic during RIPE 82) said that he is a bit less hopeless now that we can have an open discussion about the real requirements of law enforcement agencies. I also attended a workshop on the NIS2 Directive. You can find more details in the EuroDIG Liveblog presented by RIPE NCC staff who were very engaged in many of the EuroDIG sessions.
TNC21: Due to conflicting meetings, I could not see as much of the TNC21 conference as I would have liked, but I did attend the Lightning Talks on Friday morning, one of my favourite sessions at every TNC. It would be too much to list all the interesting presentations, but I want to pick out a couple that might be relevant to you:

Floor Jas (Head of Network, Trust & Security at SURF) talked about the fact that many NRENs hold unused IPv4 addresses. Should they keep them for later? Should they give them away for a good purpose? Should they sell the whole lot or maybe sell smaller blocks?
Brian Nisbet (Network Operations Manager, HEAnet) whom we know as the co-chair of the RIPE Anti-Abuse working group covered an important aspect of incident management: the first fifteen minutes after an incident has been discovered. That is roughly the period in which staff can realise there is an incident that needs to be addressed. That's also the amount of time clients will take as an acceptable amount of time for very initial communication to start.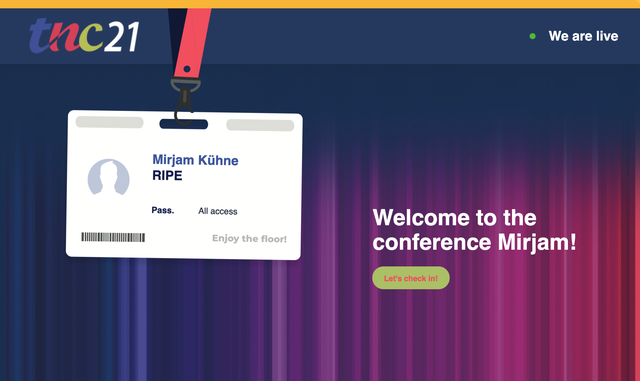 Coming Up
RIPE Community Resilience and Wellbeing: As a follow-up to the Community Wellbeing Survey and RIPE 82 presentation, which received very positive feedback, we're inviting everyone to join a session on 14 July 2021 about wellbeing, mental health, resilience and community care. We've all experienced the impact of COVID-19 on our social connections and our mental health. Let's connect with each other, exchange experiences and tips, ask for help or offer a helping hand.
Hybrid events and climate-friendly Internet research: I'm going to participate in a seminar where we will evaluate experiences in running and participating in virtual conferences as a consequence of the COVID-19 pandemic. The intention is to understand what went well and what went badly in implementing and deploying virtual conferences, what practical challenges were encountered, and what further needs to be improved. I'm hoping we'll be able to apply the take-aways to future RIPE Meetings.
RIPE PDP: We worked on a new version of the RIPE Policy Development Process and will share it with the community after the summer break.
RIPE NCC staff and the RIPE community: As mentioned in an earlier update and also during RIPE 82, we're looking at the relation between RIPE and the RIPE NCC and especially how RIPE NCC staff participates in the RIPE community. We will soon share a draft document in which we are proposing some underlying principles and some practical considerations.
We wish you all a great summer or winter break (depending on where you are). Stay safe and healthy!