RIPE 83 is only a couple of weeks away and last preparations are in full swing. In this update, we take a look at how things are lining up in terms of talks and topics, social events, and other community matters to be addressed at the meeting. For this and more on other industry events, read on.
---
Time flies and there are only a few more weeks until RIPE 83. I hope you've registered already! Before we get into anything else, let's take a look at how preparations for the meeting have been coming along since our last update.
Preparations for RIPE 83
Topics
The RIPE Programme Committee has been working on the agenda for the plenary and you can already see some interesting topics listed on the website. Some of the Working Group chairs also sent agendas to their respective mailing lists and I expect the remaining agendas to be published soon. Please note that some presentations will be pre-recorded (most notably in the Address Policy WG session). You can watch them in your own time before the meeting. That way we can use the time we have together for questions and discussion.
Newcomers and Social Events
If you're new to the RIPE Meetings, we welcome you to a special tutorial for newcomers that will take place on the Monday before RIPE 83, 15 November. We would also like to see you at the social event that will be organised on Monday 22 November on SpatialChat. This time we'll experiment with a slightly different format. We call it 'Time to Talk'. The RIPE Chair Team, WG chairs, PC members and the RIPE NCC Executive Board will be available in different rooms so you can hop around, get to know as many of them as possible and ask specific questions about their roles.
There will also be a mentor programme. Please contact us if you would like to have or be a mentor for the meeting.
NRO NC Election
The Number Resource Organization Numbers Council (NRO NC) which also fulfils the role of the Address Supporting Organization Address Council (ASO AC) within ICANN, is looking for a new member to accompany James Kennedy and Hervé Clément. Four candidates have been nominated. You can register to elect one of them during the meeting. We would like to thank Nurani Nimpuno who has chosen not to run for another term. She has served on the NRO NC for over five years and has done an excellent job of representing the RIPE community throughout.
RIPE Database Requirements Task Force Report
The RIPE Database Requirements Task Force has published its final report. Now it's on us, the community, to decide if and how to address each of the recommendations made in the report. Some of the recommendations will fall under the responsibilities of the RIPE DB WG, others might best be addressed in other WGs. You can expect discussions and work items over the next few weeks and during the RIPE Meeting.
RIPE Code of Conduct
The new RIPE Code of Conduct was published as ripe-766 and will now apply to all community events and communications, including RIPE Meeting and mailing lists. Please make sure you are familiar with this new code of conduct.
Updating the Policy Development Process
As mentioned in our last update, we were working on a new version of the Policy Development Process for the RIPE community. The draft has been published on the RIPE Discussion List. We are seeking feedback on the list and will also dedicate some time during the RIPE 83 community plenary session.
RIPE Visibility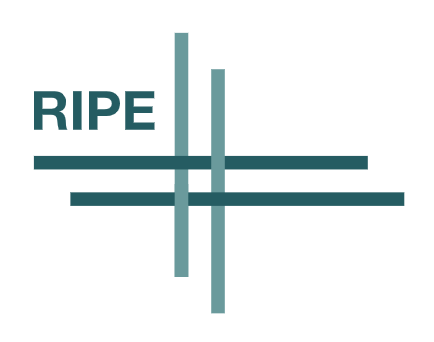 We've been working with our colleagues at the RIPE NCC to give the RIPE community more visibility on www.ripe.net and to make it easier, especially for new community members, to find the relevant information. You can now see the RIPE logo from the home page. Our next step will be to update the underlying pages.
There is now also a RIPE "company" page on LinkedIn that you can link to. I would also like to draw your attention to the RIPE community page. You can find interesting updates from other community members there.
RIPE NCC Staff Onboarding
In order to introduce the RIPE community to new RIPE NCC staff members and to include all staff members more in community activities, we started to take part in the RIPE NCC's staff onboarding process. Our recent presentation was received well and we're planning to regularly present to and discuss with RIPE NCC staff and possibly also invite other community members such as WG chairs.
Transparency
As we are committed to complete transparency about any funding or support received in order to carry out our work as RIPE Chair Team, we would like to note that the RIPE Vice-Chair has received support under the EU StandICT fellowship scheme through Tolerant Networks Ltd.
Industry Events
NOG Organisers meeting
For the second time since the COVID pandemic, the RIPE NCC organised an online meeting for those who organise network operators groups. This time we heard from the experiences some NOGs made with hybrid events such as NLNOG and UKNOF. You can read a full report on both sessions on RIPE Labs.
CyberDay Luxembourg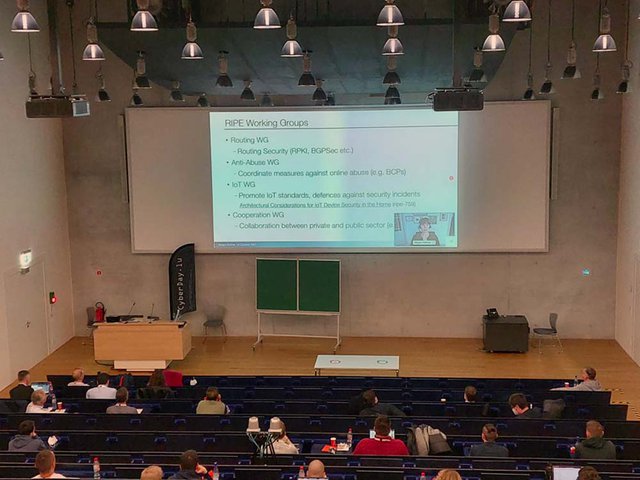 I was invited as keynote speaker at the CyberDay.lu 2021. This was the first time I presented remotely to an audience who participated both physically and virtually. The event is mostly target to students and researchers and focuses on security in ICT and networking. I used the opportunity to present the RIPE community and talk about some of the security topics the community is working on such as anti-abuse, routing security, securing IoT devices and the recent work on the NIS2 Directive.
Other speakers came from both private and public institutions in Luxembourg.
Lorena Boix Alonso from the European Commission gave an update about various security related activities ongoing in the European Commission such as the NIS2 Directive, ideas for legislating IoT devices and the plan to install a Joint Cyber Unit. She also mentioned the enormous shortage of security experts and pointed to the new registry for women in cyber security.
Presenting to Students at UCL
Another opportunity to introduce the RIPE community to students was a presentation I was invited to give to students at the Department of Science, Technology, Engineering and Public Policy (STEaPP) at the University Colleagues London. It was great to see such active engagement and challenging questions by the participants who were very well prepared by their lecturer.
RIPE NCC Executive Board Meeting
On 29 October, I participated in the RIPE NCC Executive Board meeting #149 and provided an update of activities currently ongoing in the RIPE community, most notably preparations for RIPE 83, the update to the PDP and the RIPE Database Requirements TF Report. You can read more in the minutes that will be published soon.